Autel
Autel MaxiCheck MX808 Diagnostic Scan Tool Same as MK808 OBD2 Car Scanner with All System Diagnostic, 25+ Service Functions
AutelCartool
Autel MX808 All System Diagnostic Scanner
The Autel Maxicheck MX808 is a full-featured top of the line diagnostic scanner, capable of a wide range of functions across most vehicles on the road. With a free full year of software updates, you will be able to keep pace with new models as they roll out.
When it comes to ultra-portability, the MaxiCheck MX808 scan tool is your perfect companion. Installed with a fast quad-core processor, Autel MX808 offers maximum convenience and swift diagnosis. The intuitive user interface makes using the device effortless through a 7-inch LCD touch screen that displays at 1024x600 quality.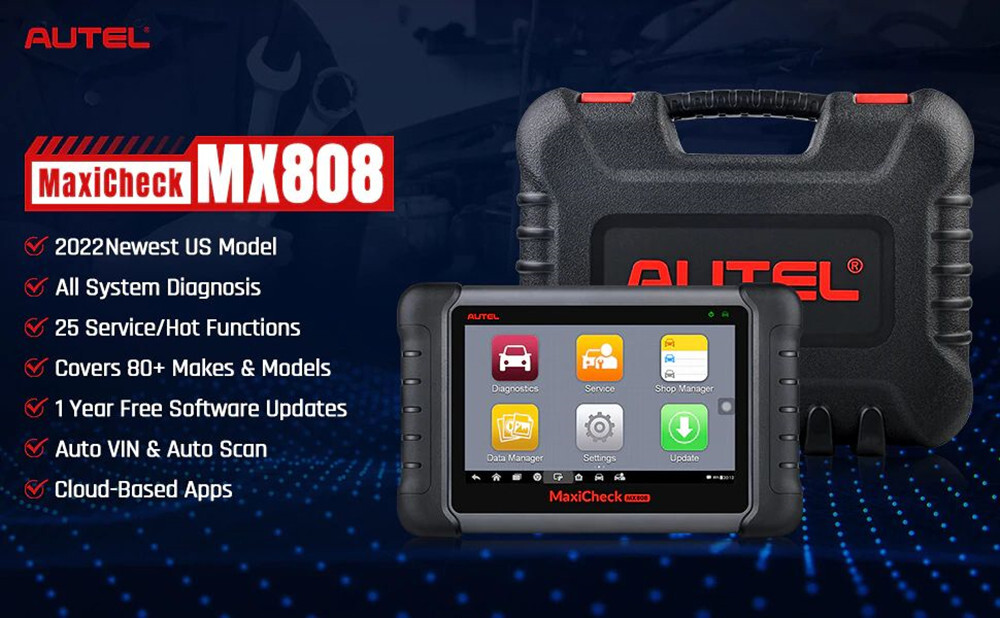 Autel MaxiCheck MX808 Car Diagnostic Scan Tool, same as Autel MK808, which can access and diagnose all available systems for all US/EU/AS OBD2 vehicles from 1996. As a professional automotive diagnostic scanner, Autel MX808 Can:
• Read/clear trouble codes for all available systems
• Display live data in text, graph & analog for easy data review
• Auto VIN technology can automatically identify the vehicle's make, model and year information in no time
• Auto Scan all major systems
• Reset service mileage and service intervals
• Relearn parking brake pad after replacement
• Support forced DPF regeneration and adjusting injectors
• Support battery registration and reset
Autel MX808: Full-featured & Efficient Diagnostic Scanner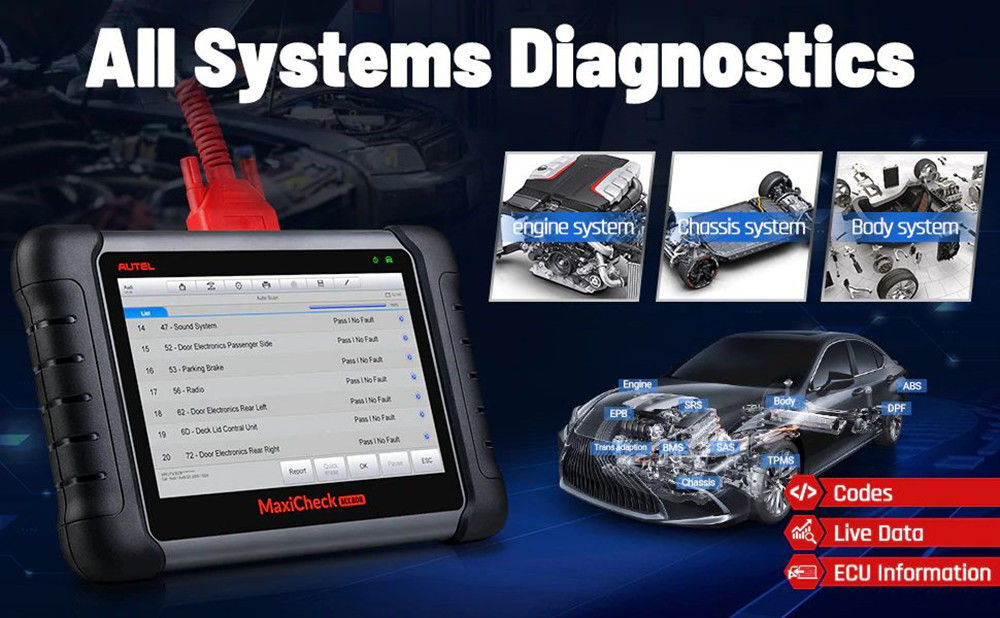 Autel MaxiCheck MX808 all system diagnostic scanner is the most competitive automotive diagnosis tool that can access the electronic control unit (ECU) for various vehicle control systems and retrieve ECU information, read & erase DTCs, record and playback freeze frame, and view live data, etc.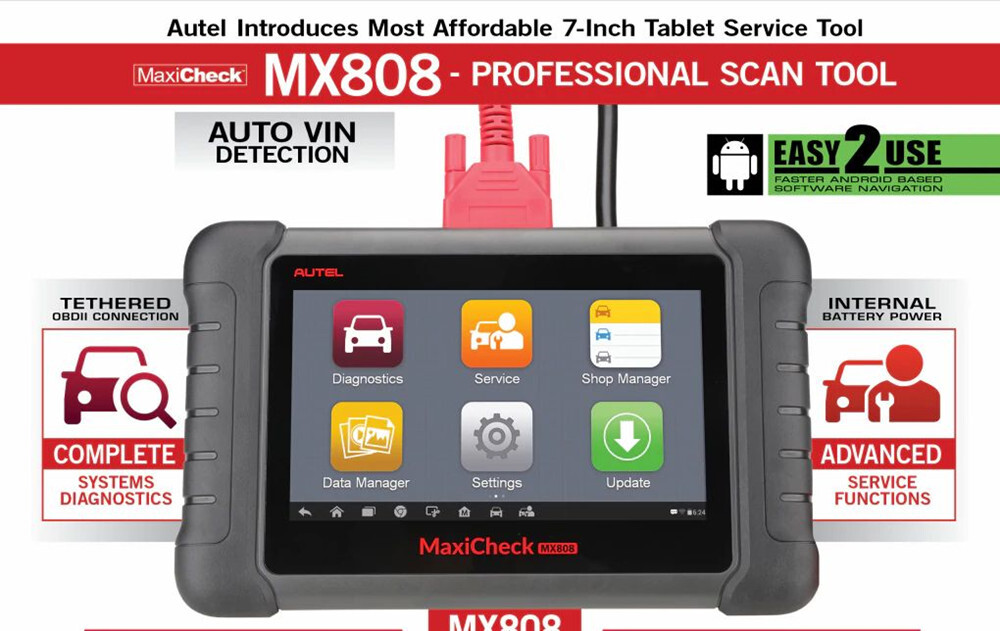 Autel MX808: Most Affordable 7-Inch Tabet Service Tool
Together with the ability to read and clear fault codes for all available modules, the Autel MX808 tablet service tool also provides you with 25+ most-practical maintenance services.
By following the on-screen instructions, the MX808 service tool will guide you through the complete performance for various service operations.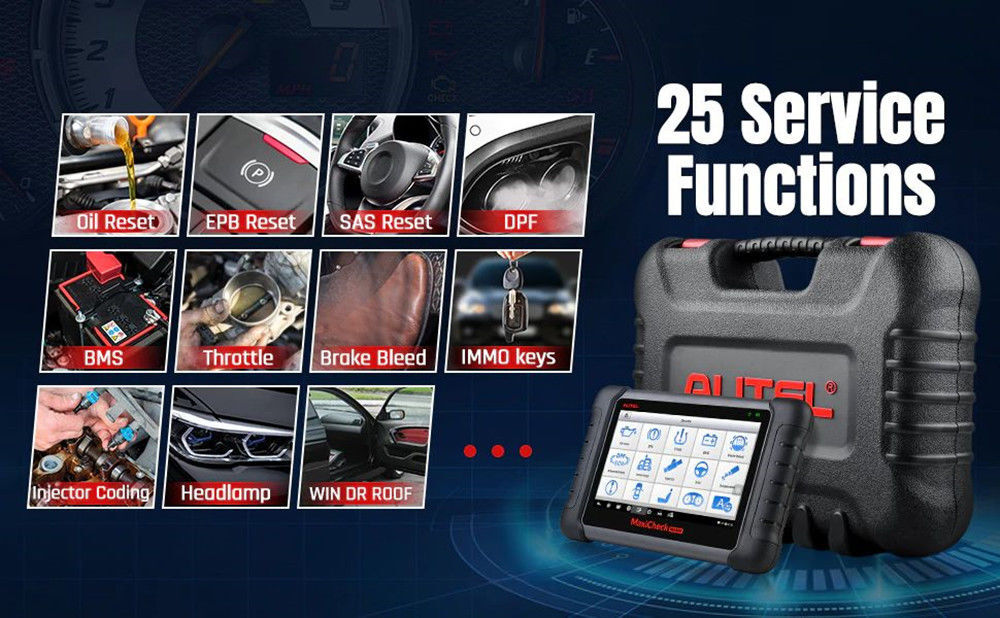 • Oil Reset: Reset service mileage and service intervals after oil change, turn off the oil light.
• EPB: Remind you to reset the brake pad after repair or replacement.
• BMS: Register and reset a battery after replacement.
• ABS Brake Bleeding: Bleed air out of the ABS module by yourself, no more dealership or workshop is needed.
• DPF: Manage DPF regeneration, DPF component replacement teach-in and DPF teach-in after replacing the engine control unit.
• Immo Keys: Clear information of lost keys and add new keys to prevent your vehicles from being stolen.
• SAS: Calibrate steering angle sensors and clear memories of previous data stored.
•Injector Coding: code the new fuel injectors to the engine ECU and reset the injection volume after Injector replacement.
NOTE:Special service functions are not universal to all the vehicles, please send your VIN to check compatibility before you order.
More Highlight Features of MX808:
• Auto VIN & Auto Scan: Autel MX808 automotive diagnostic scanner features latest VIN-based Auto VIN technology that can identify vehicle make, model, year instantly for efficient diagnostics. Combined with the Auto Scan function, it can perform comprehensive all available systems scan efficiently to pull codes and view live data.
• Diagnostic Reporting Print: Automatically keeps a full history of all scans with the option to easily print or email.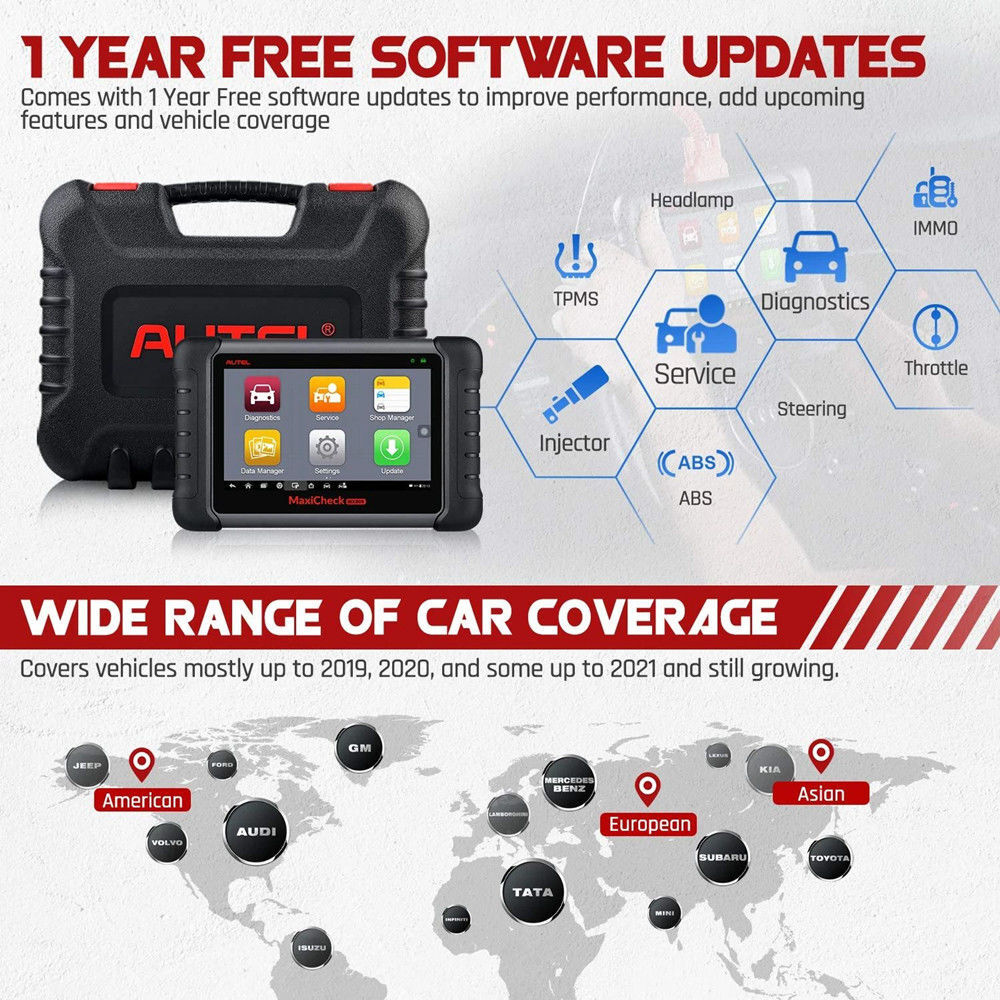 1 Year Free Software Update
Autel MX808 scanner comes with 12 Months of Free Software Updates, connecting the MX808 to WIFI, you can download the latest updated software for free.
Note: After the first year update period expires, you can still use its last updates software.
80+ Makes & Models Car Coverage
Autel MX808 OBD2 Scan Tool can work on 80+ American, European, and Asian makes & models mostly up to 2020, and some up to 2021 to perform all systems diagnosis. With 1 year FREE software updates, its vehicle coverage grows continuously.
Why Choose Autel MaxiCheck MX808 instead of Autel MK808?
Though Autel MaxiCheck MX808 is the same product as the Autel MaxiCom MK808 and has the same features, MX808 as a US model have the following more advantages than MK808:
1. Best After-Sale Service: Autel MX808 is the 2022 newest US model which not only supports online but also offline stores service. While Autel MK808 only provides online after-sale service.
2.Newest & Wider Coverage: Autel MX808 supports 1 0000+ worldwide car model. The Update Frequency of Software is more quickly than MK808 which will at a faster speed extend vehicle coverage.
Autel MaxiCheck MX808 Package List:
1x USB External Power Adapter

Contact Us:
E-mail:
sales@autelcartool.com
WhatsApp:
+86 13728848116
Brand Name:

cwobdii
Operating System:

Android 4.4.4, KitKat
Processor:

Cortex-A9 processor(1.5 GHz)
Memory:

32GB
Display:

7-inch LCD capacitive touchscreen with 1024x600 resolution
Connectivity:

Mini USB 2.0; USB2.0; Wi-Fi; HDMI Type A; Micro SD card slot(supports up to 32GB)
Sensors:

Light sensor for brightness auto adjust
Audio input/output:

Input: N/A,Output: buzzer
Power and Battery:

3.7 V/5000 mAh lithium-polymer battery,Charges via 5 VDC power supply
Tested Battery Life:

Around 7 hours of continuous use
Battery Charging Input:

5V/1.5A
Power Consumption:

600 mA(LCD on with default brightness,Wi-Fi on)@3.7 V
Operating Temp:

-10°C to 60°C (14°F to 140°F)
Storage Temp:

-20°C to 70°C (-4°F to 158°F)
Operating Humidity:

5%-95% non-condensing
Protocols:

ISO9141-2,ISO14230-2,ISO15765,K/L-Line,Flashing Code,SAE-J1850 VPW,SAE-J1850PWM,ISo11898(Highspeed,Middlespeed,Lowspeed and Singlewire CAN,fault-tolerant CAN),SAE J2610,GM UART UART Echo Byte Protocol,Honda Diag-H Protocol,TP2.0,TP1.6