Autel
Autel MaxiIM IM608 Key Programming Diagnostic Tool with IMMO XP400 Programmer, ECU Coding, All Systems Diagnosis and 23 Services
AutelCartool
Autel MaxiIM IM608 Key Programming & Diagnostic Tool with IMMO XP400 Programmer, ECU Coding
Autel IM608 key programmer is a state of the art 10-inch Android-based touchscreen tablet combining the most advanced key programming and immobilizer capabilities with OE-level diagnostics and service functions. Equipped with XP400 key programmer and MaxiFlash JVCI ECU programmer, IM608 automotive scan tool is a comprehensive immobilizer and key programming tool. It is ideal for auto technicians and locksmiths. Upgraded verion of Autel IM508.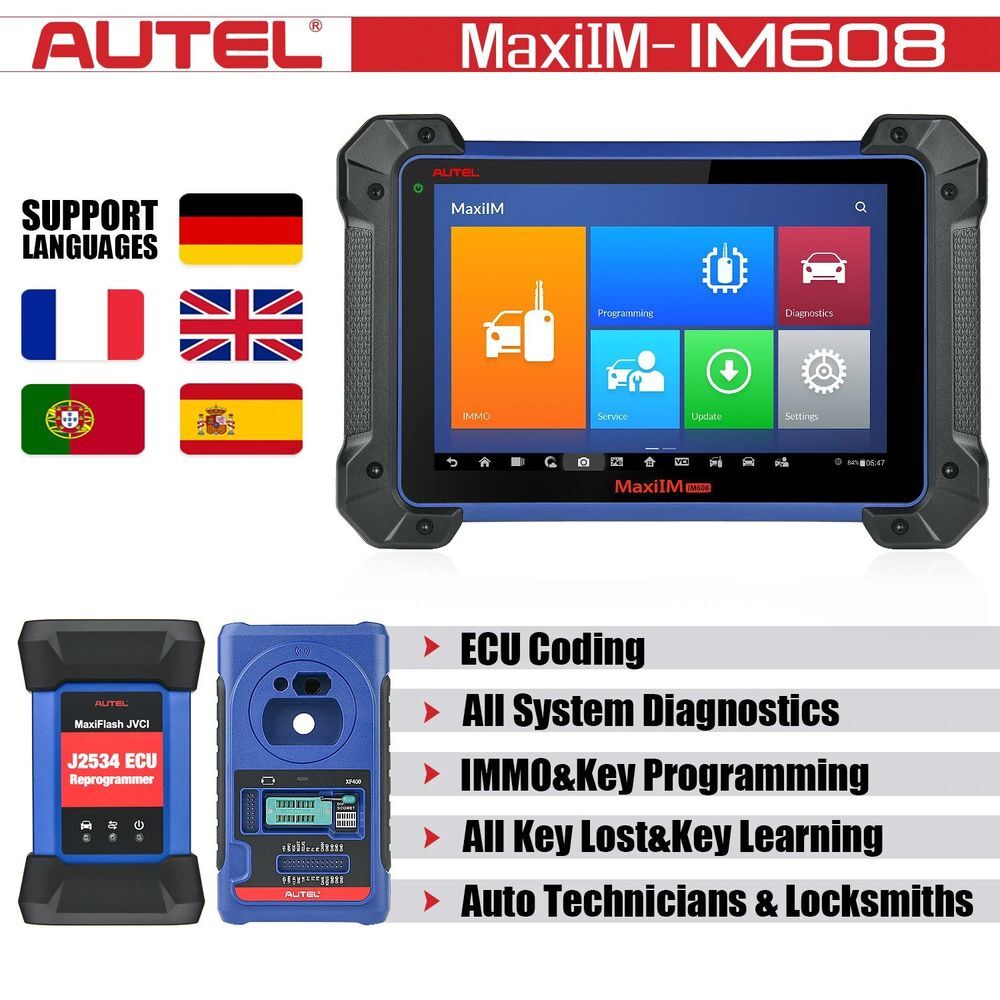 Autel MaxiIM IM608 Main Features
Read & Clear Fault Codes | Short description & code provided (can clear faults & warning lights)
Service Functions | EPB, DPF, SAS, Oil Reset, BMS and TPMS Sensor ID Relearn, etc.
Access Live Data | Data from the ECU/Modules/sensors displayed in real-time (Oxygen sensor-rich/lean etc)
Actuation/Component Testing | Actuate (switch on/off) to diagnose functionality (relays, fans, locks etc)
Coding Functions | Allows you to change vehicle parts that need to be 'coded' (Injectors, ABS, starters etc)
Flashing/Reprogramming | Advanced updating/coding of ECU's online through a J2534 pass-through flashing device
Advanced Key Programming | IMMO functions, Transponder read/write/identify, MCU/EEPROM chip read/write
Autel MaxiIM IM608 Advanced IMMO Key Programming
Smart Mode:for Guided and Automated Key Learning
Expert Mode:for Advanced Key Learning
Read PIN / CS (All Key Lost)
Backup / Restore IMMO Data
IMMO ECU Reset / Adaptation
IMMO ECU Refresh / Coding
BENZ 3rd Generation IMMO Add Key, All Key Lost, Key Learning
BMW FEM / BDC Key Learning and ECU Adaptation
BMW CAS4/3/2 Key Learning
VW / AUDI MQB Key Learning, 48 Transponder (96-bit) Add Key, All Key Lost,
A6 All Key Lost, and More
XP400 Key & Chip Programmer
MCU / EEPROM Chips Read / Write
MC9S12 Encryption Chip Read / Write
Mercedes Infrared Key Read / Write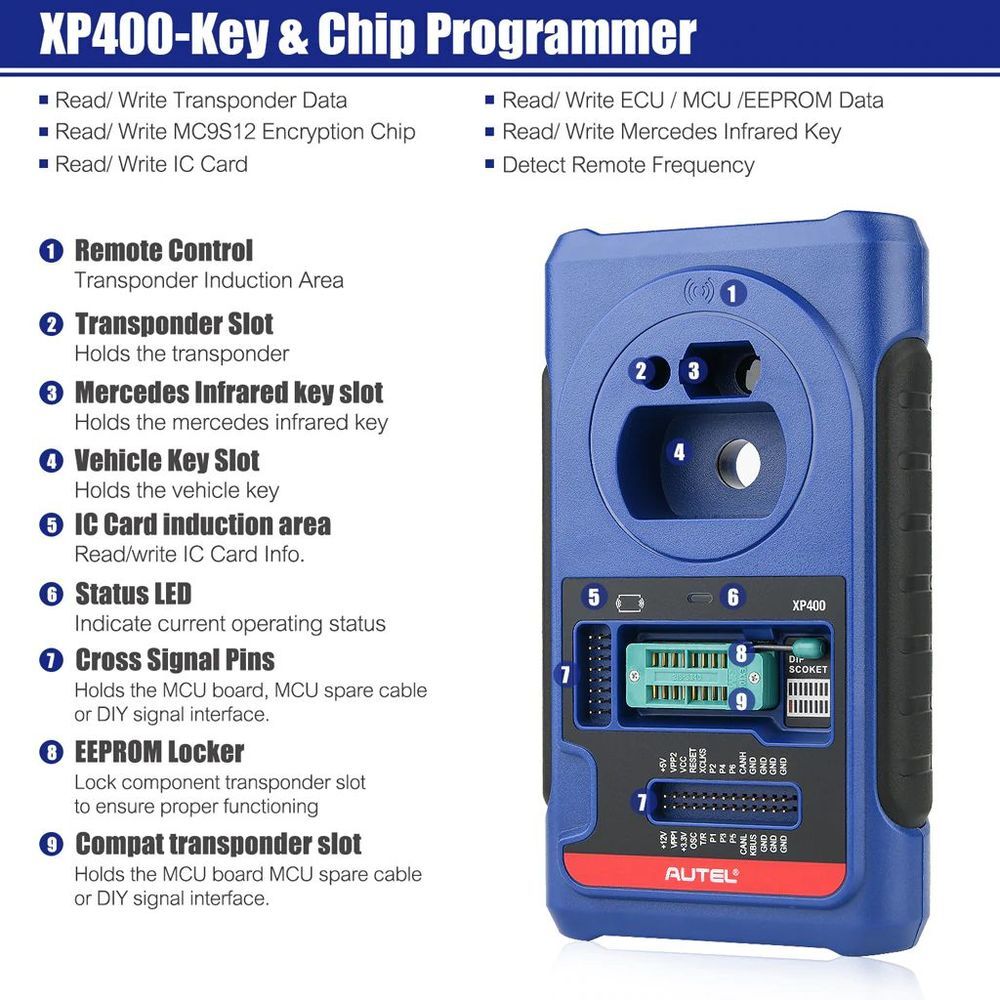 XP400 Key Chip Programmer
MCU / EEPROM Chips Read / Write
MC9S12 Encryption Chip Read / Write
Mercedes Infrared Key Read / Write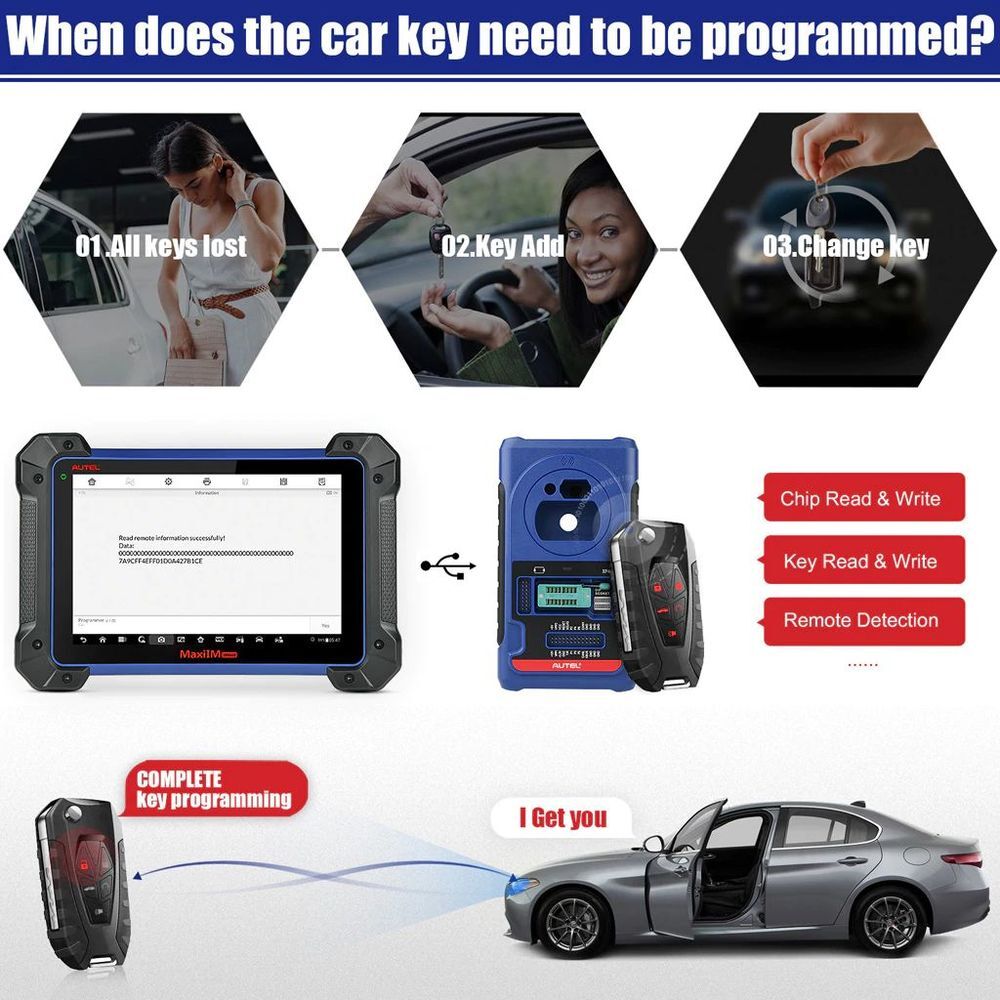 What Autel APB112 Can Do for You?
2.)Compatible with IM608(Pro), IM508, and MX808IM
3.)Compact but would need to be used with the XP400/XP400Pro
4.)46, 4D data collection
5.)46 smart key password calculation
7.)Toyota 4D (94/ D4, 98) smart key simulation
8.)Toyota H (88/ A8, A9, 39) smart key simulation
9.)Collects data from the ignition coil
10.)Identify ignition coil troubles
11.)Decode vehicle key chip data
12.)Simulate vehicle key chip (ex - 4D chip)
13.)Toyota/ Lexus smart key all key lost
14.)Chip decoding (Hyundai 46)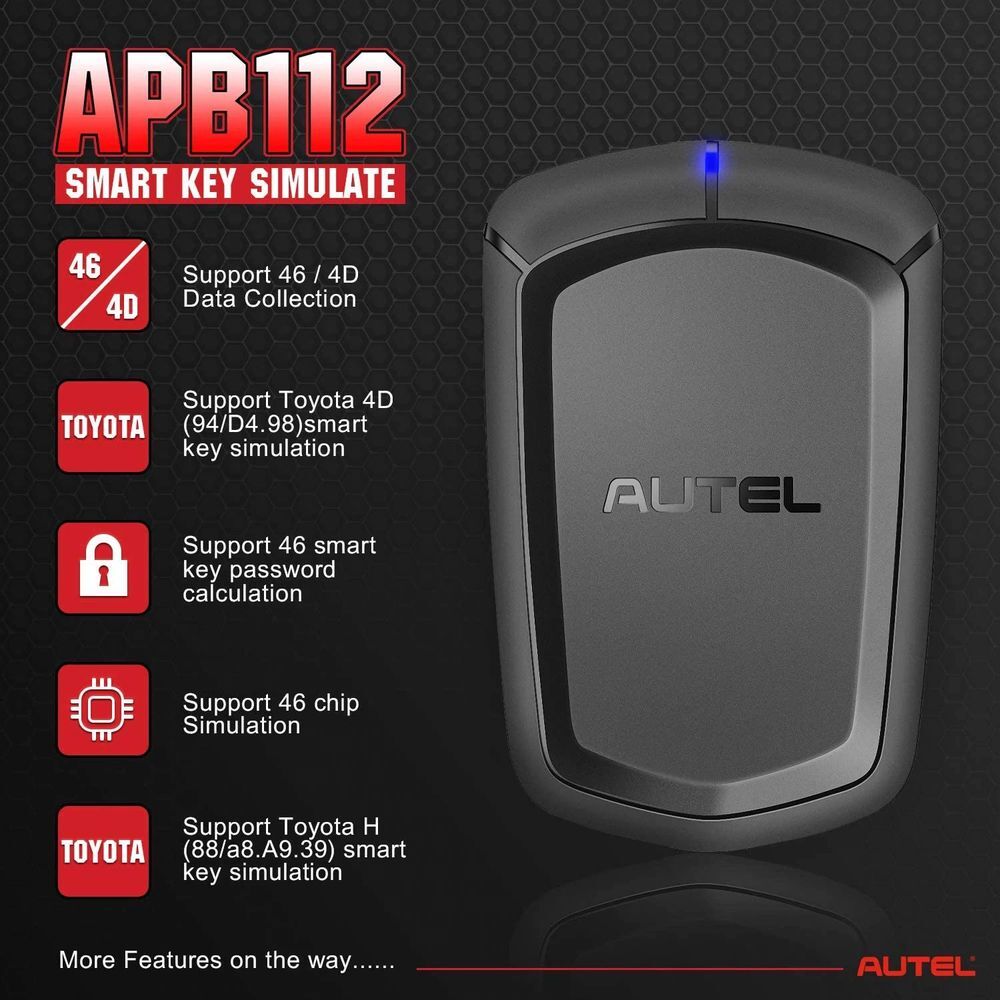 What Can GBOX-2 Can Do For You?
1.Supports Mercedes Benz All Key Lost, faster calculate password
2.Supports IM608(Pro) or IM508 with XP400 Pro
3.Used for Faster Mercedes ECU data and EIS password calculation
4.Mercedes DAS3 can EIS/EZS all keys lost
5.Reduces reading time of W204 ECU data & W207 EIS by over 85%
6.No need to remove and reinsert the key for W221 & W164 after 2009 Models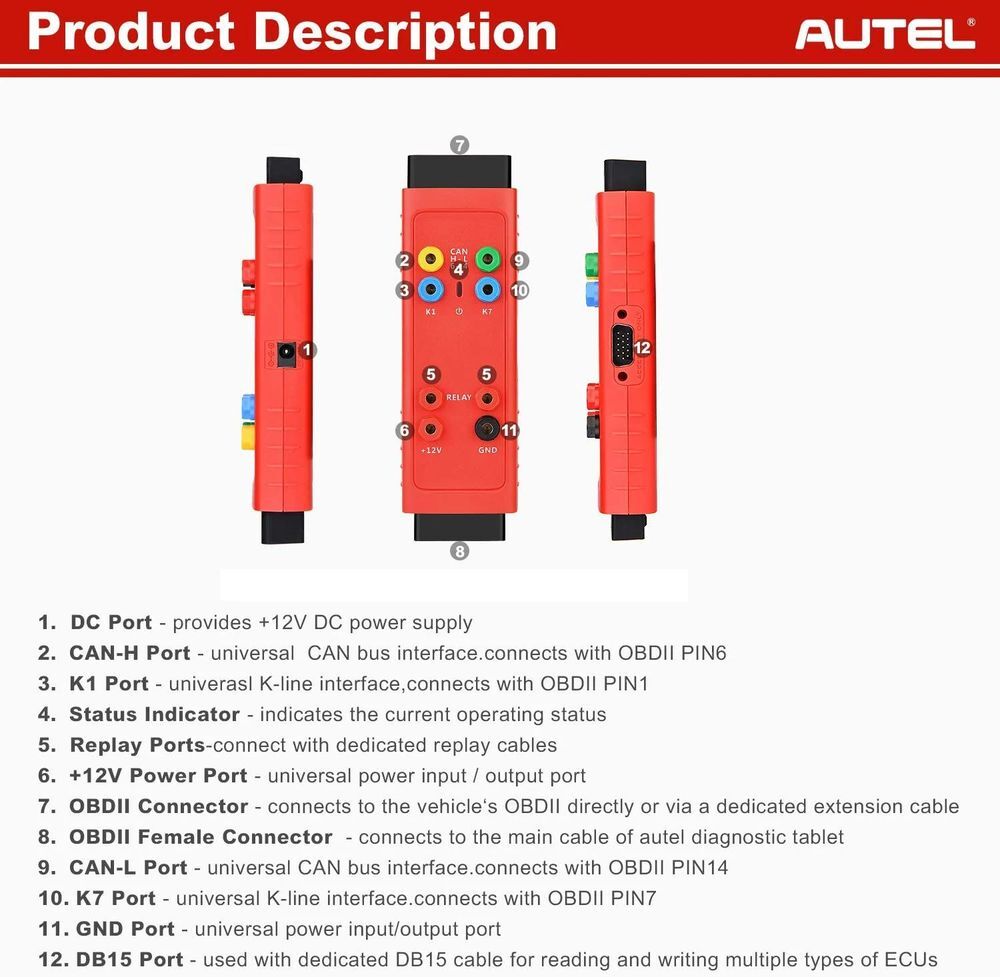 What Can IMKPA Can Do For You?
1.Read/ Write/ Erase for Mercedes Benz ESL_W209/ W906 Data
2.Mercedes Benz NEC Key Learning
3.BMW EWS3 Key Learning and Volkswagen/ AUDI/ BMW/ Benz Key Unlock
All System Diagnostics & Advanced Service Functions (Work with the MaxiFlash JVCI (J2534 ECU Reprogrammer)
2.Parking Brake Pad Relearn After Replacement
3.Steering Angle Sensor Relearn
4.Battery Registration and Reset
5.Diesel Particulate Filter Regeneration
6.Tire Pressure Monitoring System
9.VW/Audi Component Protection
10.Complete Service Functions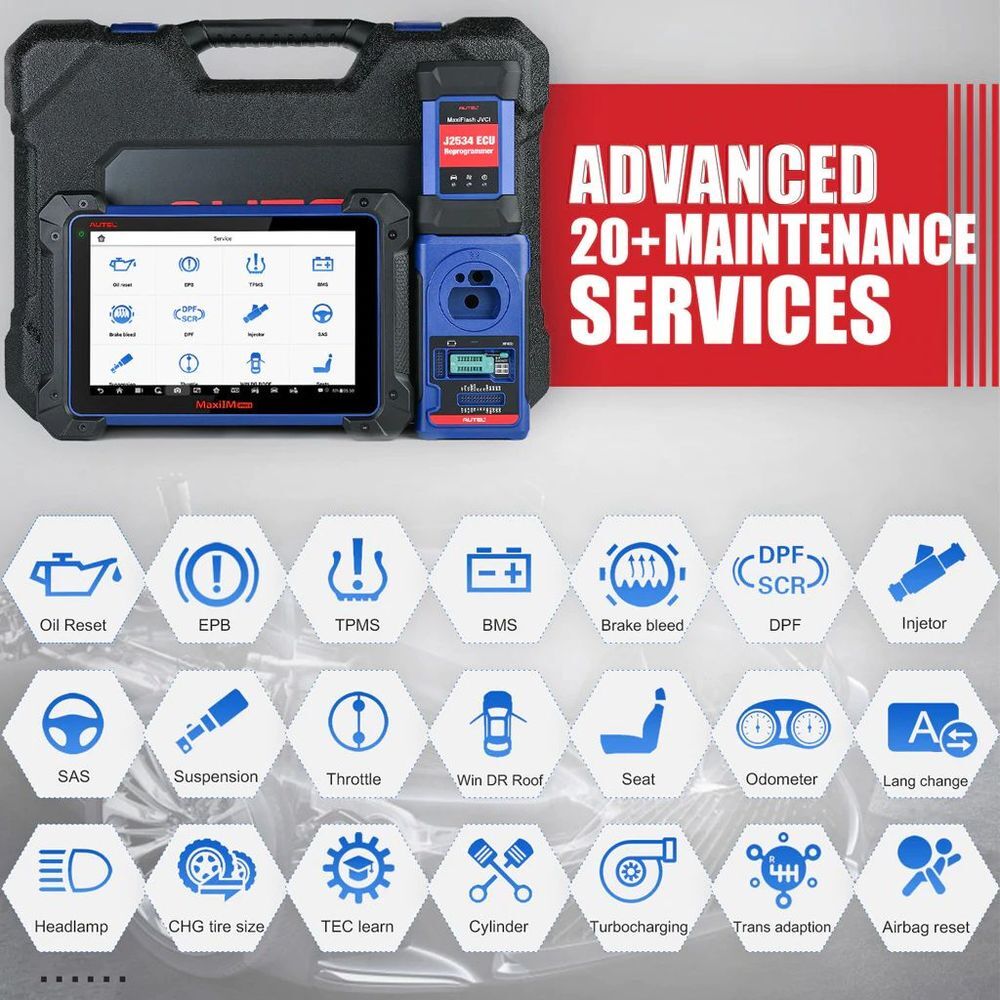 Autel MaxilM IM608 OE-Level Diagnosis For 80+ Vehicle Makes
View, Record and Playback Live Data
Shop and Data Manager Applications
MaxiFlash JVCI ECU Programmer (Bluetooth/USB cable)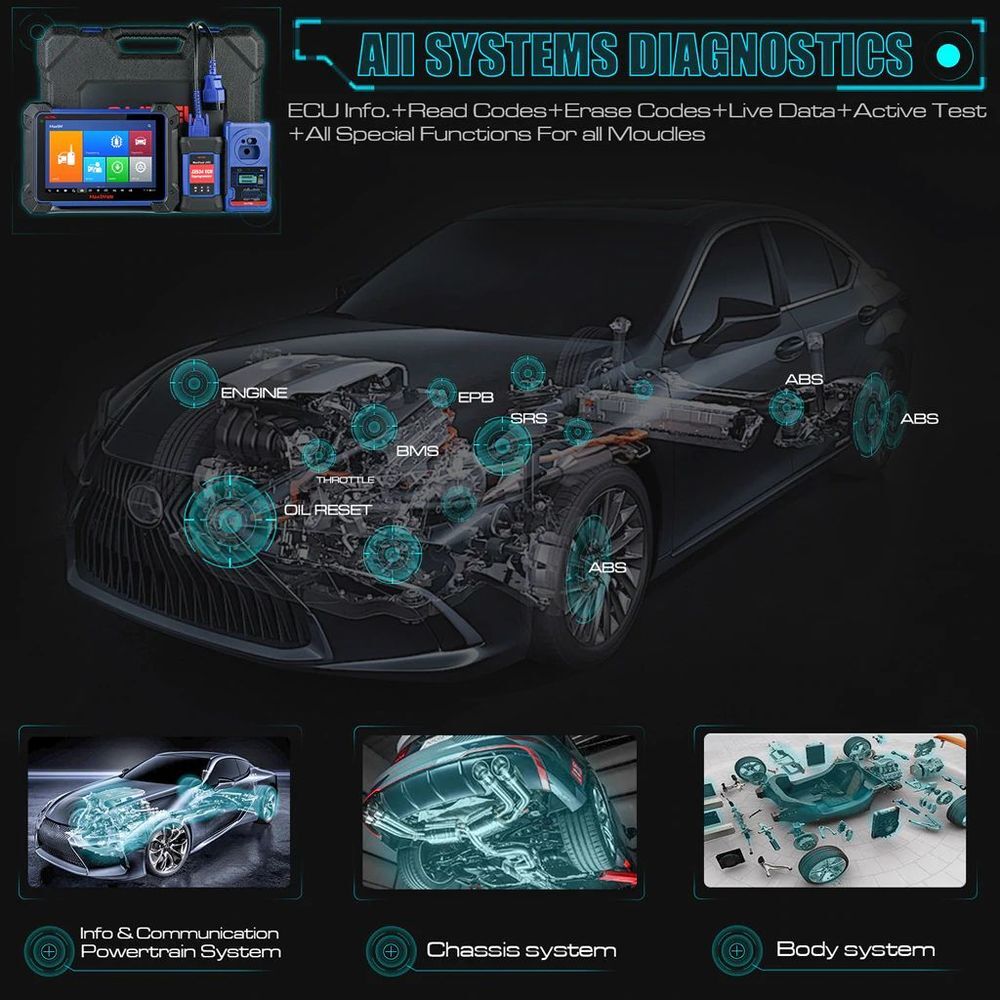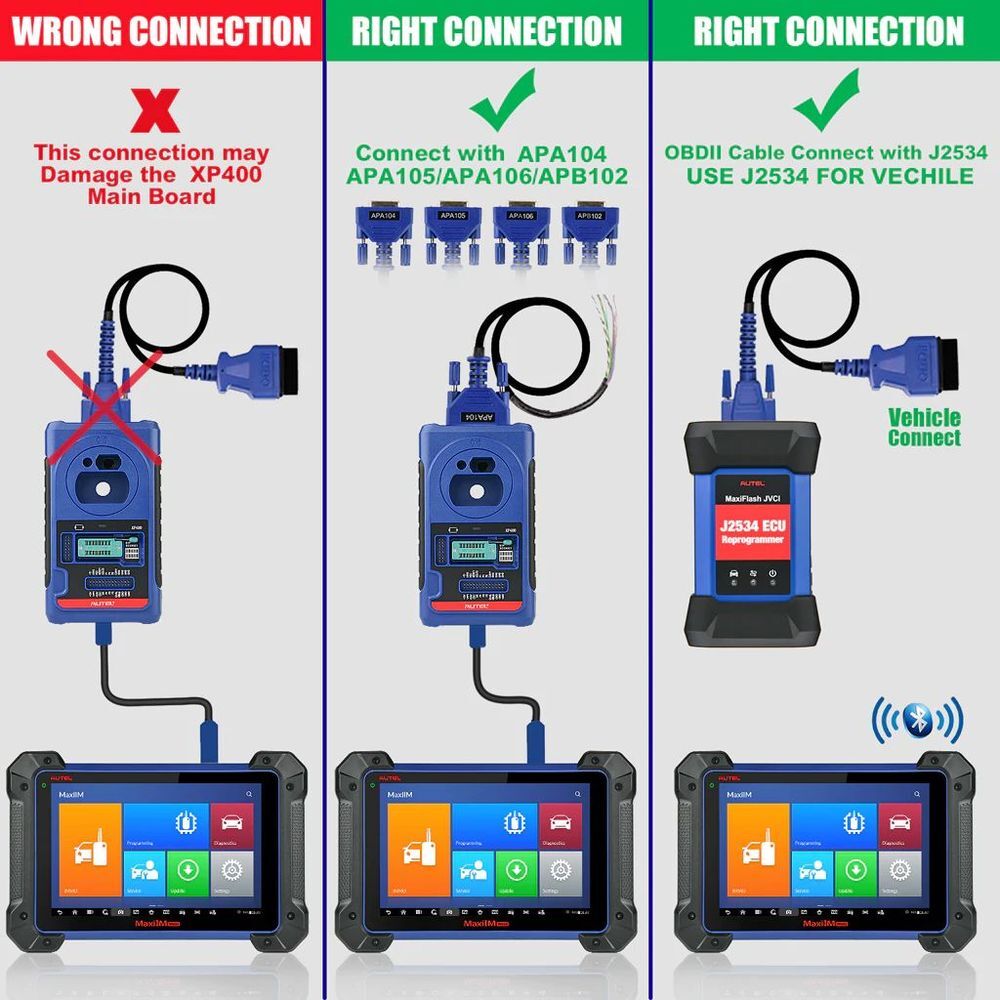 Autel MaxiIM IM608 Package List:


1x Autel MaxiIM IM608 Main Unit

1x APC101 USB Cable

1x APA101 Signal Cable

1x MaxiFlash JVCI

1x APB101+ APD101 (EEPROM Adaptor + EEPROM Adapter Shell)

1x APA103 (EEPROM Clamp)

1x XP400

1x APB102 MB IR Cable

1x APA104 ECU Clamp

1x Main Cable

1x APB104 (MCU_FQFP64)

1x APA105 (MCU Clamp)

1x USB Cable (2m)

1x APB105 MCU_FQFP80

1x APA106 (MC9S12 Clamp)

1x Mini USB Cable

1x APB106 (MCU_FQFP144)

1x APA107 (Connect Cable)

1x AC/DC 12V Adapter

1x APB107 (MCU_FQFP144)

1x Quick Reference Guide

2x Light Fuse 6*30mm

1x APB108 (MCU_FQFP176)

1x Packing List

1x Cigarette Lighter

1x APA002 (EEPROM Socket)

1x Carrying Case 634*170*404mm

1x AAC001




Contact Us:

E-mail:

sales@autelcartool.com

WhatsApp:

+86 13728848116



Brand Name:

Autel
Operating System:

Androd 4.4.2, KitKat
Processor:

Samsung Exynos hexa-core Processor (1.3GHz Quad-core ARM Cortex-A7 + 1.7GHz Dual-core ARM Cortex-A15)
Memory:

2GB RAM & 64GB On-board Memory
Display:

10.1-inch LED capacitive touch screen with 1920x1200 resolution
Connectivity:

Wi-Fi (802.11 a/b/g/n/ac),USB: 2.0,BT v.2.1 + EDR,SD Card (Support up to 32GB),HDMI
Sensors:

Gravity Accelerometer, Ambient Light Sensor (ALS)
Audio Input/Output:

Microphone,Single Speakers,3-Band 3.5 mm stereo/standard headset j
Power and Battery:

15000 mAh 3.8 V lithium-polymer battery,Charging via 12 V AC/DC power supply with the temperature between 0°C and 45°C
Input Voltage:

12 V (9-24 V)
Power Consumption:

6.5 W
Operating Temp:

0 to 50°C (32 to 122°F)
Storage Temp:

-20 to 60°C (-4 to 140°F)
Protocols:

ISO 9142-2, ISO 14230-2, ISO 15765-4, K/L-Line, Flashing Code, SAE-J1850 VPW, SAE-J1850 PWM, CAN ISO 11898, Highspeed, Middlespeed, Lowspeed and Singlewire CAN, GM UART, UART Echo Byte Protocol, Honda Diag-H Protocol, TP 2.0, TP 1.6, SAE J1939, SAE J1708, Fault-Tolerant CAN