Autel
Autel MaxiIM IM608 Pro Car Key Programming Tool with XP400 Pro IMMO Programmer (IMKPA Kit,G-BOX2 / APB112 for option)
AutelCartool
Autel MaxiIM IM608 Pro Car Key Programming Tool with XP400 Pro IMMO Programmer (IMKPA Kit,G-BOX2 / APB112 for option)
The IM608 PROKPA is a comprehensive key and immobilizer programming package of the MaxiIM IM608 Pro 10.1-inch Android touchscreen tablet, XP400Pro key and chip programmer, the wireless JVCI J2534 pass thru programming device and the Key Programming Adapter kit.
The IM608 Pro key programming tool enables key learning directly through the OBDII port for 85 percent of vehicles in North America. The tablet can read the immobilizer pins and password directly from the vehicle and store this information to use later when learning the newly programmed keys to the vehicle.
The IM608 Pro is also an advanced diagnostics tablet featuring AutoVIN and AutoSCAN technology to automatically identify the vehicle and perform an all systems scan. The advanced diagnostics functions of the IM608 Pro include the ability to perform active test, coding and adaptations.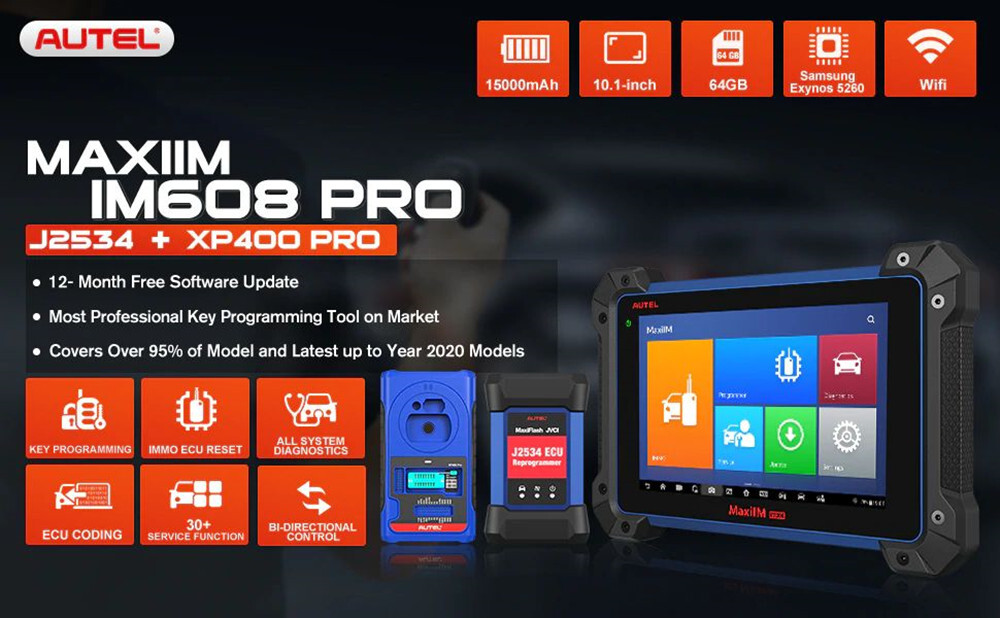 Autel IM608 Pro Main Features
IMMO & Key Programming Bundle
MaxiIM IM608 Pro 10.1-inch Android Touchscreen Tablet
Program IMMO & Keys for U.S., Asian and European Vehicles
XP400Pro Key and Chip Programmer
JVCI Wireless J2534 Pass Thru Programming Device
Includes IMKPA Key Programming Adapter Kit
AUTEL IM608 PRO Functions Supported:
1. IMMO Functions
Auto Detect Make/Model/Year/System
AUDI Q5/A4/A5 2015-2017 Key Learning
BMW FEM/BDC Key Learning and Adaption
BMW CAS4 Key Learning and Adaption
2015-2018 Land Rover & Jaguar write key via dump
Volvo Smart Key Learning/knob-style smart key
Advanced Programming Functions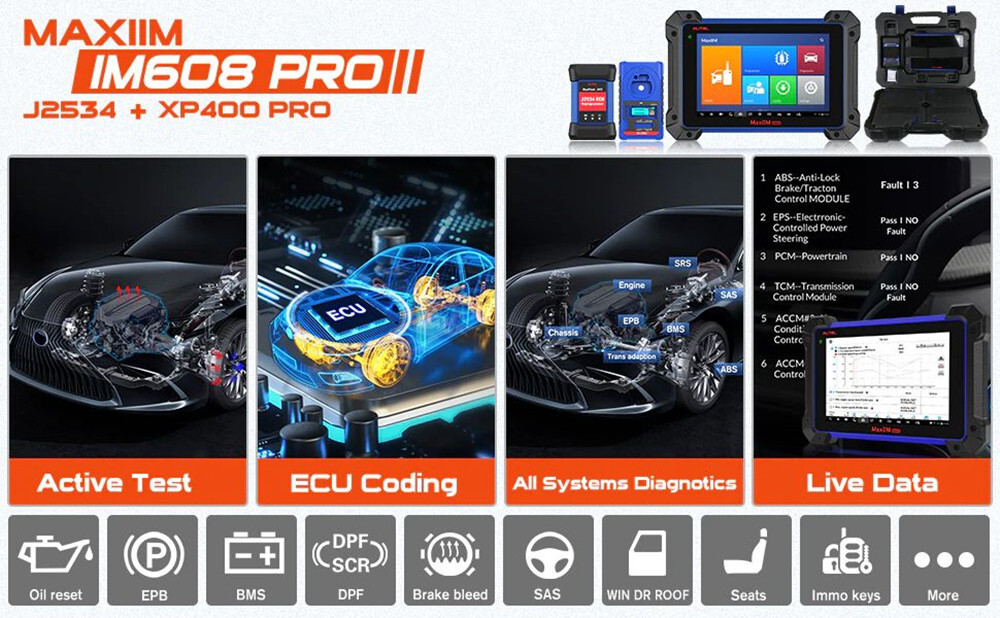 2. All System Diagnostics & Advanced Service Functions (Work with the MaxiFlash JVCI (J2534 ECU Reprogrammer)
Parking Brake Pad Relearn After Replacement
Steering Angle Sensor Relearn
Battery Registration and Reset
Diesel Particulate Filter Regeneration
Tire Pressure Monitoring System
VW/Audi Component Protection
Complete Service Functions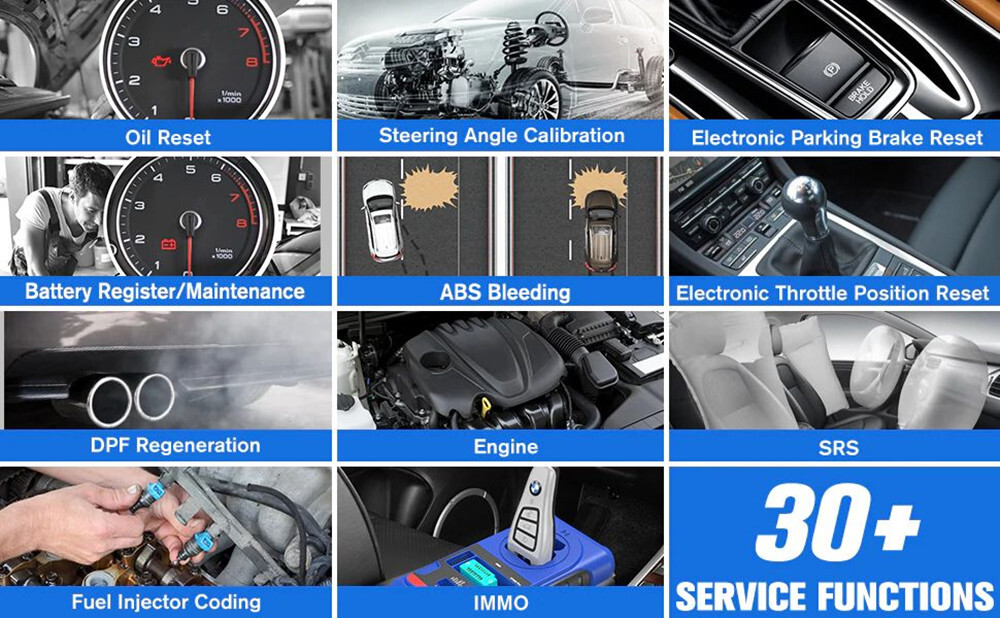 XP400 Pro adds support for following Chips:
EEPROM-->AMD-->AM29FXXX series chip
EEPROM--> FUJITSU-->MB29FXXX series chip
EEPROM-->ST-->M29FXXX series chip
Engine control module-->ST-->M29FXXX series chip
IMMO-->BENZ-->ESL_W209_W906 (Motorola) read/write/erase function
IMMO-->BMW-->EWS3 module read/write function
REMOTE_RENEW(renew key)-->NEC-->V51 and V5 chip read/write/erase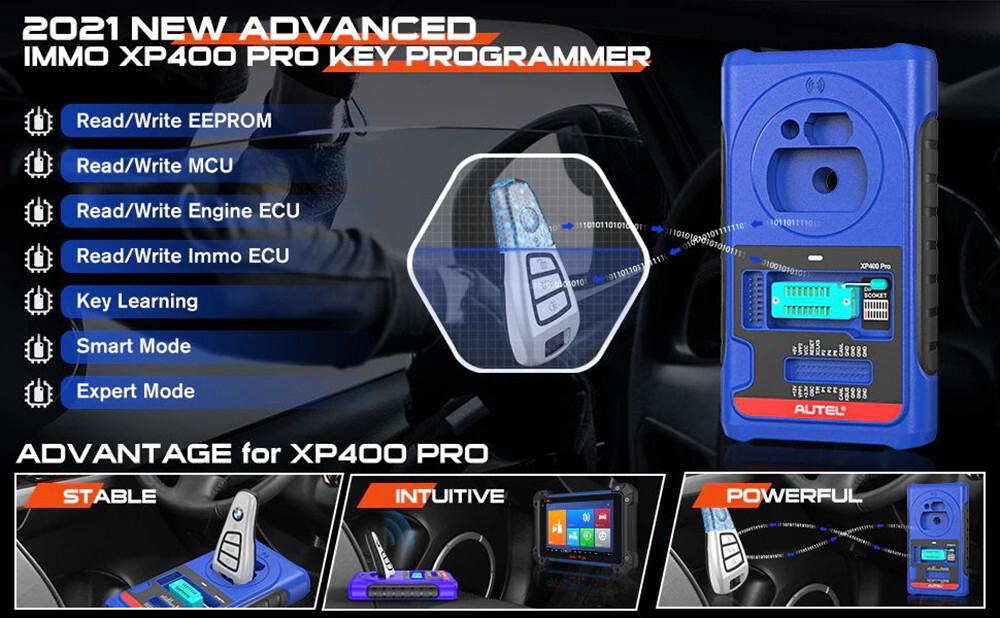 XP400 Pro adds support for following Adapter Board:
APB113 PCF79XX adapter board
APB114 EWS3 adapter board
APB118 NEC ELV adapter board
APB119 TB28FXXX adapter board
APB120 TMS370 adapter board
APB121 AM29FXXX adapter board
APB122 AM29FXXX adapter board 1
APB123 AM29FXXX adapter board 2
APB126 M35080/D80 adapter board
APB127 MC68HC0(7)05BXX adapter board
APB128 MC68HC05X32 adapter board
Advanced Key Programming Functions
1.Exclusive Smart Mode to guide Key Programming
2.Auto Read IMMO Data via OBD
3.One-tap Key Programming via OBD & Easy-to-use Remote Programming
4.With the newly upgraded key programmer XP400 Pro
Extensive Vehicle Functionality Coverage
1.Support Diagnostics & IMMO Programming for 10,000+ Models;
2.Support Models Up to 2020;
3.All System Diagnostics and Advanced Maintenance Services;
4.Benz -- 3rd Generation IMMO CAN-Line / K-Line Add Key, All Key Lost via OBD;
5.BMW -- Support EWS3/4; CAS 1/2/3/4, FEM/BDC Add Key / All Key Lost;
6.Volkswagen / Audi -- Add Key / All Key Lost via OBD for 2013 - 2020 Models;
7.GM -- Read IMMO Password, Add Key / All Key Lost up to 2020;
8.Ford -- Add Key / All Key Lost (No PIN Needed) up to 2020;
9.Mazda -- Add Key / All Key Lost (No PIN Needed) up to 2020;
10.FCA -- Read IMMO Password, Add Key / All Key Lost up to 2020;
11.Renault -- Add Key / All Key Lost (No PIN Needed) up to 2020
12.Jaguar LandRover -- Add Key / All Key Lost up to 2019
13.Volvo -- Semi-smart Key Learning via OBD up to 2018; Smart / Blade / Fobik Key Learning via Dump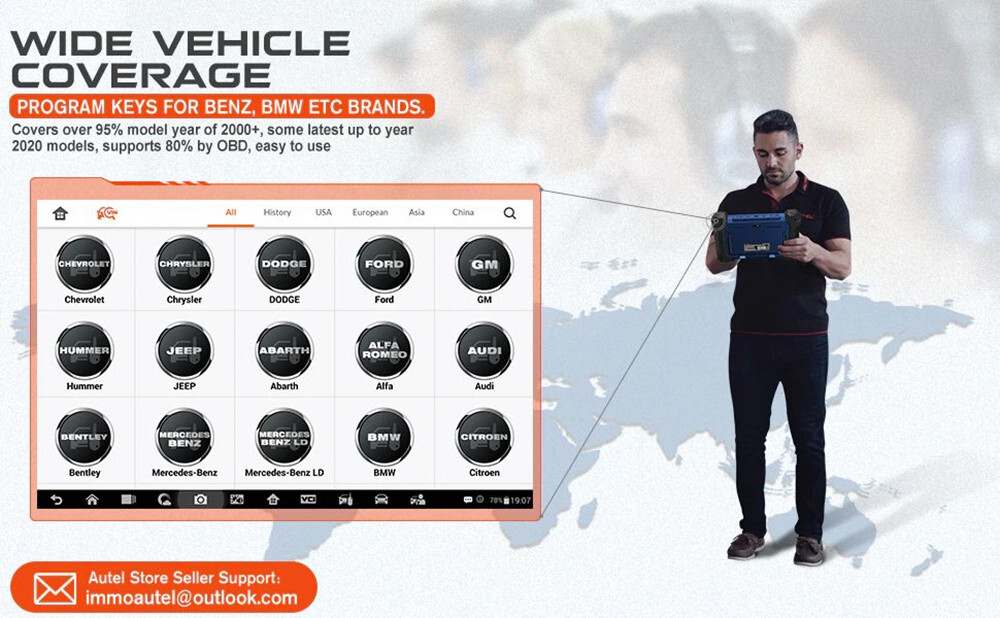 Autel IM608 Pro Packing List:
1pc x MaxiIM IM608 Tablet
1pc x XP400 Pro Key Programmer
1pc x MaxiFlash JVCI ECU Reprogrammer
1pc x AC/DC Adapter (12V)
1pc x Light Fuse - 6*30mm (2pcs)
1pc x APB129 (EEPROM Adapter)
1pc x APB125 (Mercedes Infrared Collector)
1pc x APB103 (MCU_PLCC52)
1pc x APB104 (MCU_FQFP64)
1pc x APB105 (MCU_FQFP80)
1pc x APB106 (MCU_FQFP112)
1pc x APB107 (MCU_FQFP144)
1pc x APB108 (MCU_FQFP176)
1pc x APB110 (MCU_FQFP176)
1pc x APB111 (MCU_FQFP176)
1pc x APA002 (EEPROM Socket)
1pc x APA101 (Signal Cable)
1pc x APA103 (EEPROM Clamp)
1pc x APA109 (MC9S12 Clamp)
Package List of IMKPA Accessories
Buy from Autelcartool
Contact US:
Email: sales@autelcartool.com
Whatsapp: +86 13728848116
Operating System:

Android™ 4.4.2, KitKat
Processor:

Samsung Exynos hexa-core Processor (1.3GHz Quad-core ARM Cortex-A7 + 1.7GHz Dual-core ARM Cortex-A15)
Memory:

2GB RAM & 64GB On-board Memory
Display:

10.1-inch LED capacitive touch screen with 1920x1200 resolution
Connectivity:

Wi-Fi (802.11 a/b/g/n/ac),USB: 2.0,BT v.2.1 + EDR,SD Card (Support up to 32GB),HDMI
Sensors:

Gravity Accelerometer, Ambient Light Sensor (ALS)
Power and Battery:

15000 mAh 3.8 V lithium-polymer battery,Charging via 12 V AC/DC power supply with the temperature between 0°C and 45°C
Input Voltage:

12 V (9-24 V)
Power:

6.5 W
Protocols:

ISO 9142-2, ISO 14230-2, ISO 15765-4, K/L-Line, Flashing Code, SAE-J1850 VPW, SAE-J1850 PWM, CAN ISO 11898, Highspeed, Middlespeed, Lowspeed and Singlewire CAN, GM UART, UART Echo Byte Protocol, Honda Diag-H Protocol, TP 2.0, TP 1.6, SAE J1939, SAE J1708, Fault-Tolerant CAN