Autel
Autel MaxiLink ML629 OBD2 Scan Tool ABS SRS Airbag Transmission Engine diagnosis, Same as AL629
AutelCartool
Autel MaxiLink ML629 OBD2 Scan Tool ABS SRS Airbag Transmission Engine diagnosis, Same as AL629
The ABS/SRS/Engine/Transmission + CAN OBDII MaxiLink ML629 is built to help you to determine why the Malfunction Indicator Light or the ABS / SRS warning light is on. Supporting all 10 test modes of OBDII test, ML629 obd2 scanner provides you a complete diagnosis.
Autel MaxiLINK ML629 Functions:
ML629 code reader easily determines the cause of the Check Engine Light (MIL), Reads and clear check engine light codes. Turns off Check Engine Light (MIL), resets monitors.
Retrieves generic (P0, P2, P3, and U0), manufacturer specific (P1, P3, and U1) codes and pending codes
Built-in DTC lookup library for manual retrieval and shows code definition
Fix the latest bugs and add newly DTC or parameters Continuously.
AutoVIN for Quick DTC Definition.
Troubleshooter code tips guide technicians to the root cause of trouble codes faster
This ML629 car scan tool can be utilized to read and erase trouble codes from Anti-lock Braking System (ABS) and Supplemental Restraint System (SRS) and Engine/ Transmission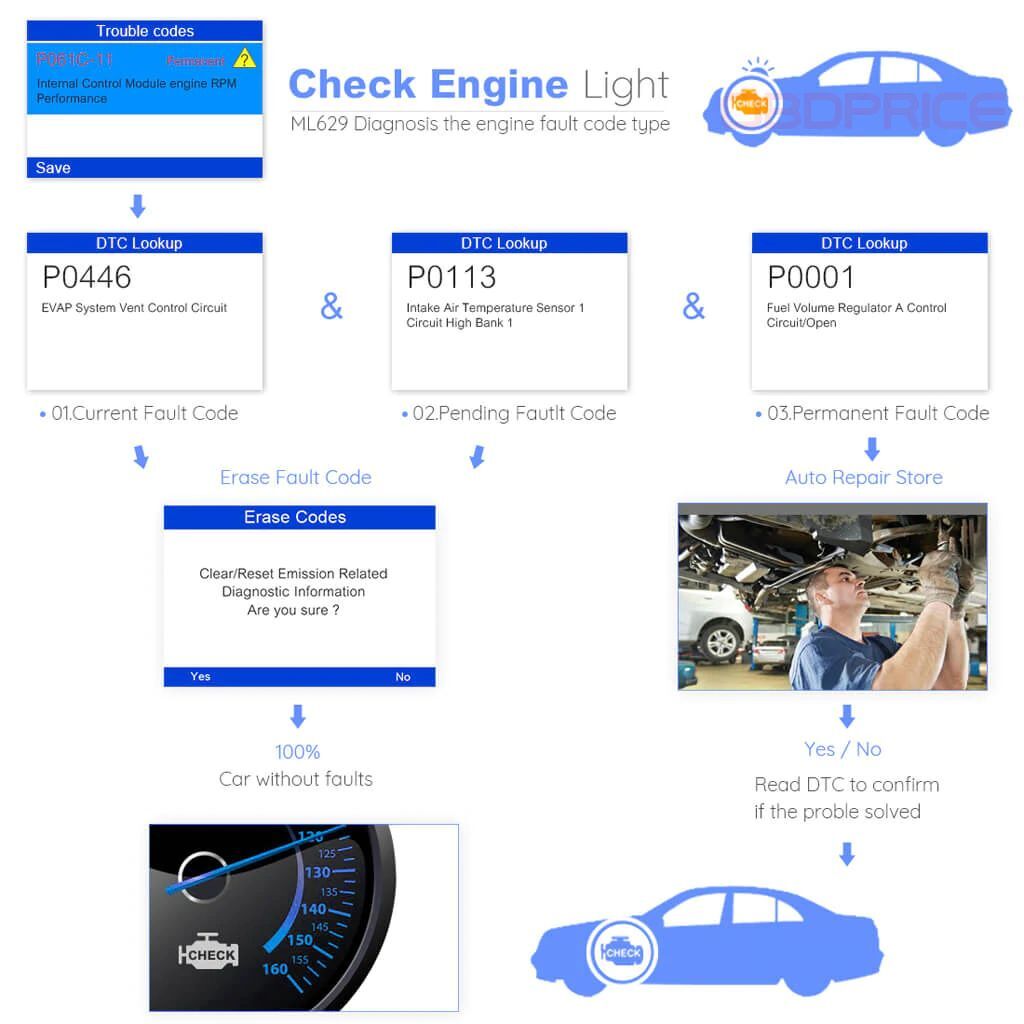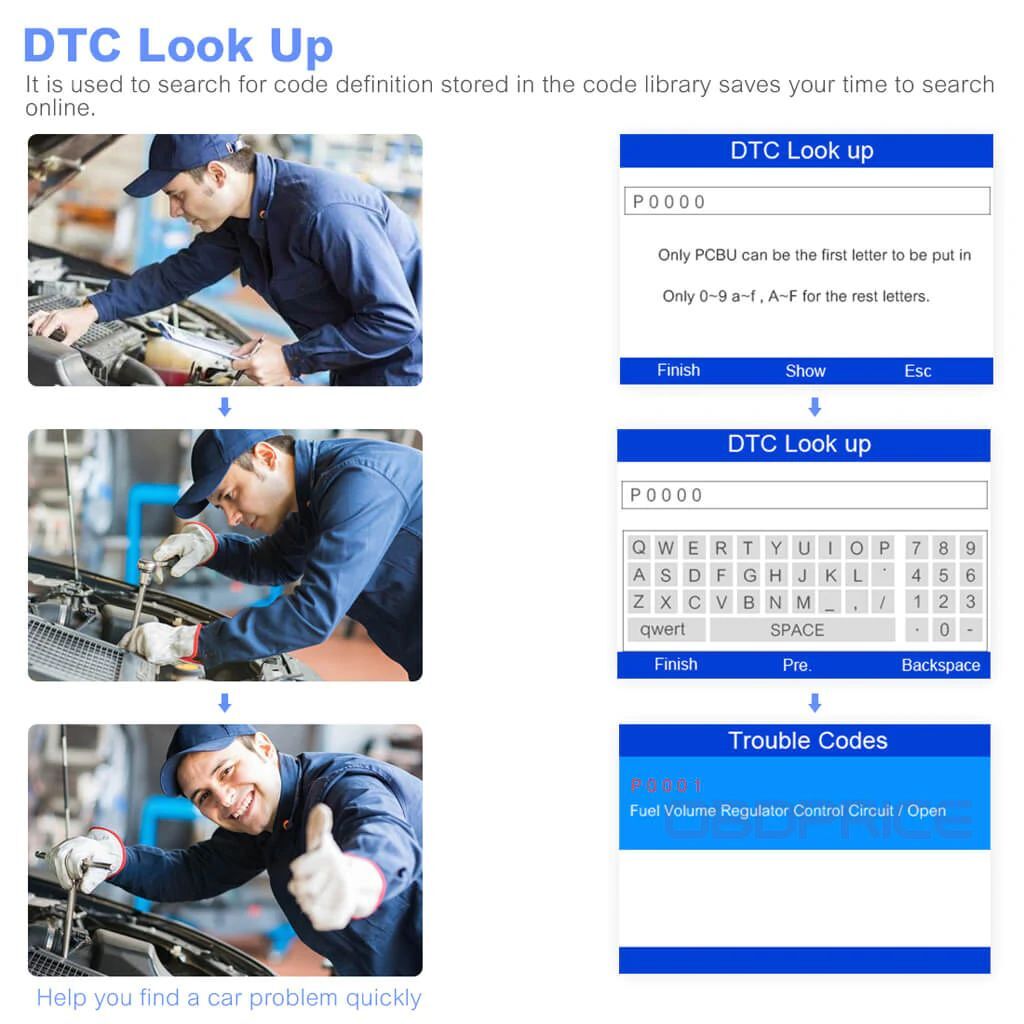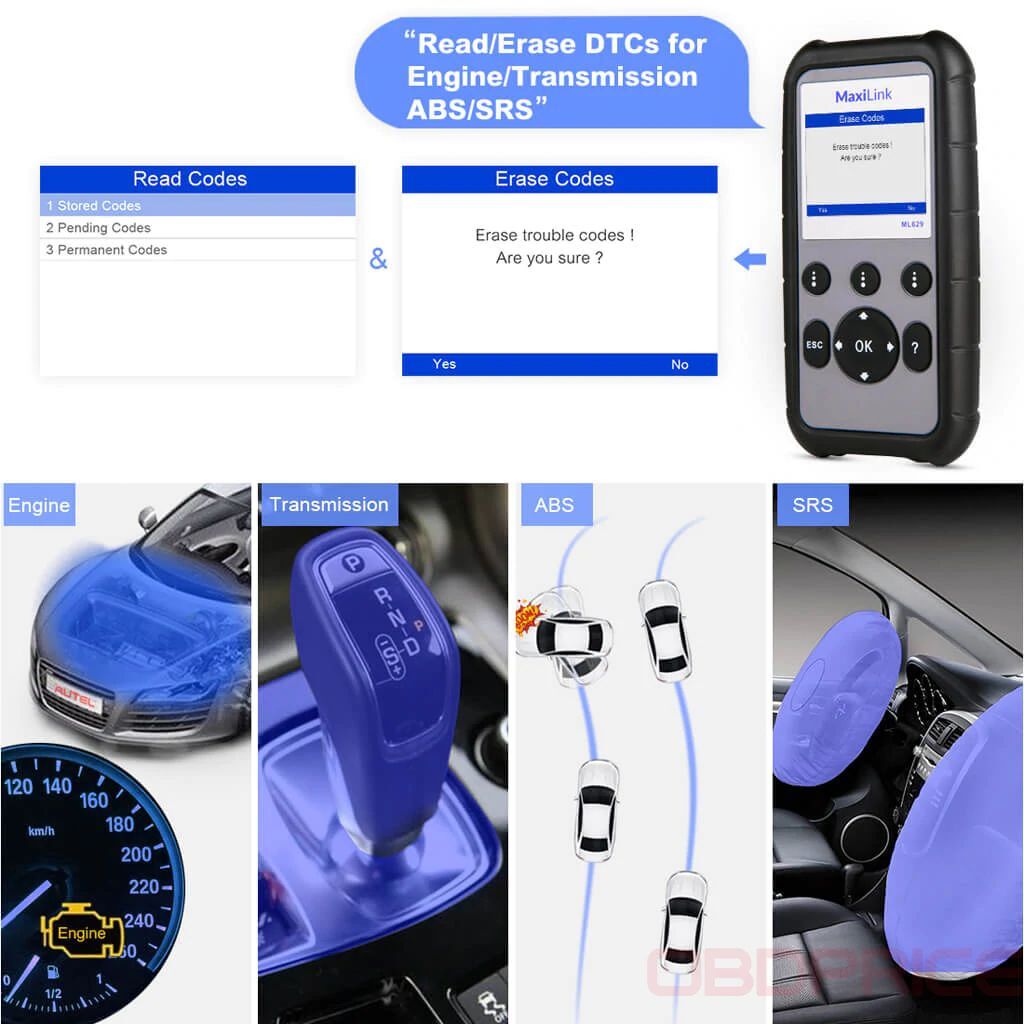 Autel MaxiLINK ML629 OBDII Features:
1.Supports all 10 test modes of OBDII test, ML629 provides you a complete OBD II diagnosis
2.Graphs data = Displays all data stream items or select a certain item of live data with a graph
3.Views Freeze Frame Data = shows vehicle parameters recorded by ECU when an emission-related fault occurs
4.On-board monitor test can be utilized to read the results of on-board diagnostic monitoring
5.Displays monitor and I/M readiness status (emissions) and live O2 sensor test data
6.Reads, stores and plays back live PCM data stream and live sensor data
7.Retrieves vehicle information (VIN, CALID and CVN)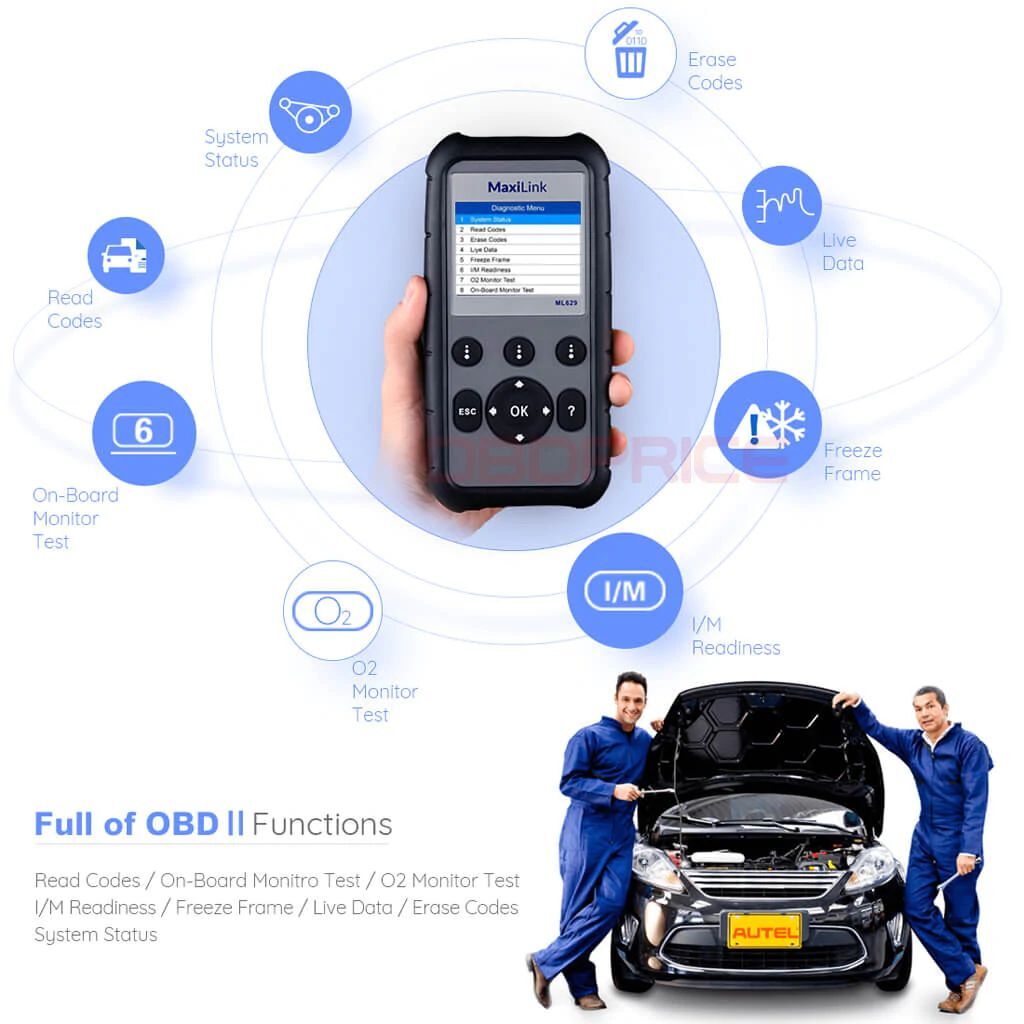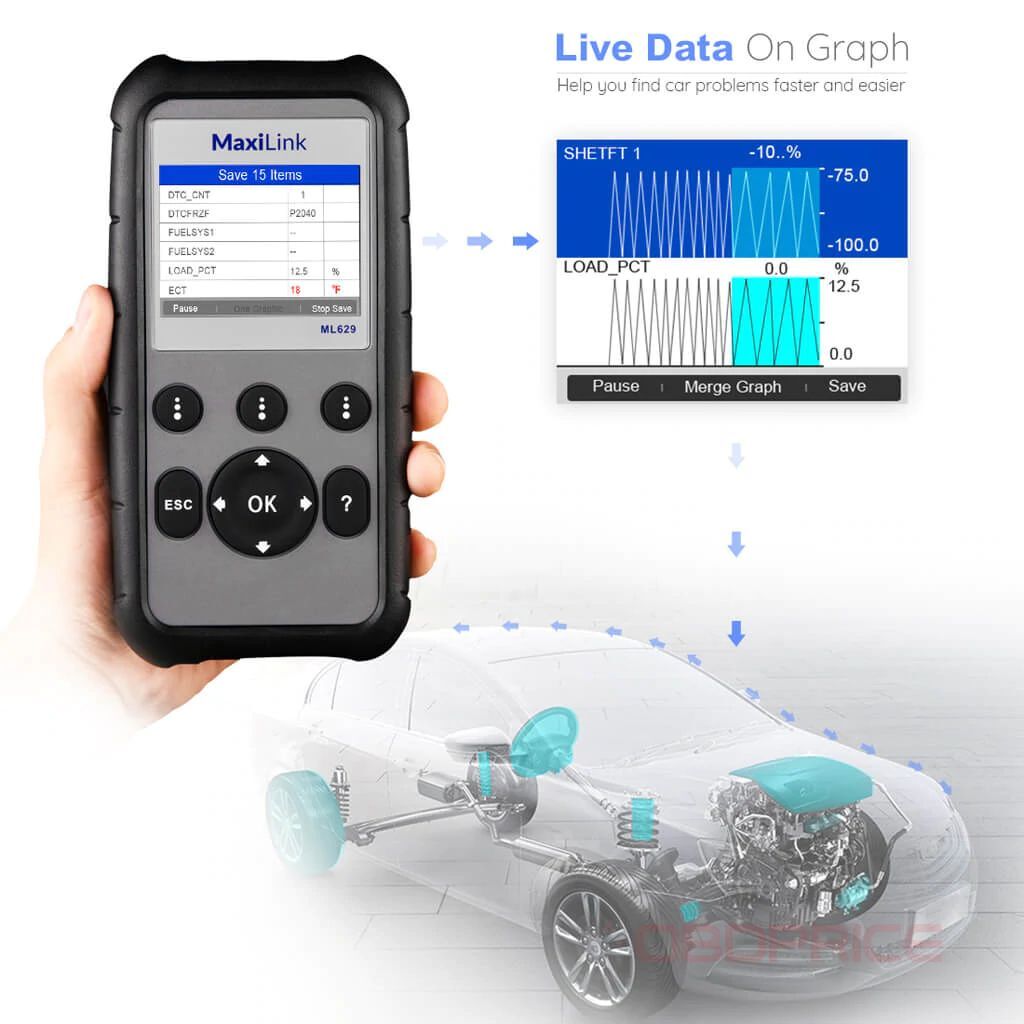 3. Autel MaxiLINK ML629 Vehicle Coverage
Works on most 1996 and newer major vehicle models (OBDII & CAN) – domestic and import
A wide range of European, US and Asian vehicles are covered by Autel ML629, including GM, Ford, Mazda, Toyota, Lexus, Scion, Suzuki, Peugeot, Citroen, Fiat, Abarth, Lancia, Alfa, Honda, Acura, Subaru, Nissan, Infiniti, Chrysler, Renault, Dacia, Land Rover, Jaguar, VW, Audi, Bugatti, Skoda, Seat, Bentley, Volvo and Porsche, etc. For a detailed vehicle coverage list, please contact us.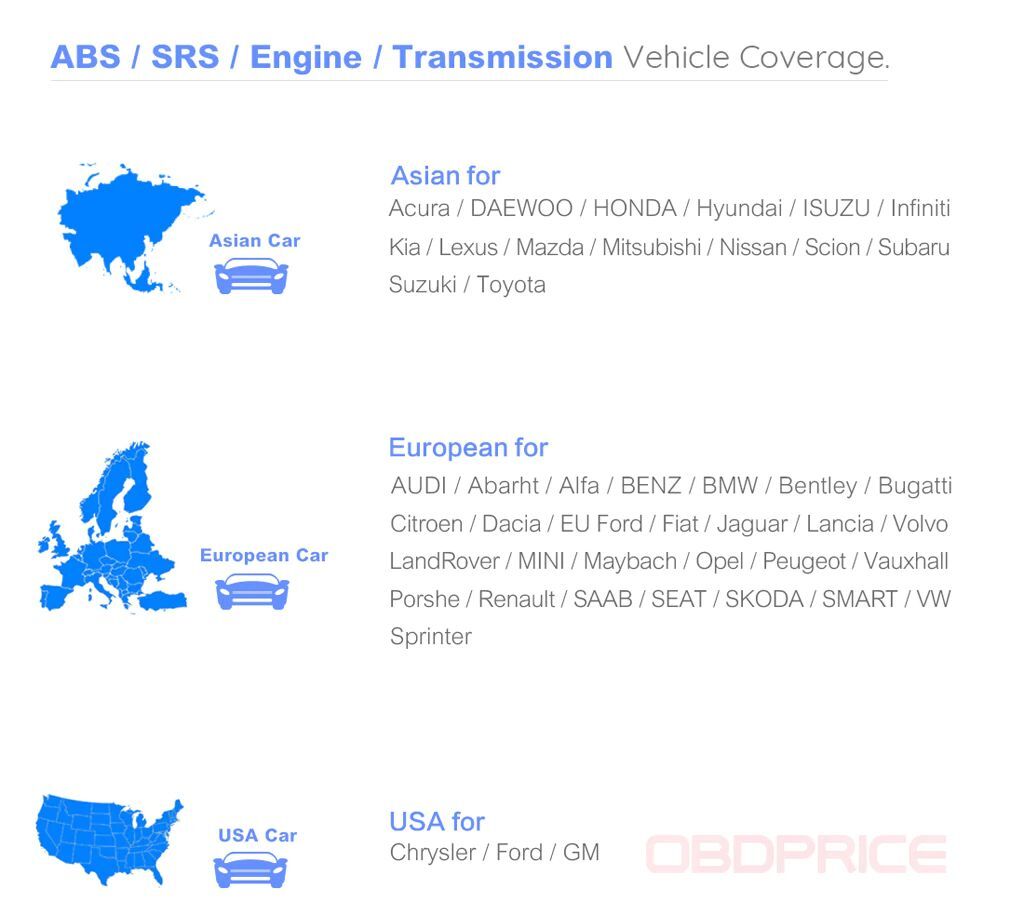 4. Autel MaxiLINK ML629 Multi-language
English, Chinese, French, German, Spanish, Portuguese, Japanese, Nederlands, Polish, Korean, Swedish, Italian, Russian.
5. Autel MaxiLINK Update & Print
Life-time FREE software update from Autel official webstie
TF memory card for data backup and software update Via USB
Internet upgrade via USB Cable
Autel MaxiLINK ML629 Package List
1x MaxiLink ML629 Unit
1x TF card
1x OBDII Cable
1x USB Cable
1x User Manual
1x Quick guide

Contact Us:
E-mail:
sales@autelcartool.com
WhatsApp:
+86 13728848116
Brand Name:

Autel
Certification:

CE
Origin:

CN(Origin)
Software Version:

Autel MaxiLink ML629
Language:

POLISH/Korea/German/Russian/Dutch/Portuguese/Spanish/Swedish/english/French/
Software Update:

Yes
Hardware Version:

Autel ML629
Model:

Autel MaxiLink ML629
support car:

Works on most 1996 and newer vehicles (OBDII & can) domestic import