Autel
Autel Maxisys CV MS908CV Heavy Duty Truck Diagnostic Tool, Diesel Scanner for Commercial Vehicles With J2534 ECU Programming Tool
stars, based on
0
reviews
0 orders
$2820.00now$2199.00 piece
Contact Us
AutelCartool
Autel Maxisys CV MS908CV Heavy Duty Truck Diagnostic Tool, Diesel Scanner for Commercial Vehicles With J2534 ECU Programming Tool
The Autel MaxiSys CV heavy duty truck diagnostic scanner is built on the powerful MaxiSys 908 platform and provides a comprehensive diagnostic solution for virtually all commercial vehicles as well as machines made in North America, Europe and Asia. Offering advanced features and extreme ease-of-use, MaxiSys MS908CV diagnostic system is the ideal solution for independent repair shops, owner-operators and various sized fleets seeking a single scan tool for all their professional heavy duty needs.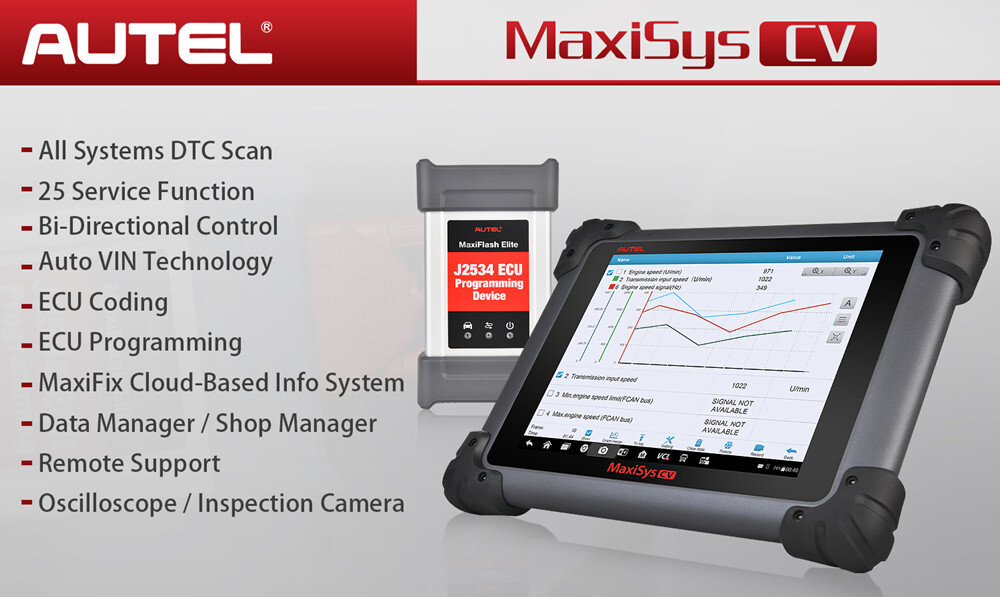 Autel Maxisys MS908CV Powerful Hardware
1,Extraordinarily powerful Cortex-A9 quad-core processor
2,9.7" 1024x768 LED-backlit glossy Multi Touch capacitive display with IPS technology
3,Internal reliable and fast 32GB Solid State Drive for better performance
4,Built-in 5-megapixel rear camera with autofocus and flashlight
5,Dual-band (2.4 GHz & 5.0 GHz) 802.11n Wi-Fi to access your favorite web resources
6,Unique shop tough ergonomic design features strong rubber protection and housing;
7,Built-in rechargeable lithium-ion battery for up to 8 hours of continuous operation
8,USB, audio and auxiliary ports make it easy to connect accessories
9,The VCI connects to the main unit wirelessly with up to 230 meters working range
Autel Maxisys MS908CV Advanced Software
1.Open source Android Operating System for fast boot-up and multitasking
2.Easy and intuitive navigation makes finding what you need simple and fast
3.Extensive vehicle coverage for more than 80 US, Asian and European commercial vehicle makes and machines
4.Complete capabilities for codes, live data, actuation tests, adaptations and ECU coding
5.Displays live data in text, graph, analog and digital gauge for easy data review and analysis
6.Configures display options, sets triggers, records and playbacks results with one touch
7.Records and playbacks live data to pinpoint troubles of sensors and components
8.Cloud-based Data Manager saves customer and vehicle records, scanner data and technician notes
9.Remote technical support for convenient demonstration, training and increased customer satisfaction
10.Prints out recorded data anytime and anywhere with Wi-Fi technology
11.Automatic Wi-Fi updates available in new software releases
Autel MS908CV Truck Scanner - Unmatched Vehicle Coverage
Autel Maxisys CV is compatible with 99% Light Duty / Medium Duty / Heavy Duty (1996-present)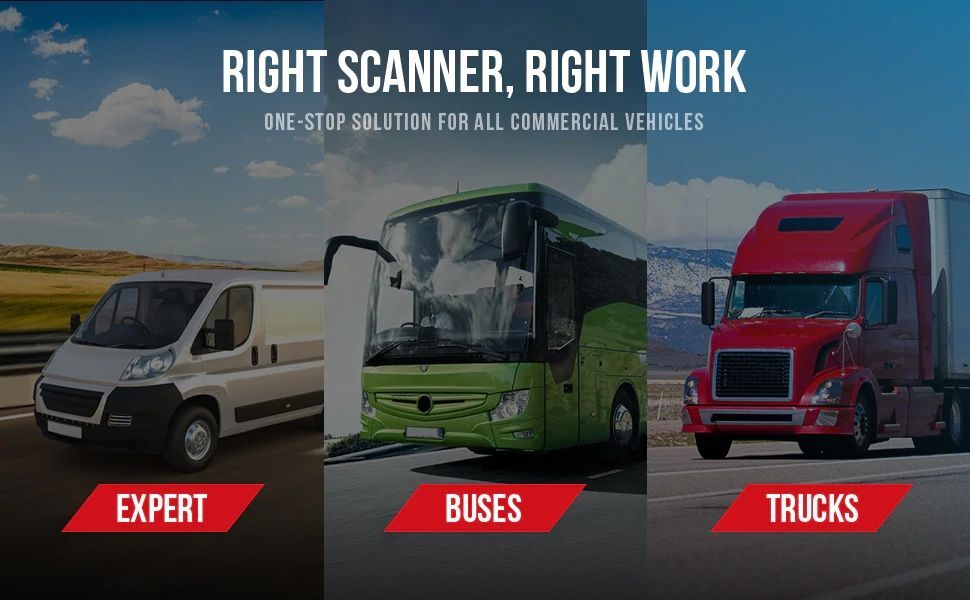 Autel MS908CV performs diagnosis for heavy trucks, light trucks, natural gas vehicles, construction vehicles, and buses and so on, working with more than 80 commercial vehicle brands, ideal for large repair shops and professional mechanics.
1.Expert (20): Allison, Bendix, Caterpillar, Cummins, International, Detroit, PACCAR, VOLVO, Freightliner, Wabco, ZF Meritor, MERCEDES BENZ, Boschauto, Power Stroke, AISIN, IVECO, Mack, Eaton, MTU, MWM...
2.Trucks (35): VOLVO, AGRALE, AUTOCAR, CAPACITY, Dodge, FIAT, FORD, FOTON, Freightliner, GMC, GREAT WALL, HINO, HYUNDAI, ISUZU, KIA, MERCEDES BENZ, MITSUBISHI, MITSUBISHI FUSO, NISSAN, Sterling, International, IVECO, VOLKSWAGEN, Kenworth, Mack, Peterbilt, WORKHORSE...
3.Buses (30): OBD, VOLVO, AGRALE, HINO, ISUZU, MERCEDES BENZ, MITSUBISHI FUSO, VOLKSWAGEN, TOYOTA, Renault...
4.Trailer (3): Bendix, Haldex, Wabco
25 Special Functions + 23 Adaptation Functions
Autel Maxisys MS908CV, the 2022 new version, is a top heavy-duty truck scanner with 25 special services (including Oil Reset, Injector Coding, DPF, EPB, ABS, SRS, Suspension, Throttle ...) and 23 adaption functions (including DOC/DPF Instant Replacement Reset, Fuel Pressure Adaptation Reset, Injector CEOM Reset etc.) to meet all your needs. And those functions work perfectly for the 99% of commercial vehicles in the U.S. market for instance Freightliner, Kenworth, Peterbilt, International, Volvo, etc.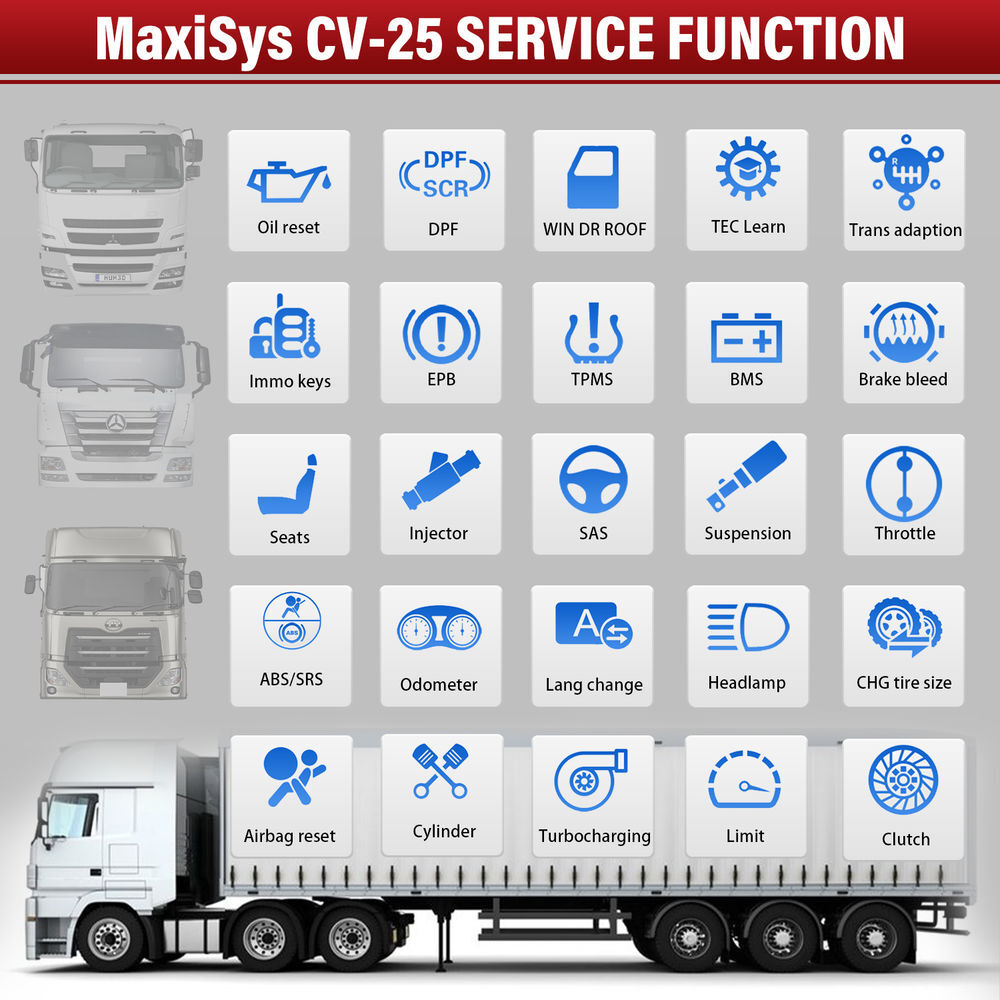 All Systems Diagnostics
Auel truck scanner Maxisys 908CV is an affordable choice to compete with OEM scanners with more advanced functions, while less budget. Autel diesel truck scanner MS908cv can conduct a full-system diagnostic and read DTCs to locate the fault, clear DTCs to turn off the MIL, retrieve ECU information to learn about the details and views live data. Full-system diagnosis can be applied to ​more than 80 light / medium / heavy-duty commercial vehicles with this Autel scan tool.
ECU Coding J2534 ECU Programming
Heavy-duty scanner MaxiSys CV ms908cv features advanced ECU coding that normal diagnostic tools don't support. It allows you to re-flash the commercial vehicles' control modules, and write in adaptive data for certain components after making repairs or replacements, to fix the issues as: Drivability, Fuel Efficiency, Power Loss, Fault Codes, Durability of Mechanical Parts, etc. without using expensive OE scanners.
Other Powerful Performance:
1. Wireless Bluetooth Connection - Up to 230m
With a vehicle communication interface (VCI) for MaxiSys 908CV Heavy Duty Scan Tool whose Bluetooth communication ranges to 230m, you can use the diagnostic scanner wirelessly either at your workbench or under the hood. Besides enhanced Bluetooth connectivity, the portable VCI Bluetooth connector performs well on data transmission between your vehicle and the display tablet.
2. AutoVin & AutoScan Detection
Autel MS908CV scan tool takes truck diagnosing to the next level with its AutoVin and AutoScan based systems. It automatically identifies the vehicle make, model, and year, in order to determine vehicle-specific codes, which allows the technician to detect your commercial vehicles in a breeze, scan all the diagnosable ECUs on every vehicle and run diagnostics on the selected system.
3. Active Test or Bi-Directional Control
Autel truck scanner MaxiSys MS908CV provides direct access to the vehicle-specific subsystems and components, and output commands to the specific solenoid/relay/ switch to precisely locate faults.
4. 1-year free software update warranty
As the 2022 new version from Autel, Autel MS908CV come with a 1-year warranty & software update and 24-hour tech support.
5. Hardware Expansion Support
MS908CV truck scanner supports an extremely rich hardware expansion such as multimeter, oscilloscope, endoscope to provide greater convenience for your work or you can work with MV105, MV108, MV400.
Autel Maxisys CV Package List:
1x MaxiSYS MS908 CV Main Unit
1x MaxiFlash Elite J2534 ECU Programming Device / VCI
1x Benz -14 adapter
1x Iveco -30 adapter
1x Iveco -38 adapter-
1x Scania / DAF -16 adapter
1x MAN -37 adapter
1x MAN -12 adapter
1x Volvo -8 adapter
1x ISUZU -20 adapter
1x Commins -8 adapter
1x Deutsch -9 adapter
1x Cat -9 adapter
1x Uni -4 adapter
1x Deutshch - 6 adapter
1x Renault -12 adapter
1x AC/DC Adapter (12V)
1x Main Cable
1x USB Cable
1x Mini USB Cable
1x Clipper Cable
1x Cigarette Lighter
1x Light Fuse 6*30mm (2pcs)
2x JW1
2x JW2
2x JW3
2x JW4
2x JW5
2x JW6
2x JW7
2x JW8
2x JW9
2x JW10
1x User Manual
1x Quick Reference Guide
1x Packing List
1x CD
1x Soft Cloth Screen Wipe
1x Carrying Case
1-Year Software Updates & Warranty
Buy from Autelcartool

Contact US:
Email: sales@autelcartool.com
Whatsapp: +86 13728848116
Brand Name:

Autel
Operating System:

Android™ 4.0, Ice Cream Sandwich
Processor:

Samsung Exynos Quad-Core Processor 1.4GHz
Memory:

2GB RAM & 32GB On-board Memory
Display:

9.7 inch LED capacitive touchscreen with 1024x768 resolution
Connectivity:

Ethernet: RJ45 Ethernet Connection,WiFi (802.11 a/b/g/n),USB: 2.0 ,BT v.2.1 + EDR ,SD Card (Support up to 32GB),HDMI
Camera:

Rear-facing, 5.0 Megapixel, AF with Flashlight
Sensors:

Gravity Accelerometer, Ambient Light Sensor (ALS)
Audio Input/Output:

Microphone • Dual Speakers •4-Band 3.5 mm stereo/standard headset jack
Power and Battery:

11000 mAh 3.7 V lithium-polymer battery Charging via 12 V AC/DC power supply
Input Voltage:

12 V (9-24 V)
Power Consumption:

6.5 W
Protocols:

SAE J1939; SAE J1708; Manufacturer customized J1939; Manufacturer customized J1708; KWP; VPW; UDS-CAN; CDL