Autel
Autel MaxiSys MS906 Full System Diagnostic Tool Support ECU Coding with ABS/SRS/SAS/EPB
stars, based on
0
reviews
$1100.00now$1049.00 piece
Contact Us
AutelCartool
Autel Maxisys MS906 Automotive Diagnostic Scanner Scanner with OE Level Diagnosis and ECU Coding
Autel Maxisys MS906 Features Overviews:
1. Original Autel Brand. With Big Screen, Run faster than Autel Maxidas DS708
2. Support Wifi. But Wifi is only for Update. Can Not Use Wifi Connection to Do Diagnose.
3. Free One Year Free Update Online: Automatic system and software updates with real-time push message notifications via internet. over one year, only 495/Year
4. Smart Technology: Featuring the latest AutoVIN technology to identify vehicles in one touch to scan ECUs, acquire vehicle info and run diagnostics on selected systems.
5. 5000mAh lithium-polymer battery provided around 5 hours of continuous use.
6.Extensive OE-Level Converge: Scan a broad range of automotive related problems for over 80 car manufactures such as Chevrolet, Ford, GM, Audi, Benz, BMW as well as Dodge are all included.
7. Complete Diagnostic: 8 inch touch screen easy-to-use comprehensive vehicle diagnostics and analysis scanner

Note: Language English ONLY

​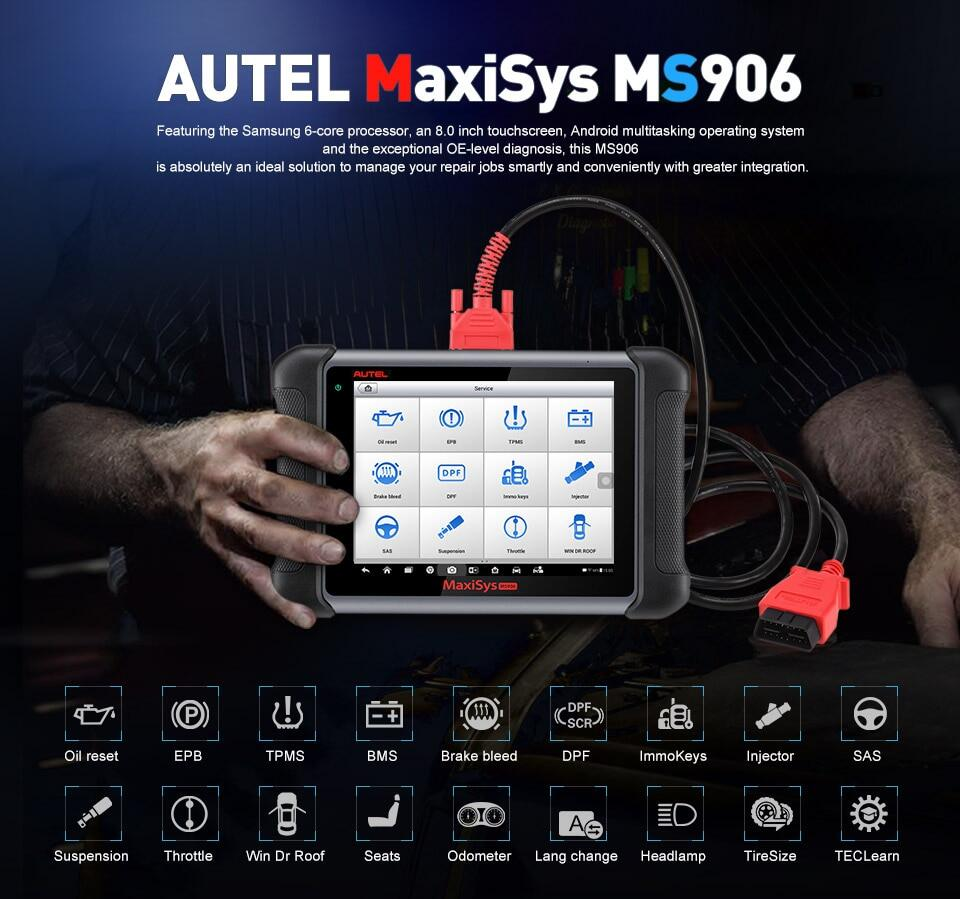 Autel Maxisys MS906 Introduction

Autel is a leading company experienced in producing professional diagnostic tools, equipment and accessories in the automotive aftermarket. Focused on the orientation of "value innovation and assiduous pursuit", Autel has always adhered to deliver easier diagnostic solutions and long-time value to customers worldwide.
MaxiSys MS906 is an advanced diagnostic tool developed for mechanics looking for a scanner with ultra-convenient and modern design while delivering ultimate performance. Featuring the Samsung 6-core processor, an 8.0 inch LED capacitive touch screen, Android multitasking operating system and the exceptional OE-level diagnostics, this diagnostic scanner MS906 is absolutely an ideal solution to manage your repair jobs smartly and conveniently with greater integration.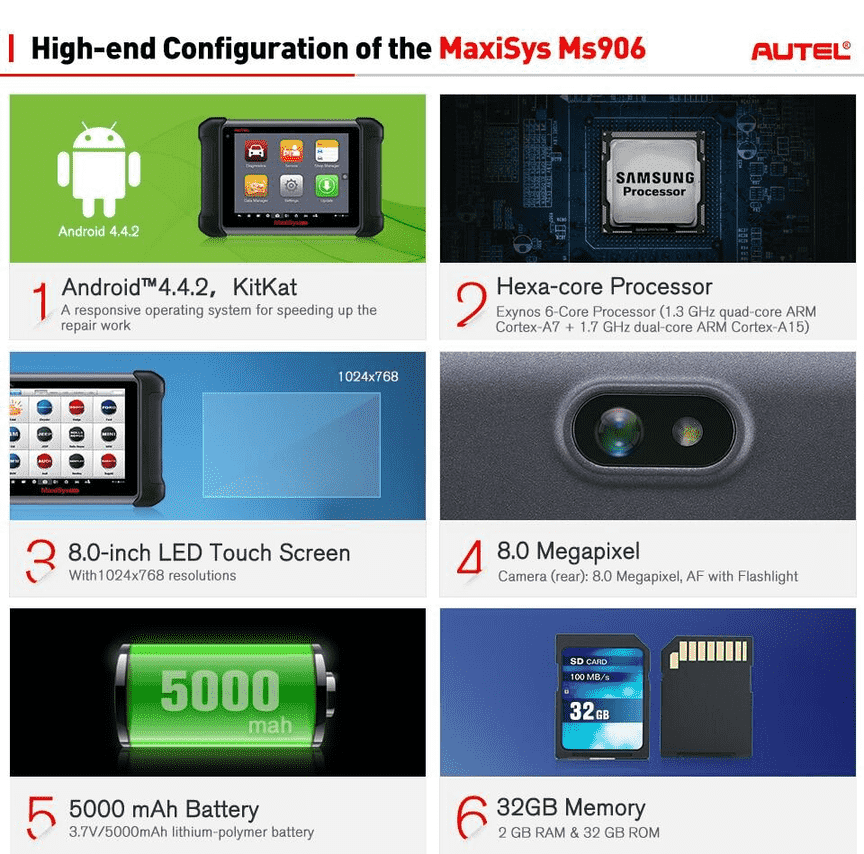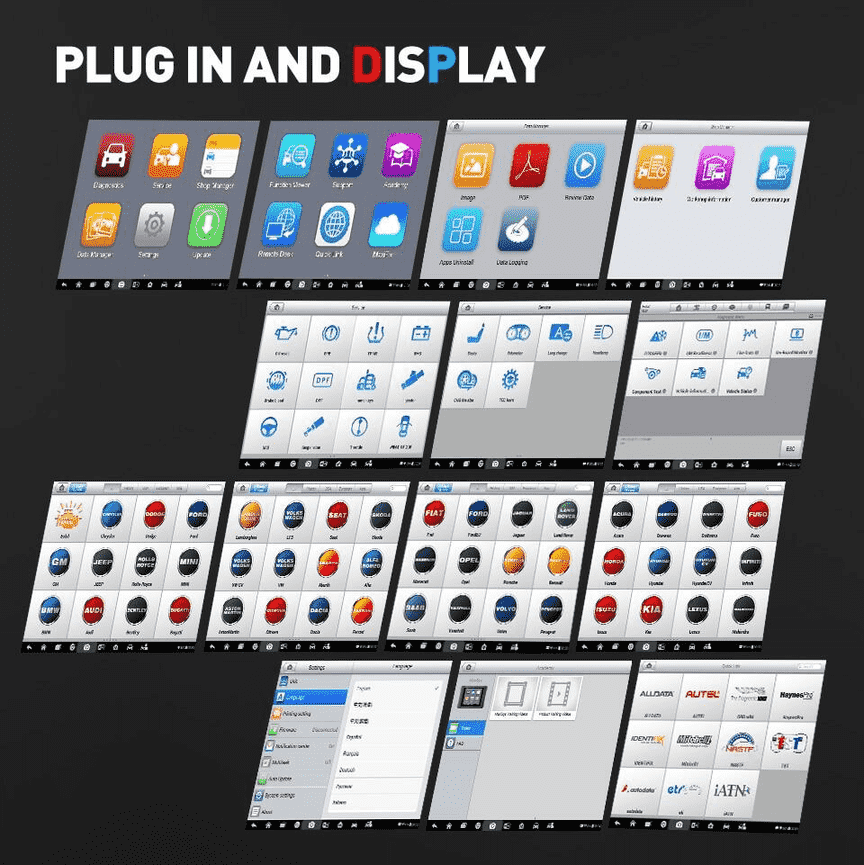 Autel Maxisys MS906 Perform Complete Diagnostic Functions

With a wide range of capabilities, the MS906 will let you get more repair work done quickly and easily. Look what this diagnostic scan tool will bring to you.
1. Retrieve ECU information of tested control units including unit type, version numbers and other specifications;
2. Read all kinds of DTCs from vehicle's control systems to locate problem areas, and offer possible solutions;
3. Erase the codes easily after DTCs retrieving and certain repairs have been carried out;
4. Live data of each parameter item displayed in analog, text, waveform graph, digital, or full screen display modes;
5. Active test used to access vehicle-specific subsystem and component tests.
Autel Maxisys MS906 In All Vehicle Systems on the ECUs

The diagnostic tool can access to ALL vehicle systems and subsystems, such as Body, Chassis, Powertrain, Network and etc., to perform a comprehensive scanning on ECUs to locate fault systems and retrieve DTCs.
​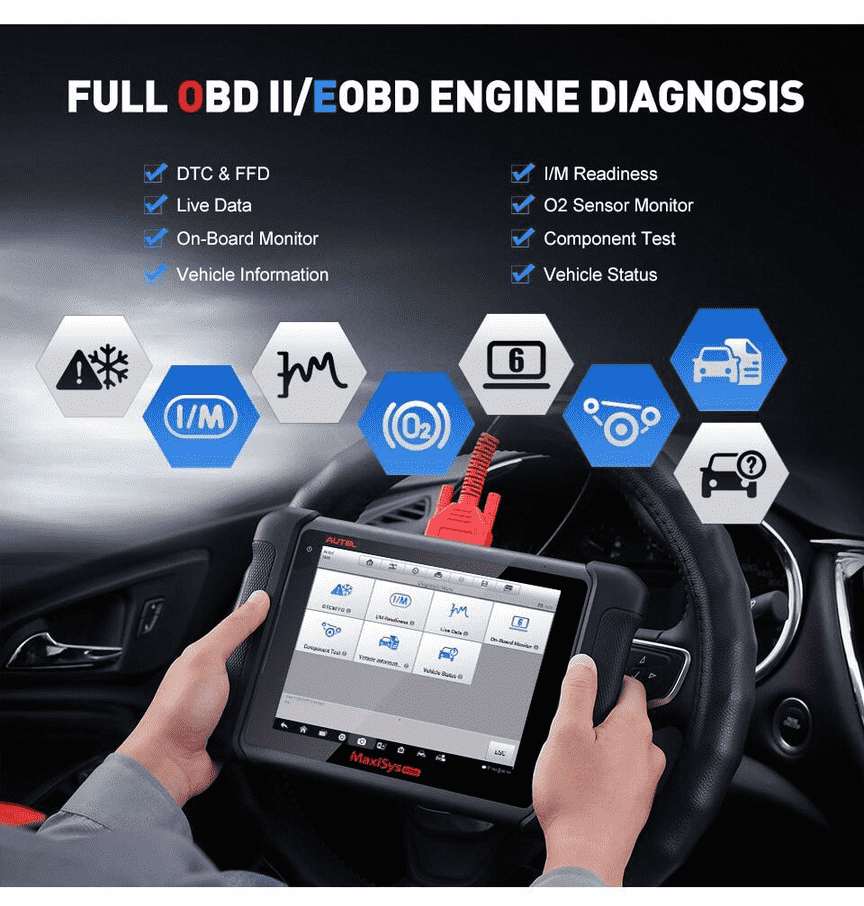 Autel Maxisys MS906 Active Test

The Active Test function is used to access vehicle-specific subsystem and component tests. Available test varies by manufacturer, year, and model, and only the available tests display in the menu. During an active test, the tester outputs commands to the ECU in order to drive the actuators. This test determines the integrity of the system or parts by reading the engine ECU data, or by monitoring the operation of the actuators, such as switching a solenoid, relay, or switch, between two operating states.
​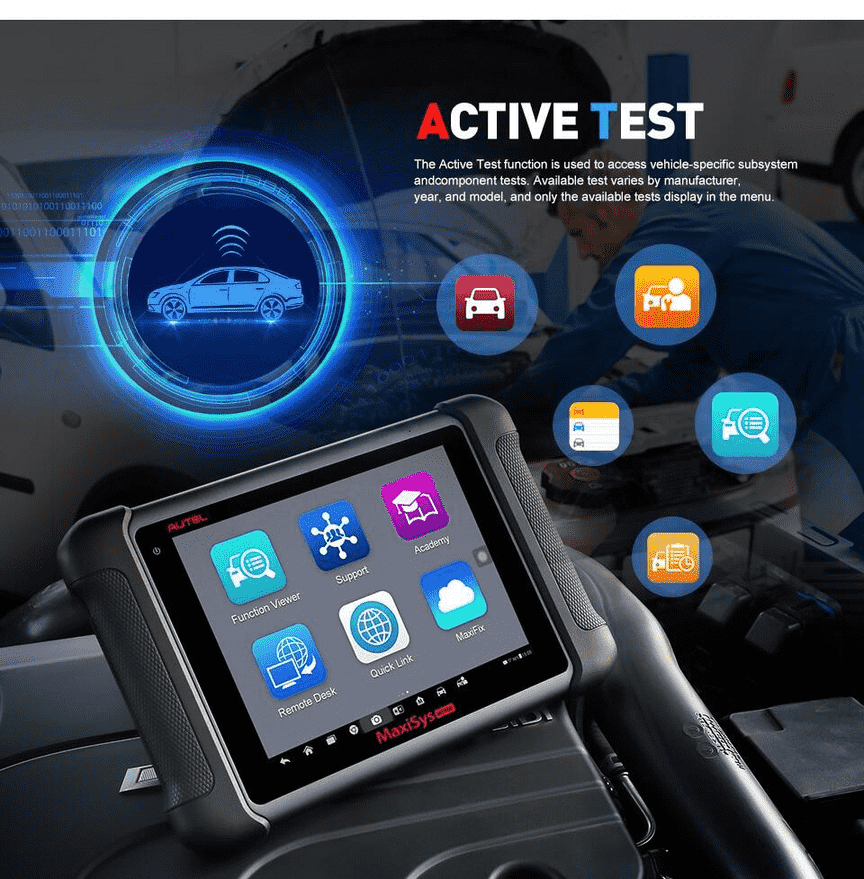 Autel Maxisys MS906 Special Functions

1.Oil Reset Service to reset service mileage and service intervals for the Engine Oil Life system;
2.TPMS Service to look up the tire sensor IDs from ECU, as well as to perform TPMS programming and reset procedures after sensor replacements;
3.EPB Service to deactivate and activate the brake control system, assist with brake fluid control, open and close brake pads, and set brakes after disc or pad replacement, etc.;
4.ABS/SRS Services to perform bi-directional tests to check the operating conditions of ABS and SRS, such as Automated Bleeding, Pump Motor Test, and checking Module information, etc.;
5.SAS Service to perform calibration for the Steering Angle Sensor, and clear fault memory;
6.DPF Regeneration Service to clear the blockage through the continuous burning of the particulate matter captured in the DPF filter
7.BMS Service performs a reset on the vehicle battery for clearing the fault information and re-match the battery;
8.Brake Bleed performs various bi-directional tests to check the operating conditions of Anti-lock Braking System (ABS), and turn off the warning light;
9.IMMO Service clear the lost car key's information and program the new key into the ECU database to protect user's car from being stolen;
10.Injector Coding writes the new code to the ECU after replacement of injector, so that the injector works;
11.Throttle Adaptation initialize the throttle actuators to the default state for regulating throttle (or idle engine) operations accurately;
12.Headlamp
13.Suspension
14.CHG tire size
15.TEC learn
16.WIN DR ROOF
17.Seats
18.Odometer
19.Lang change
​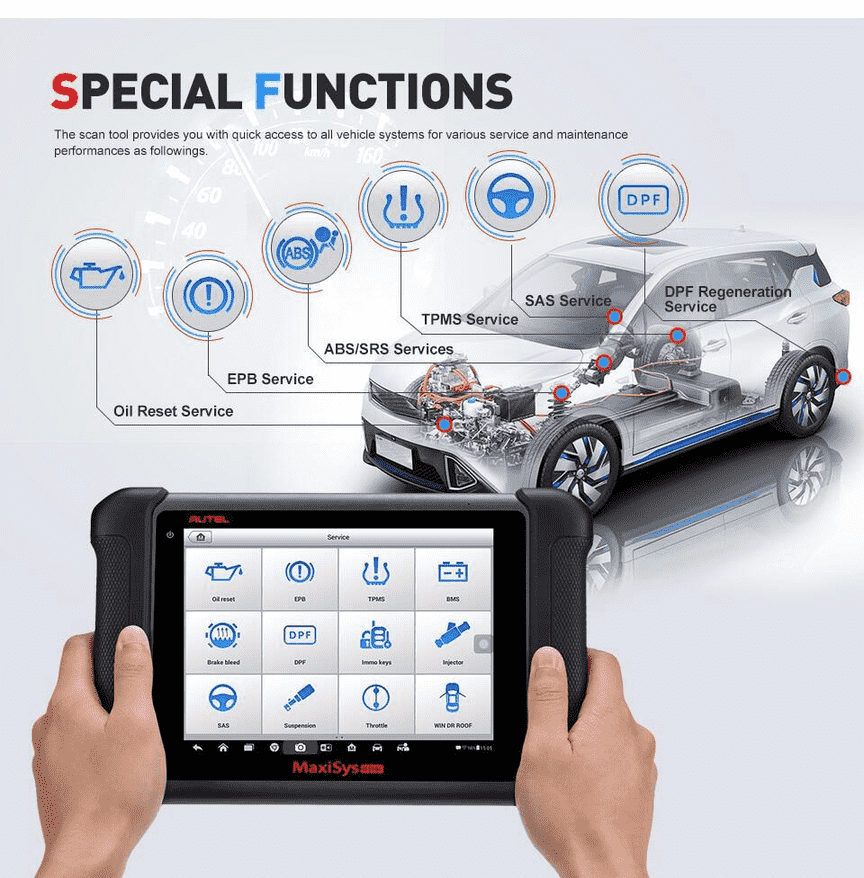 Autel Maxisys MS906 OBDII Adaptor List

Adapters for GM/Daewoo-12, BMW-20, Benz-38, Kia-20, Mitsubishi/Hyundai-12+16, Nissan-14, Honda-3, VW/AUDI-2+2, Chrysler-16 (America Only), Fiat-3 (NOT AVAILABLE), PSA-2 (NOT AVAILABLE), Benz-14 (Europe Only)
Autel Maxisys MS906 Extension Usage

Optional Accessories for Maximized Advantage of this Scanner
To help you get the most from MS906, there are many optional accessories to work with the diagnostic tablet. This diagnostic scanner offers you more potential functions of TPMS diagnostics when working with the TPMS diagnostic tool MaxiTPMS TS401 from Autel.
Combined with other products, MS906 can not only retrieve tire sensor IDs from ECU, perform TPMS programming and reset procedures, but can activate sensor, retrieve data, and program Autel MX –sensors.
1. Activate all magnetic, frequency, and tire deflation triggered sensors used on vehicle TPMS;
2. Retrieve sensor data including sensor ID, tire pressure, temperature, battery condition and modulation;
3. Manual input OE ID into MX-sensor, and program MX-Sensor by auto creating sensor ID.​
Autel Maxisys MS906 Wide Vehicle Coverage

This diagnostic scan tool works on more than 80 US, Asian and European vehicle makes, and well combines with up to 12 kinds of adapters included in package. Even OBD-I compliant vehicles are perfectly supported by this diagnostic scanner when connecting via these adapters. Get one diagnostic scanner, and you can diagnose much more vehicles than using other diagnostic scan tools.
The supported brands are as follows: Abarth, Acura, Alfa, Audi, Bentley, Benz, BMW, Bugatti, Chevrolet, Chrysler, Citroen, Dodge, Dacia, Daihatsu, Fiat, Ford, GM, Holden, Honda, Hyundai, Infiniti, Isuzu, Jaguar, Jeep, Kia, Land Rover, Lexus, Lancia, Maybach, Mazda, Mini, Mitsubishi, Nissan, Opel, Peugeot, Porsche, Renault, Saab, Scion, Seat, Skoda, Smart, Sprinter, Subaru, Suzuki, Toyota, Vauxhall, Volvo, VW, etc.
​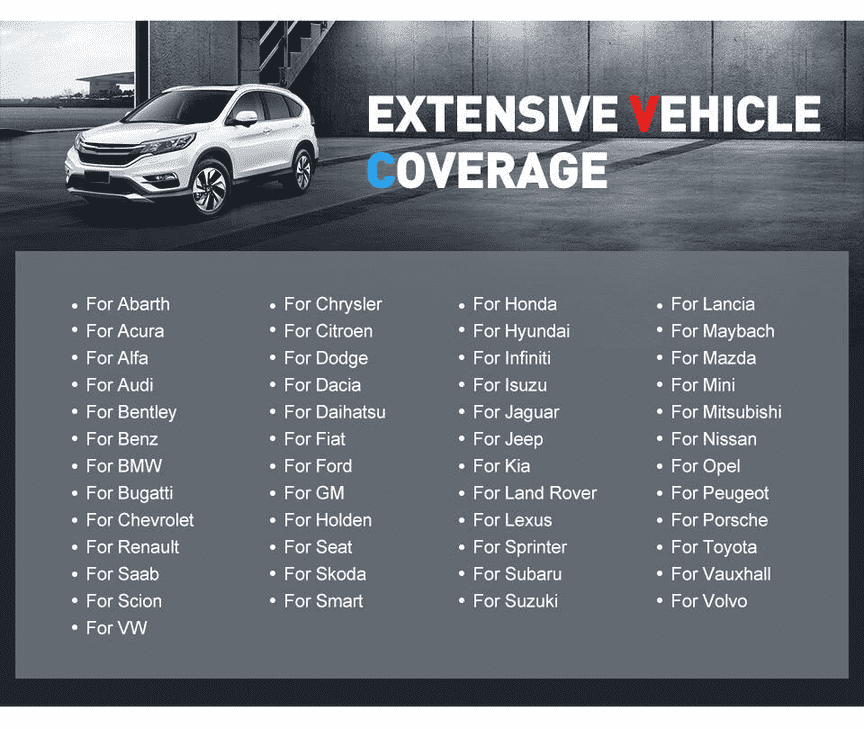 Autel Maxisys MS906 Features
1. Hardware
1) Extraordinarily powerful Cortex-A9 quad-core processor
2) 9.7inch 1,024x768 LED-backlit glossy Multi Touch capacitive display with IPS technology
3) Internal reliable and fast 32GB Solid State Drive for better performance
4) Built-in 5-megapixel rear camera with autofocus and flashlight
5) Dual-band (2.4 GHz & 5.0 GHz) 802.11n Wi-Fi to access your favorite web resources
6) Unique shop tough ergonomic design features strong rubber protection and housing;
7) Built-in rechargeable lithium-ion battery for up to 8 hours of continuous operation
8) USB, audio and auxiliary ports make it easy to connect accessories
9) The VCI connects to the main unit wirelessly with up to 230 meters working range
2. Software
1) Open source Android Operating System for fast boot-up and multitasking
2) Easy and intuitive navigation makes finding what you need simple and fast
3) Extensive vehicle coverage for more than 80 US, Asian and European vehicle makes
4) Complete capabilities for codes, live data, actuation tests, adaptations
5) Displays live data in text, graph, analog and digital gauge for easy data review and analysis
6) Configures display options, sets triggers, records and playbacks results with one touch
7) Records and playbacks live data to pinpoint troubles of sensors and components
8) Cloud-based Data Manager saves customer and vehicle records, scanner data and technician notes
9) Remote technical support for convenient demonstration, training and increased customer satisfaction
10) Prints out recorded data anytime and anywhere with Wi-Fi technology
11) Automatic Wi-Fi updates available in new software releases


Autel Maxisys MS906 VS MK808 VS MP808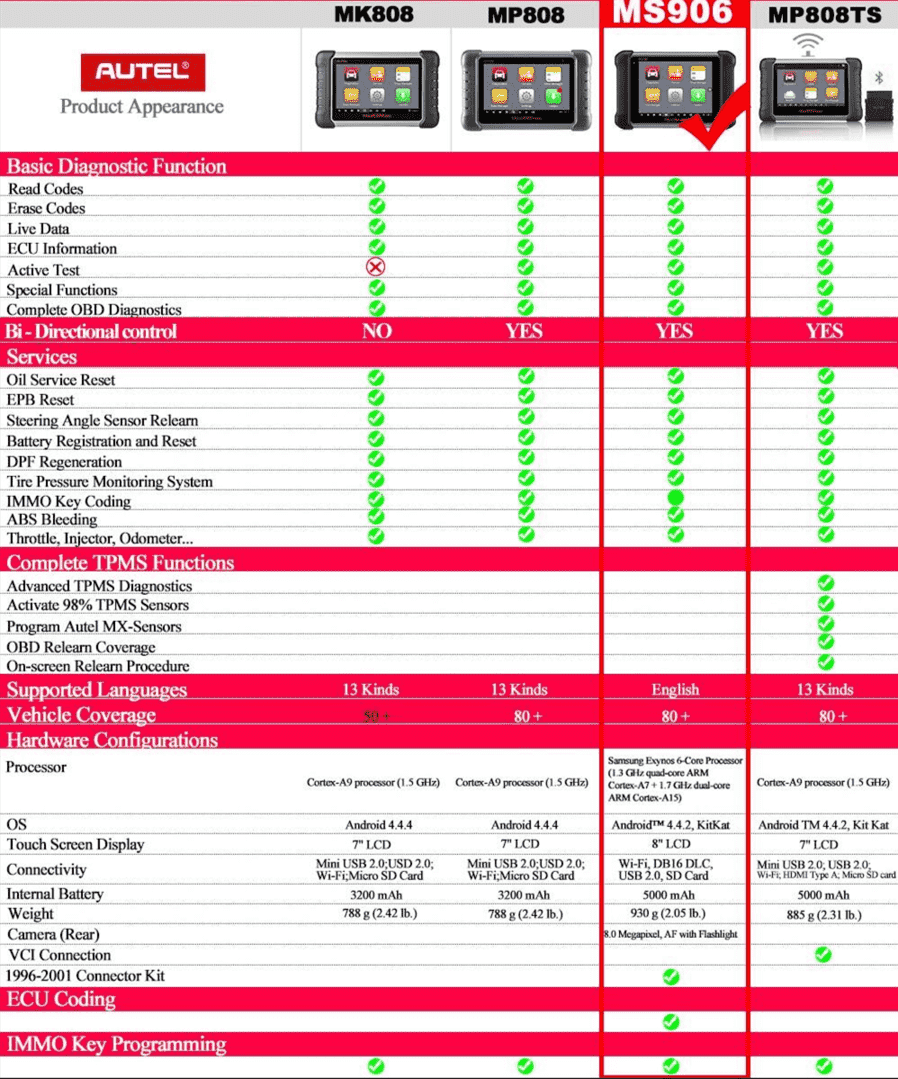 How to update Maxisys MS906 Firmware via interent:
Before updating the firmware, please make sure the Display Tablet is connected to a power source and the network is stable.
1. Connect the Display Tablet to a power source.
2. Tap the Settings application on the MaxiSys Job Menu.
3. Tap the Firmware option on the left column.
4. The current version and the latest version of the firmware will be displayed. Tap Update Now to update the firmware if available.

How to update the Maxisys MS906 software:

1. Make sure the Display Tablet is connected to a power source with stable access to the internet.
2. Tap the Update application button from the MaxiSys Job Menu; or tap the update notification message when receiving one, or tap the Update icon on Vehicle Menu in Diagnostics application. The Update application screen displays.
3. Check all available updates:
If you decide to update all the items, tap the Update All button.
If you only want to update one or some of the item(s), tap the Update button on the right column of the specific item(s) .
4. Tap the Pause button to suspend the updating process. When you tap Continue to renew the update, the updating process will resume from the break point.

5. When the updating process is completed, the software will be installed automatically. The previous version will be replace.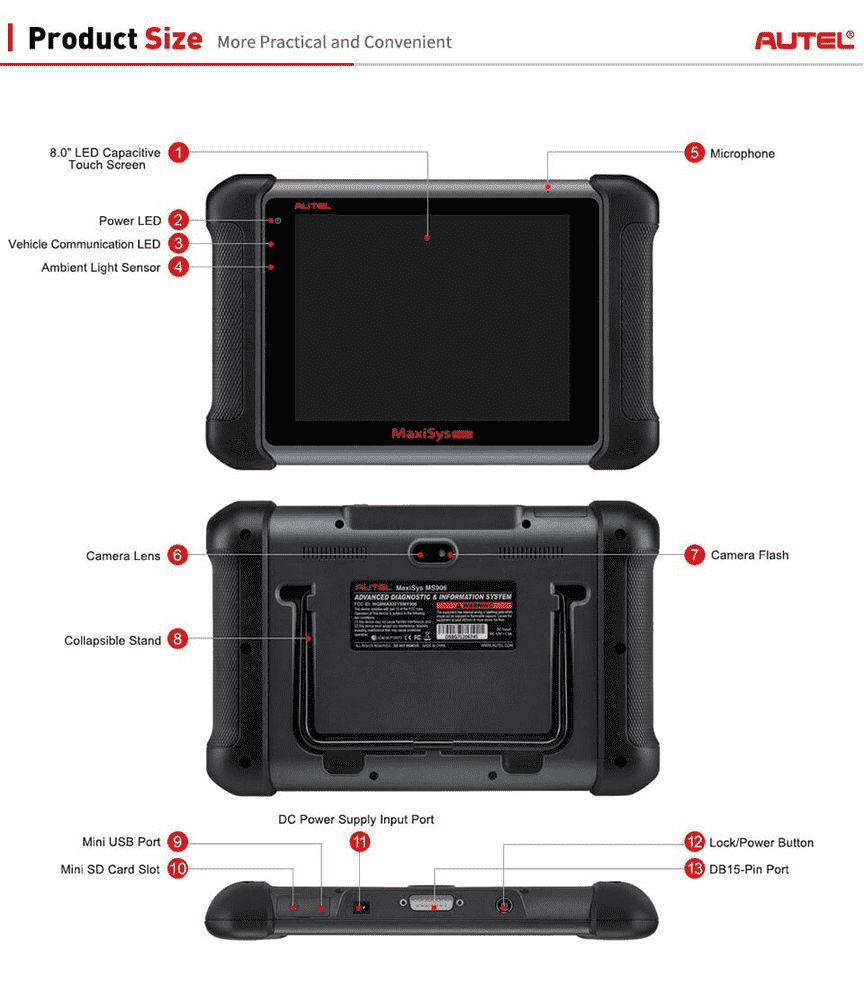 Autel MS906 Package including:
main unit
Main cable
AC/DC adaptor(12v)
Cigarette Lighter
Lighter Fuse
Honda-3
Nissan-14
Mitsubishi/Hyundai-12+16
Kia-20
Benz-38
BMW-20
VW/AUDI-2+2
Fiat-3
PSA-2
GM/Daewoo-12
Benz-14
Chrysler-16
User Manual
Quick reference guide
Buy from Autelcartool

Contact US:
Email: sales@autelcartool.com
Whatsapp: +86 13728848116
Brand Name:

Autel
Operating System:

Androi 4.4.2, KitKat
Processor:

Samsung Exynos 6-Core Processor (1.3 GHz quad-core ARM Cortex-A7 + 1.7 GHz dual-core ARM Cortex-A15)
Memory:

2 GB RAM & 32 GB ROM
Display:

8.0" LED capacitive touch screen with 1024x768P resolution
Language:

English
Connectivity:

Wi-Fi (802.11 b/g/n), DB16 DLC, USB 2.0, SD Card (Support up to 32GB)
Camera (rear):

Rear-facing, 8.0 Megapixel, AF with Flashlight
Power and Battery:

3.7V/5000 mAh lithium-polymer battery, Charging via 12 V AC/DC power supply
Warranty:

1 Year Worry-Free Warranty