Autel
AutelCartool
Autel MaxiSys MS906TS
Autel MaxiSys MS906TS is the latest addition to the MaxiSys product line of advanced wireless diagnostic devices integrated with the TPMS antenna module. The device is based on the Android operating system featured with the best possible coverage of OE-level diagnostics and TPMS integration. Utilizing the powerful Exynos 5260 6-core processor, an 8" capacitive HD touch screen, and long-distance wireless communication, the MaxiSys MS906TS efficiently provides comprehensive vehicle diagnostics and analysis along with universal TPMS solutions.
Why buy Autel MS906TS TPMS Tool?
1,The wireless Maxisys MS906TS diagnostic scanner is an industry first combining advanced diagnostics with complete TPMS functionality. Now technicians don't need a secondary TPMS service device to trigger, program, or relearn Autel MX-sensor and quickly test all vehicle systems with one ultra-fast, lightweight, touch screen tablet.
2,Quickly diagnose all vehicle systems with Auto VIN & Scan technology, perform advanced ECU coding, bi-directional control, 33+ Services with the same vehicle coverage and advanced diagnostics features as the Autel MS906BT.
3,Autel MS906TS automotive diagnostic scan tool compatible with more than 80+ models of American, Asian, and European vehicles. Featured a full set Non-OBDII adapters for wider vehicle coverage.
4,NO IP restriction and can be used in any place on the global, and come with a wireless working range of up to 164 feet (50m)
5,One-Year Autel Manufacturer Warranty and 1-Year Free Software Update
Complete TPMS Diagnostic & Services
Autel MS906TS diagnostic scanner comes with comprehensive TPMS and OBDII diagnostic functions and able to diagnose the newest models up to 2021. It is loaded with all TPMS functions to activate all known OEM TPMS sensors, view sensor data, program Autel MX-Sensors, and perform TPMS relearn and diagnostics.
*Activate/Reset TPMS Sensors
*TPMS diagnose, one step for complete TPMS health check
*Read/Clear TPMS DTCs; on-screen DTC description
*Scan TPMS sensor ID and copy ID into MX-Sensor
*Program MX-Sensor by auto-creating sensor ID
*Read Sensor ID by OBD and copy ID into MX-Sensor
*Relearn by OBD function
*Relearn procedure guide on the tool
*Check Key FOB
*Read TPMS live data

The Most Affordable Complete TPMS & Diagnostic Scan Tablet
The MaxiSys MS906TS scan tool not only is a comprehensive TPMS service tool but also is an advanced smart wireless diagnostic device providing specialized automotive diagnostic services for customers.
Autel MaxiSys MS906TS Full Systems Diagnosis & Services
Doing regular and routine maintenance on a modern car is impossible without a diagnostic system. Even the simplest procedures require the participation of an auto scanner. That's why Autel engineers have been working on them and making them as user-friendly as possible in the new MaxiSys MS906BT. Now you can easily do functions like:
1.Oil Reset: Reset the oil change calculator in the engine and automatic transmission
2.EPB: Replacement of brake pads on vehicles with an electric parking brake
3.SAS: Adaptation of the sensor to the angular position of the steering wheel
4.DPF: Regeneration of diesel particulate filter
5.Brake Bleed: ABS Brake Bleeding
6.IMMO: Immobilizer keys functions(All keys lost, add new keys)
​​8.BMS: Battery registration and reset
9.Seats, Odometer, Injector, CHG tire size, TEC Learn, Suspension, Throttle, WIN OR ROOF, Lang Change, Headlamp.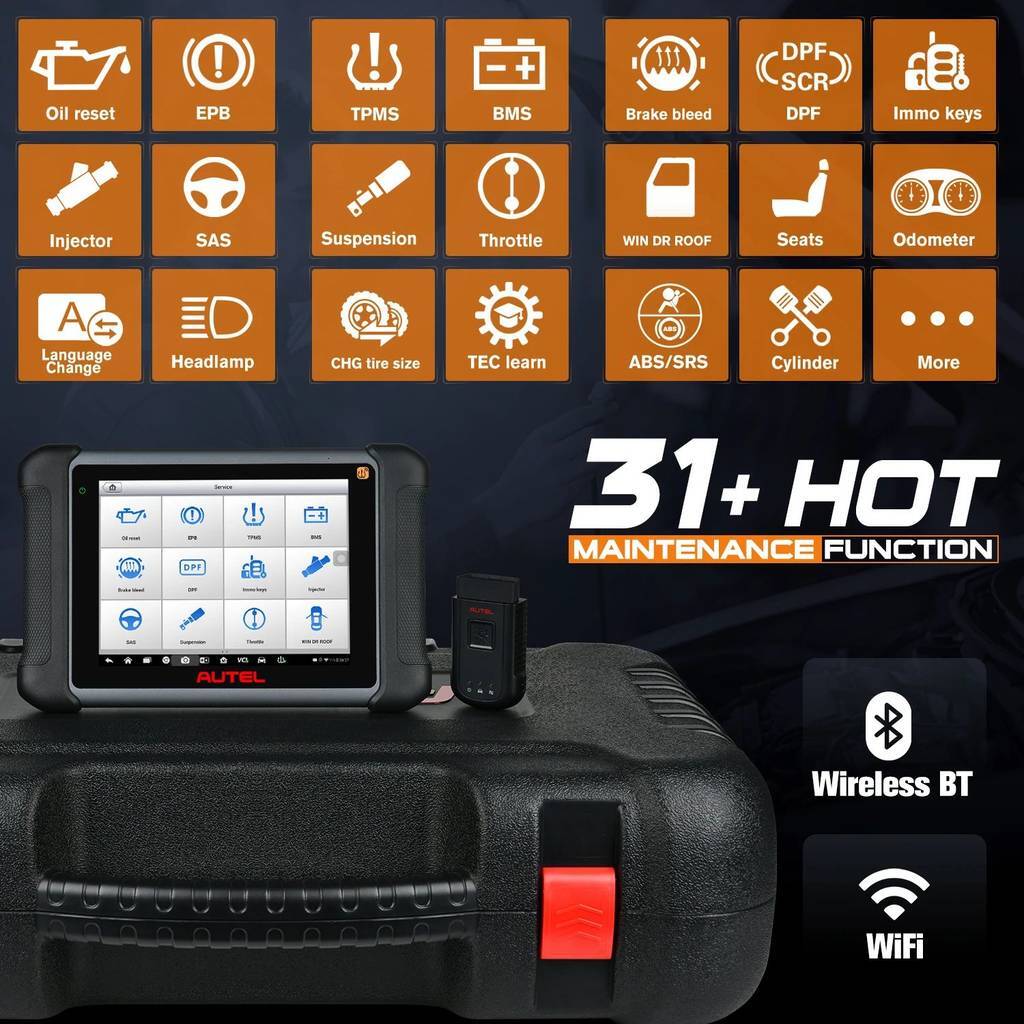 Autel MS906TS Bi-directional Control & Active Test
MS906TS automotive diagnostic scanner comes with bi-directional control capability to perform active tests to determine the integrity of a system or parts like ABS, window, door, roof, by reading the ECU data, or by monitoring the operation of the actuators, such as switching a solenoid, relay.
Note: Available tests vary depending on the manufacturer, year, and model, and only the available tests display in the menu. To check compatibility with your vehicle, please refer to Autel website or consult us directly.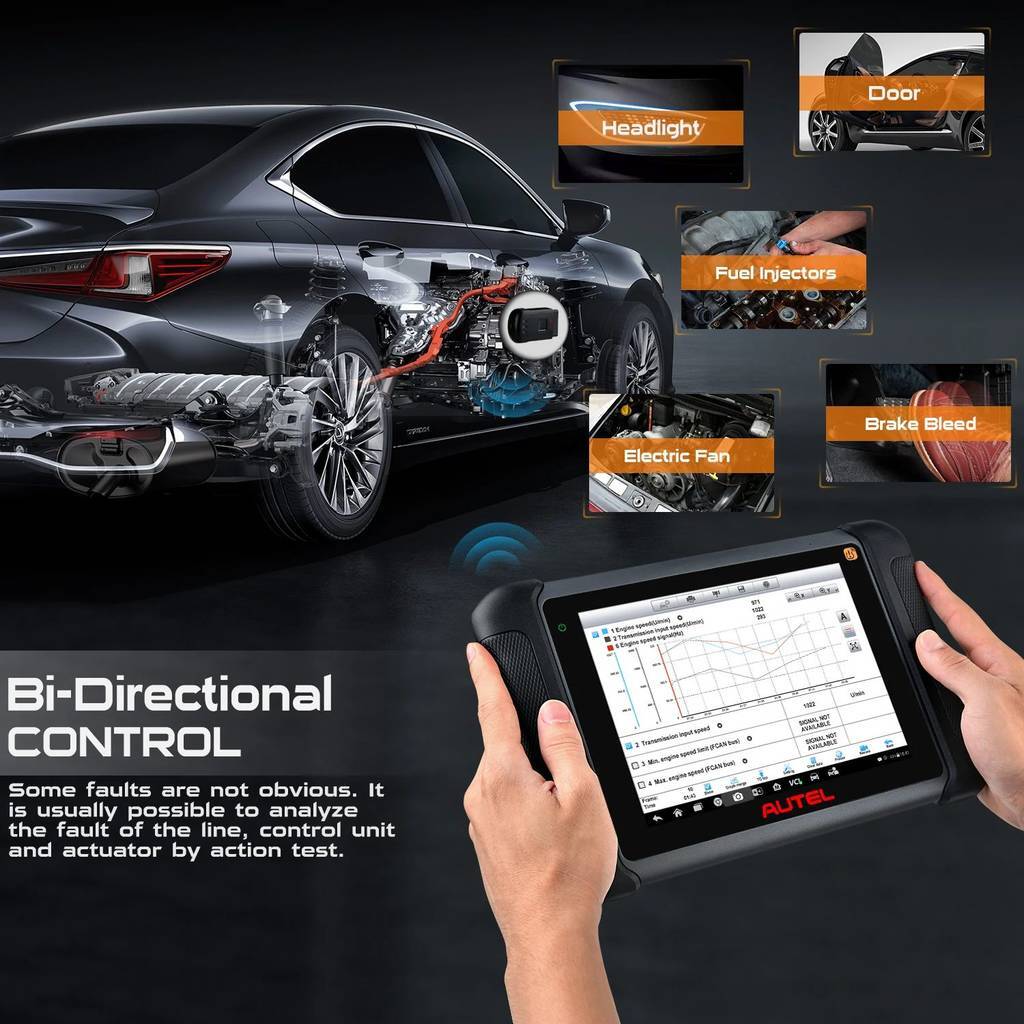 Autel Maxisys MS906TS ECU Coding
Autel MS906TS professional auto scanner comes with advanced ECU coding function. ECU Coding allows you to establish a data link to the electronic control system of the test vehicle via the VCI device for vehicle diagnosis, service or coding. You can operate functional tests, retrieve vehicle diagnostic information such as trouble codes, event codes and live data, and perform ECU coding, for various vehicle control systems, such as engine, transmission, ABS and more.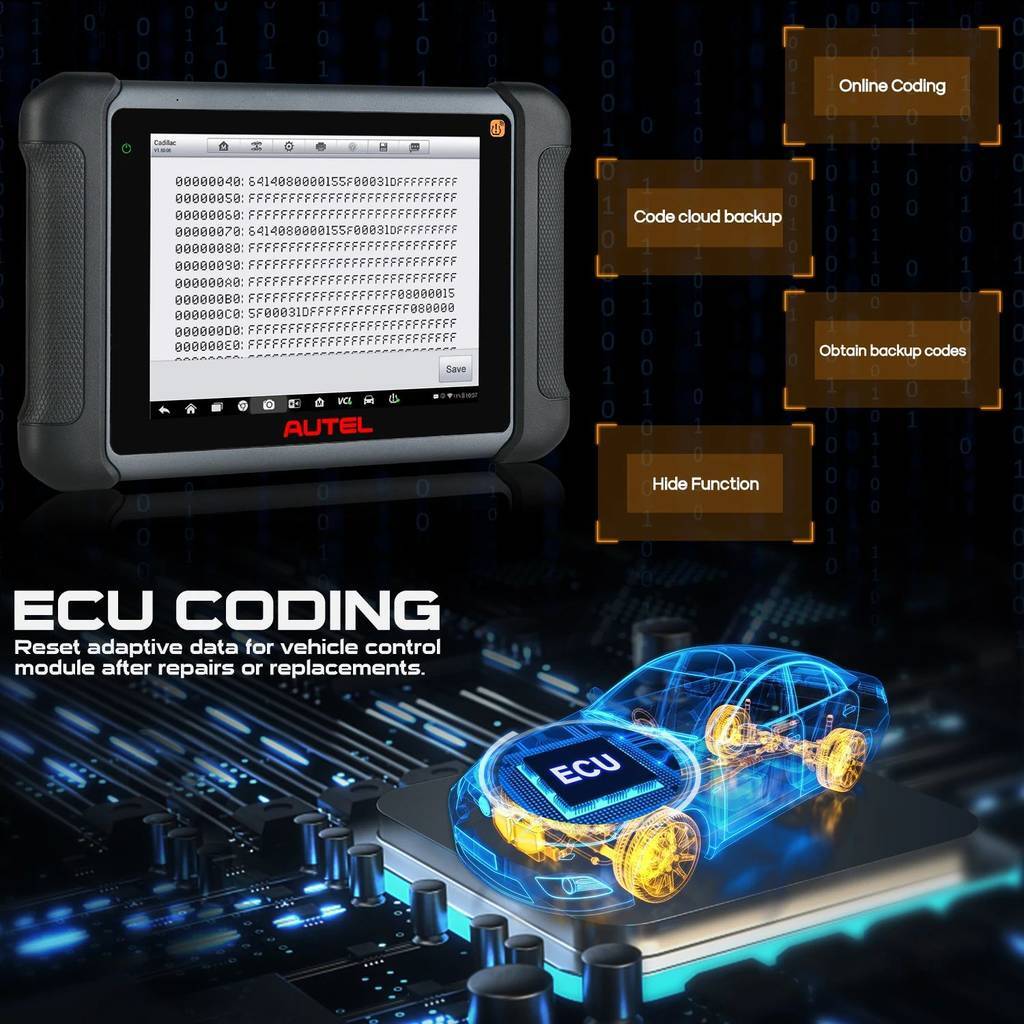 Autel Maxisys MS906TS Extension of Diagnostic Function
The MS906TS TPMS Tool has the ability to record digital images and videos. Using the diagnostic tool in conjunction with MP408 oscilloscope or MV105 inspection camera will provide greater insight into the interior of the vehicle, expanding the diagnostic capabilities of the device and facilitating your quick inspection.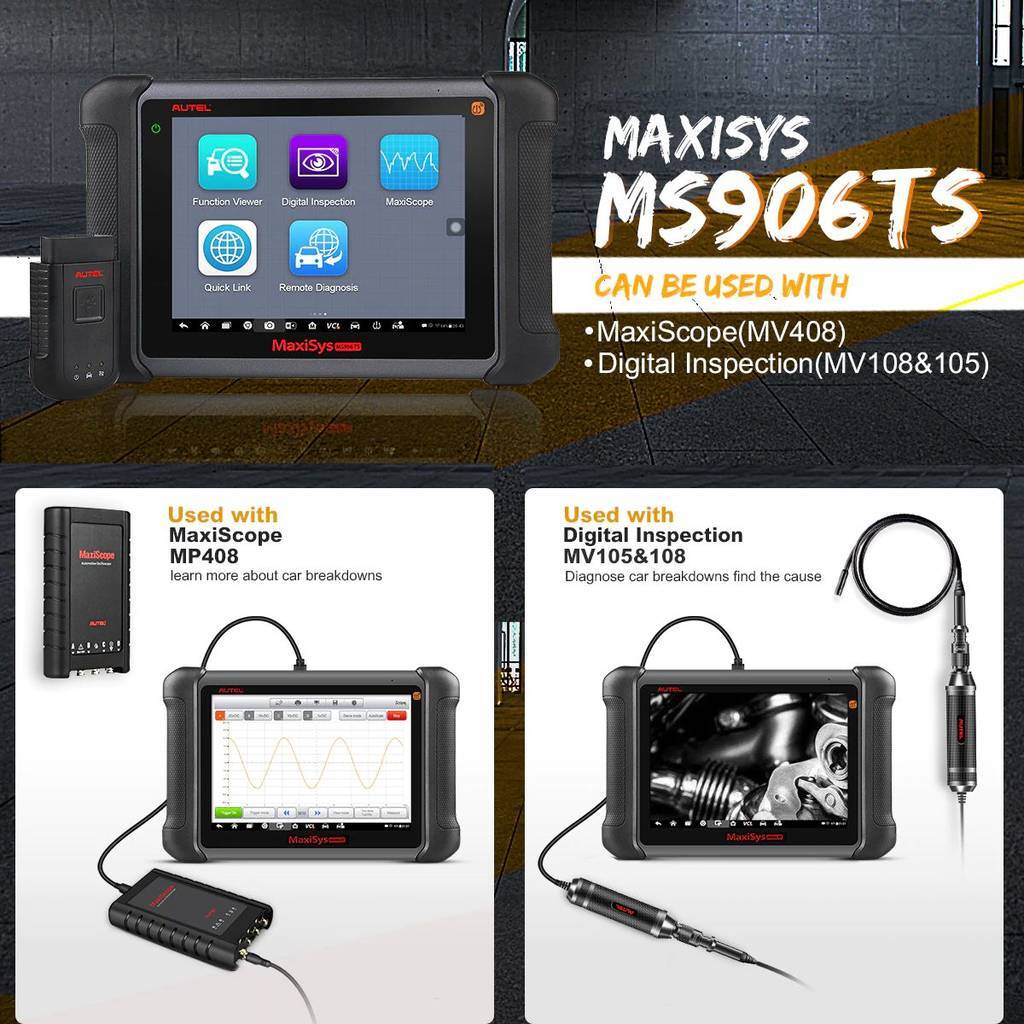 Autel MS906TS Package List:
1x Autel MS906ts Main Unit
1x MaxiVCI V100
1x Adapter for VW/AUDI-2+2
1x AC/DC Adapter (12V)
1x Adapter for Benz-14 (Europe Only)
1x Adapter for Chrysler-16 (America Only)
1x Adapter for GM/Daewoo-12
1x Adapter for BMW-20
1x Adapter for Benz-38
1x Adapter for Kia-20
1x Adapter for Mitsubishi/Hyundai-12+16
1x Adapter for Nissan-14
1x Adapter for Honda-3
1x Mini USB Cable
1x User Manual
1x Carrying Case
1x Quick Reference Guide
1x Lighter Fuse
1x Cigarette Lighter
1x Soft Cloth
1x Packing List
Buy from Autelcartool

Contact Us:
E-mail:sales@autelcartool.com
WhatsApp:+86 13728848116


Brand:

Autel
Operating System:

Android™ 4.4.2, KitKat
Processor:

Samsung Exynos T5260 6-Core Processor (1.3 GHz quad-core ARM Cortex-A7 + 1.7 GHz dual-core ARM Cortex-A15)
Memory:

2 GB RAM / 64 GB ROM
Display:

8.0
Connectivity:

Wi-Fi (802.11 b/g/n); USB: 2.0; Mini USB 2.0; Wireless BT V2.1+EDR Class1; HDMI 1.4a; SD Card (support up to 32 GB)
Camera (rear):

Rear-facing, 8.0 Megapixel, AF with Flashlight
Sensors:

Gravity Accelerometer, Ambient Light Sensor (ALS)
Power and Battery:

11000 mAh 3.7 V lithium-polymer battery Charging via 12 V AC/DC power supply
Input Voltage:

12 V (9-35 V)
Operating Temp:

-10 to 55°C (14 to 131°F)
Dimensions (W x H x D):

270.8 mm (10.0") x 176.0 mm (6.9") x 36.0 mm (1.4")
Weight:

1.10 kg