Autel
2022 Autel MaxiSys MS908S Pro Full System Diagnostic Tool with J2534 ECU Programming (No Blocking)
stars, based on
0
reviews
1 orders
$3120.00now$2299.00 piece
Contact Us
AutelCartool
Genuine Autel Maxisys MS908S Pro Automotive Diagnostic Scanner with ECU Coding and J2534 Programming Upgraded Version of MS908P


Autel Maxisys MS908S Pro Features Overview:

1. Update Version of Autel MaxiSys Pro MS908P
2. Exceptional OE-Level system coverage for all electronic system
3.The VCI connects to the main unit wirelessly with up to 70 meters working range
4. Continues to Work After the Update Subscription Has Expired, No Penalty for Skipping Updates
5. Wi-Fi Technology: The VCI connects wirelessly to the main unit with Long-Range Class 1 Bluetooth
6. Complete capabilities for codes, live data, active test, ECU information, adaptation, matching, etc
7.Equip with J2534 ECU Programming Device for replacing the existing software/firmware in the Electronic Control Units (ECU), programming new ECUs and fixing software-controlled drivability issues and emission issues on BMW and BENZ
8. Vehicle Coverage: Extensive vehicle coverage for more than 80 US, Asian and European vehicle makes, including supercars
9. Protocols Supported: ISO 9142-2, ISO 14230-2, ISO 15765-4, K/L-Line, Flashing Code, SAE-J1850 VPW, SAE-J1850 PWM, CAN ISO 11898, Highspeed, Middlespeed, Lowspeed and Singlewire CAN, GM UART, UART Echo Byte Protocol, Honda Diag-H Protocol, TP 2.0, TP 1.6, SAE J1939, SAE J1708, Fault-Tolerant CAN.



Autel Maxisys MS908S Pro Full System Diagnosis on Various Vehicles
Simply accessing the diagnostic modes via AutoVin or Control Unit, and you' re able to perform diagnosis over all the systems on the vehicle' s ECU in order to locate fault systems and retrieve DTCs.
1) ECU Information – provides the retrieved ECU information in detail.
2) Read Codes – displays detailed information of DTC records retrieved from the vehicle control module.
3) Erase Codes – erases DTC records and other data from the ECM.
4) Live Data – retrieves and displays live data and parameters from the vehicle' s ECU.
5) Active Test – provides specific subsystem and component tests.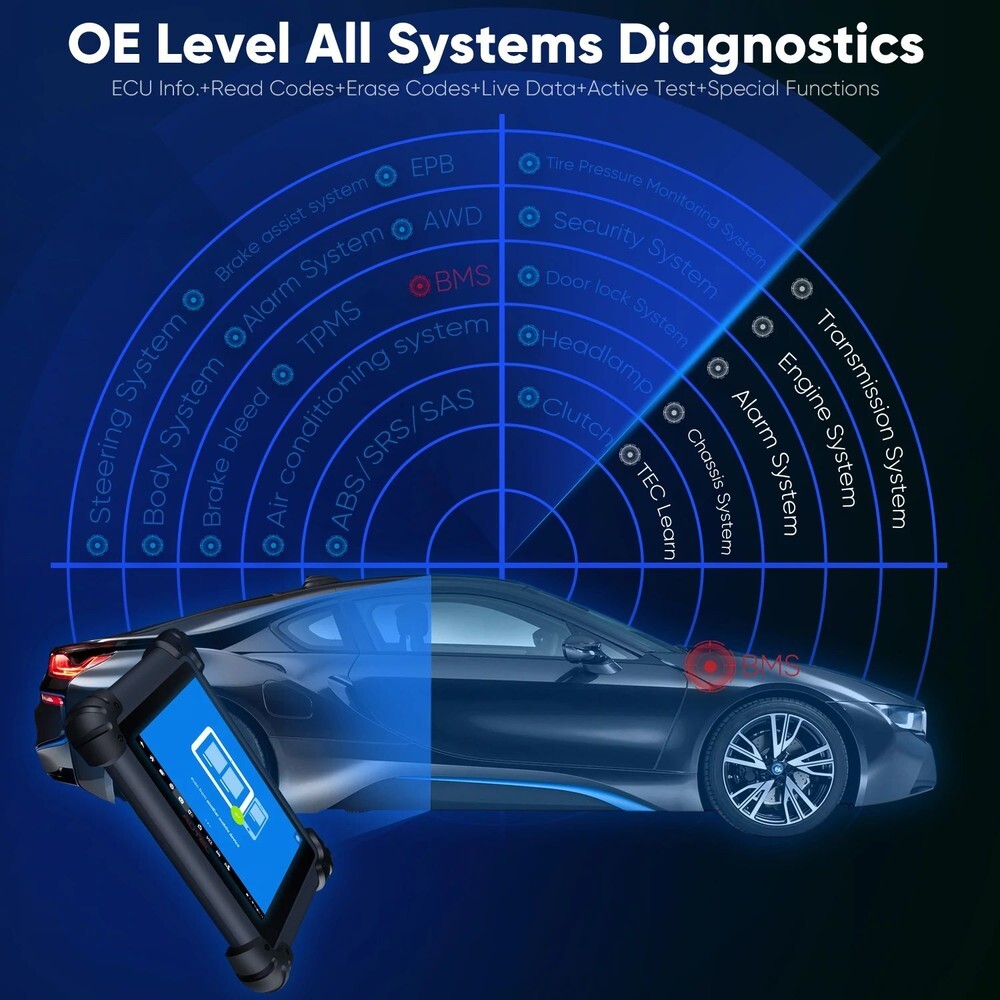 Autel Maxisys MS908S Pro ECU Programming & ECU Coding:
Autel diagnostic scanner MS908S Pro comes with J2534 ECU programming device & BMW Ethernet Cable(For F-Series Coding & Programming), which is capable of replacing the existing software/firmware in the Electronic Control Units (ECU), programming new Benz/BMW ECUs and fixing software-controlled drivability issues and emission issues, update the computer software on the vehicle to the latest version.

1) Coding: also known as Teach-in Program, Component Adaptation, or something similar, is used to reprogram adaptive data for vehicle control modules after repairs or replacements of vehicle parts.
2) Reprogramming Operations: Downloads new version of software subscription from the online server database through Internet access (this procedure is done automatically when the tablet is connected to the Internet, so there is no need to check for software subscriptions yourself), and reprograms the newest software version to the vehicle's ECU.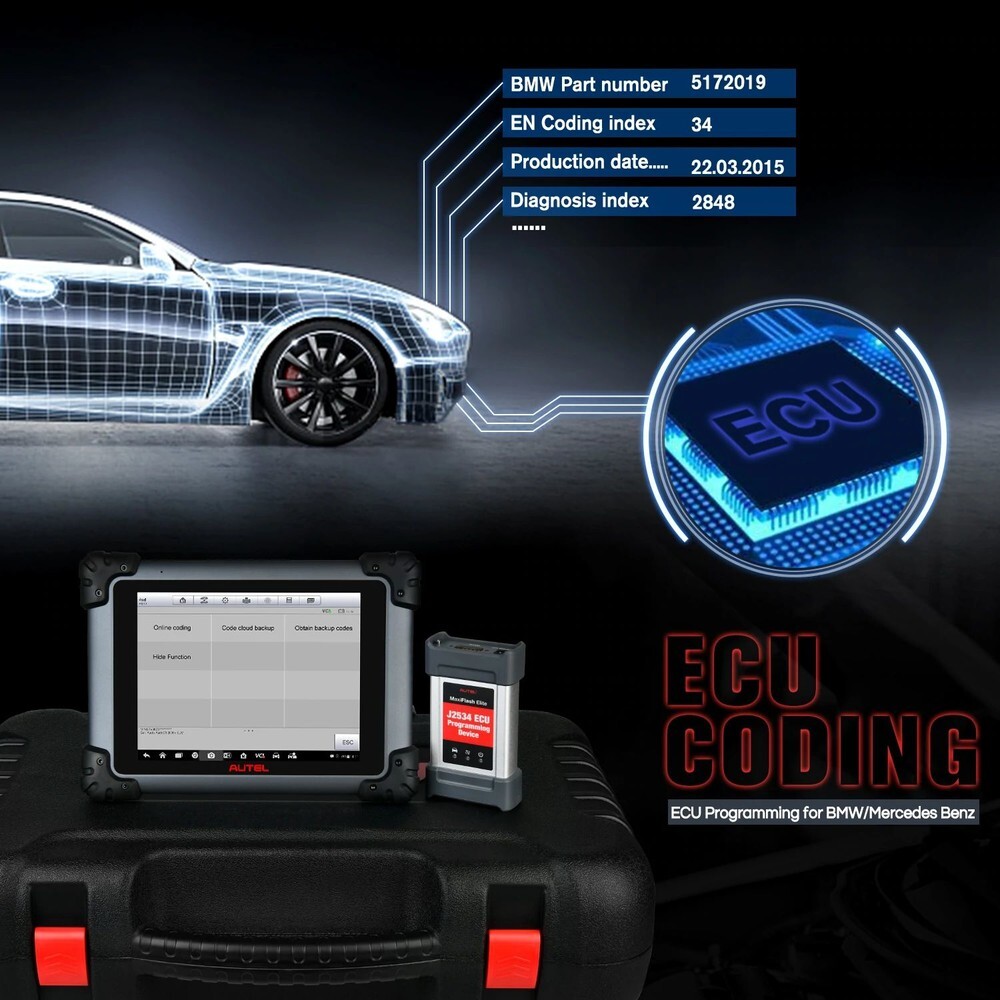 NOTE:
1) Ensure that the tablet is connected to the Internet before applying the ECU programming function so that the tablet is able to obtain access to the manufacturer's server for update service.
2) ECU Programming only for BMW/Mercedes Benz
The programming function can only be applied through connection with the J2534 programming device, which serves as a PassThru interface to establish communication with and transfer data to the vehicle's ECU. Available programming or coding operations vary by the test vehicle, and only the available operations display in the menu.









Full Bi-Directional Control:
The diagnostic scan tool supports bi-direction control to check the vehicle operating conditions. The bi-directional control of the ECM in the Component Test enables the Ms908s Pro to transmit control commands to operate the vehicle systems.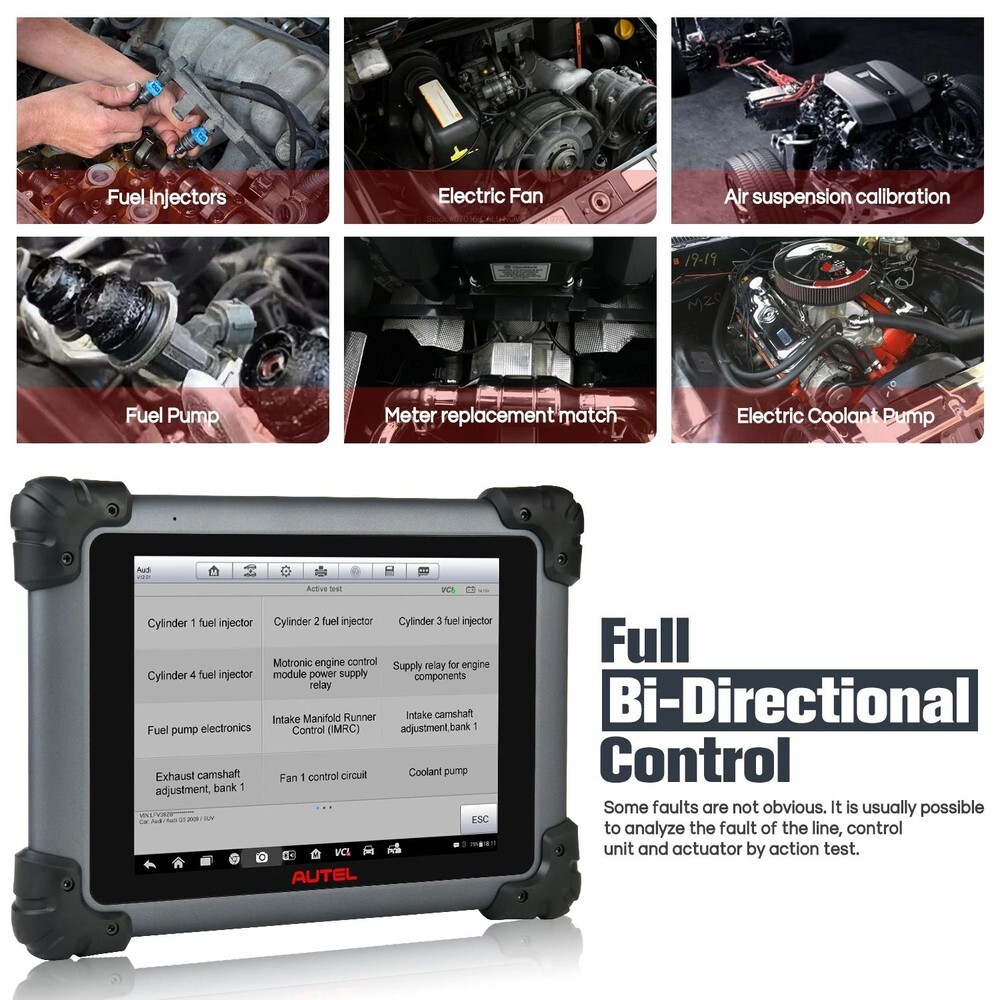 25+ Special Service Functions
The Service section is specially designed to provide quick access to the vehicle systems for various scheduled service and maintenance tasks includes: Brake Bleed, Oil Reset, EPB, TPMS Sensor Activate, BMS, DPF, Immo Keys, Injector, SAS, Suspension, Throttle, WIN DR ROOF, Seats, Odometer, Lang Change, CHG Tire Size, TEC Learn, ABS/SRS, Cylinder, Turbocharging, Limit, Clutch, Trans Adaption, Airbag Reset, Headlamp(NOT universal, please check the compatibility before order)

1) Oil Reset Service: Allows you to perform reset for the Engine Oil Life system, which calculates an optimal oil life change interval depend on the vehicle driving conditions and climate.
2) EPB Service: Helps maintain the electronic braking system safely and effectively, deactivating and activating the brake control system, assisting with brake fluid control, opening and closing brake pads, and setting brakes after disc or pad replacement, etc.
3) SAS Service: Allows you to perform calibration for the Steering Angle Sensor, which permanently stores the current steering wheel position as the straight-ahead position in the steering angle sensor EEPROM.
4) DPF Service: Allows you to carry out numerous functions to the Diesel Particulate Filter system.
5) TPMS Service: Allows you to quickly look up the tire sensor IDs from the vehicle' s ECU, as well as to perform TPMS programming and reset procedures after tire sensors are replaced.
etc.....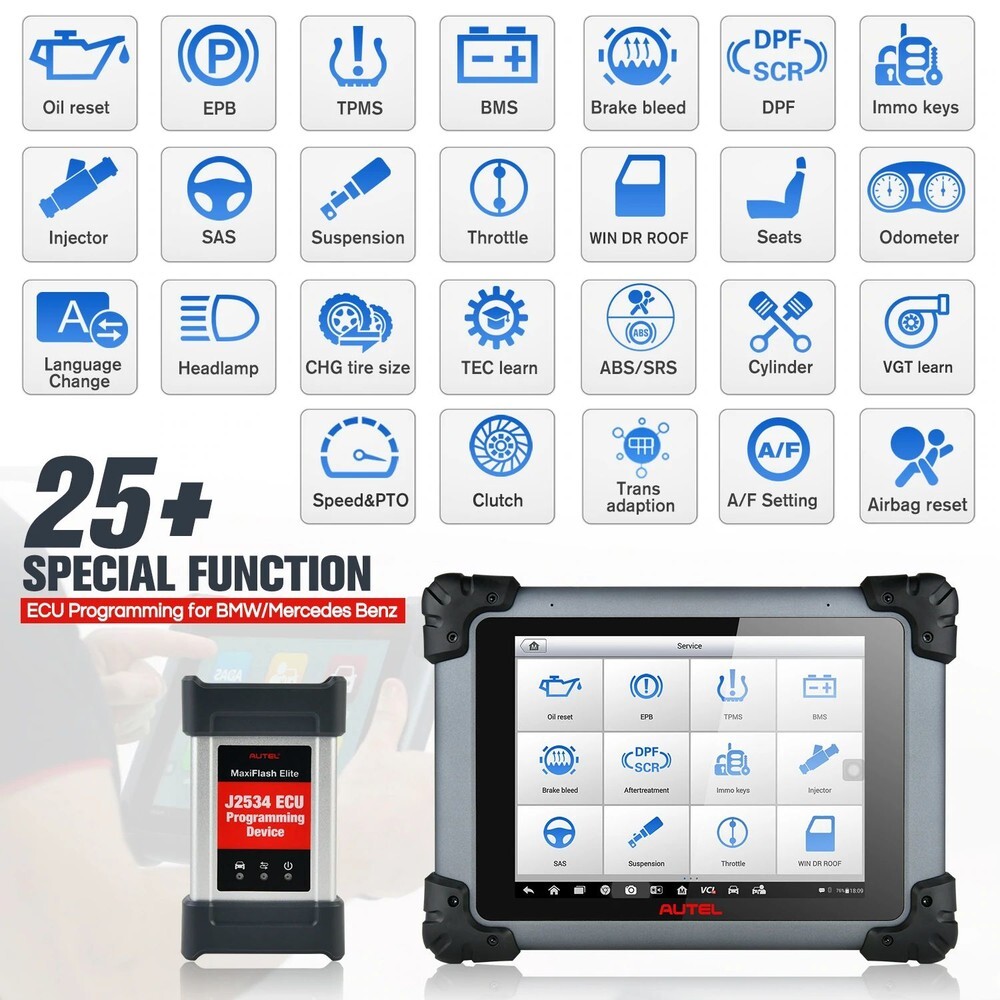 Autel Maxisys MS908S Pro Vehicle List:

AUDI, BENZ, BMW, DACIA, EU FORD, Ford, LANDROVER, MINI, OPEL, PEUGEOT, RENAULT, SEAT, SKODA, VW, VOLVO, SMART, JAGUAR, BENZ SPRINTER, SAAB, FIAT, ABARTH, LACIA, ALFA ROMEO, VAUXHALL, MAYBACH, BENTLEY, BUGATTI, PORSCHE,GM, CHRYSLER, FORD,SUZUKI, KIA, DAWEOO, ISUZU, TOYOTA, SUBARU, SCION, NISSAN, MITSUBISHI, LEXUS, INFINITI, HYUNDAI, HONDA, ACCURA, MAZDA.

Autel Maxisys MS908S Pro Additional Features and Functions

To well serve the users, the diagnostic tool is equipped with a rich array of features and functions in addition to the Diagnostic and Service functions, including Remote Desk, MaxiFix, Shop Manager, Digital Inspection, MaxiScope, etc.
1) Remote Desk: With the simple, fast and secure remote control interface, you can receive ad-hoc remote support from Autel' s support center, colleagues, or friends, by allowing them to control your MaxiCOM tablet on their PC via the TeamViewer software.
2) MaxiFix: This is an additional feature in the cloud which enables users to network and access a database of procedures, repair and diagnostic tools. You are able to interact with fellow technicians and share knowledge via MaxiFix.
3) Digital Inspection & MaxiScope: The diagnostic scan tool can also be used in conjunction with the automotive oscilloscope Autel MP408 to perform electrical and electronic circuit testing and monitor signal activity, and it also supports performing a close vehicle inspection with the Autel digital inspection camera MV105/MV108.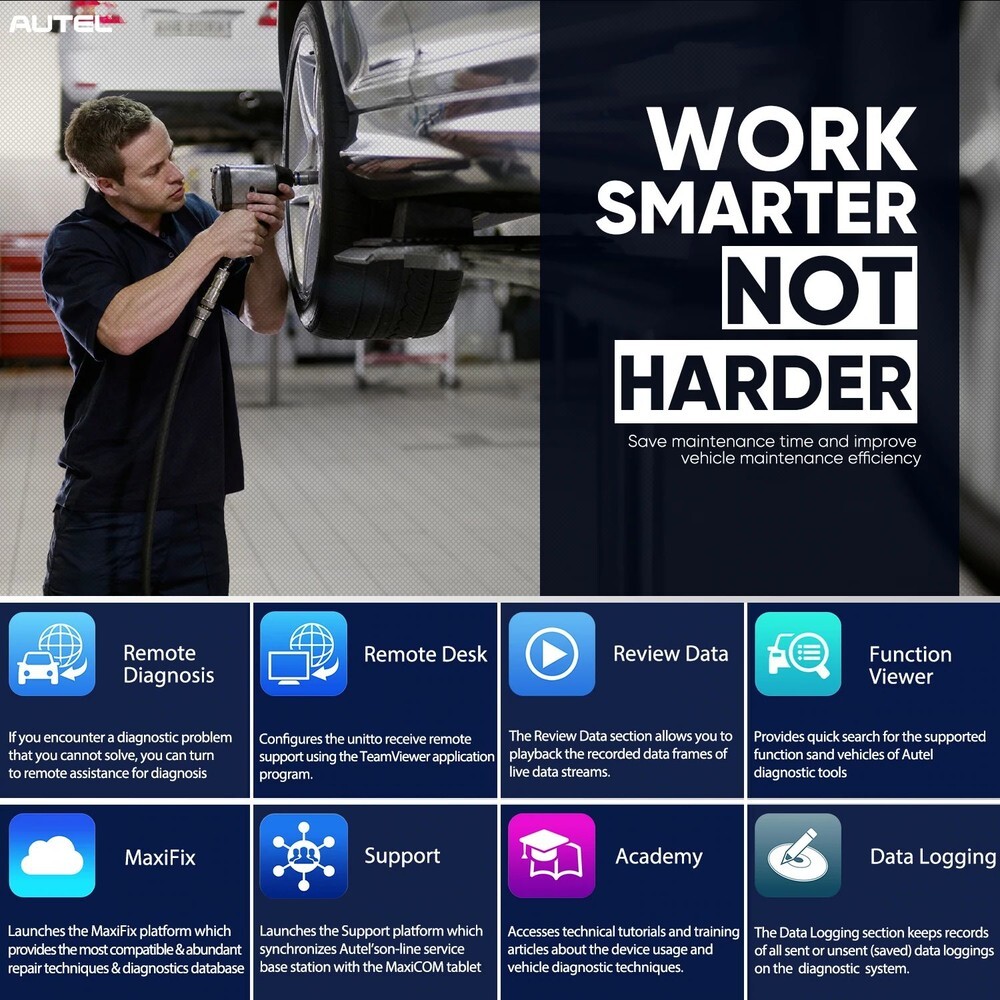 Why Buy Autel Maxisys MS908S Pro?

1.Complete OBD2 generic functions
2.Loads of bi-directionals (hot functions) and system tests
3.Provides OE-level functionality (varies from model to model) such as: Initialization, Calibrations, Immobilizer (not Toyota/Lexus)
4.Sometimes the Autel is faster and easier to use than an OE tool
5.PCM or WIN replacement functions on Chrysler
6.Parameter reset on Ford and Mazda
7.Graphical Ford misfire
8.The Maxisys ms908sp probably add keys unless OE requires a login to NASTF. If OE requires a pin code / security code, so will Autel. Autel does not pull pin codes
9.Continues to work after the update subscription has expired
10.No penalty for skipping updates
11.Warranty extended with each update subscription renewal
12.Our MS908SP comes with Two Year Free Update Online .(You can choose it)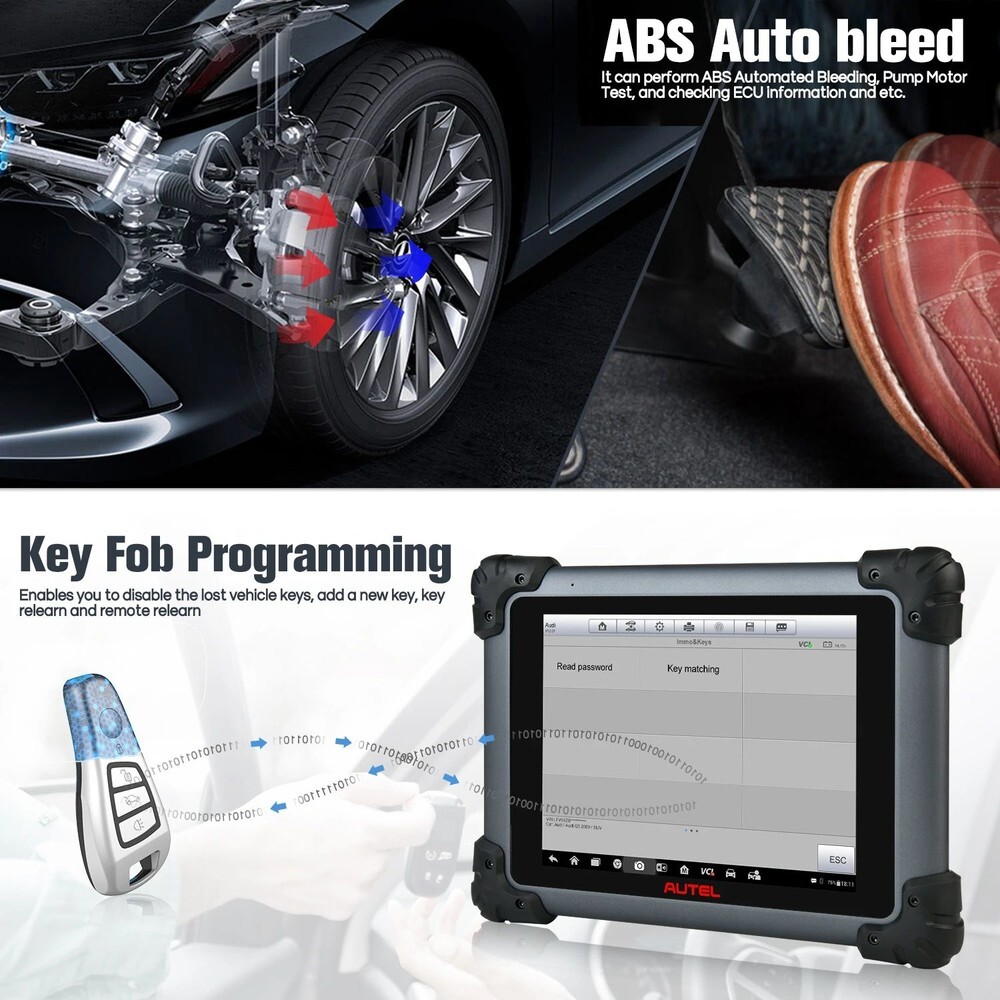 Autel Maxisys MS908SP Package List:
1 x MS908SP Main Unit
1 x USB Ethernet Adapter
1 x Standard 2.0 USB Cable
1 x BMW Ethernet Cable
1 x Main Cable – 1.5 m in length
1 x Mini USB Cable
1 x Ethernet Serial Cable
1 x AC/DC External Power Adapter
1 x Clipper Cable
1 x Lighter Fuse
1 x Cigarette Lighter
1 x Adapter for Chrysler-16 (America Only)
1 x Adapter for GM/Daewoo-12
1 x Adapter for PSA-2
1 x Adapter for Fiat-3
1 x Adapter for BMW-20
1 x Adapter for Benz-38
1 x Adapter for Kia-20
1 x Adapter for Mitsubishi/Hyundai-12+16
1 x Adapter for Nissan-14
1 x Adapter for Honda-3
1 x Adapter for Benz-14 (for EU only)
1 x Adapter for VW/AUDI-2+2
Buy from Autelcartool

Contact US:
Email: sales@autelcartool.com
Whatsapp: +86 13728848116
Brand Name:

Autel
External Testing Certification:

CE
Operating System:

Android™ 4.4.2, KitKat
Processor:

Samsung Exynos Six-core Processor (1.3GHz Quad-core ARM Cortex-A7 + 1.7GHz Dual-core ARM Cortex-A15)
Memory:

2GB RAM & 64GB On-board Memory
OBD Interface:

CAN, EOBD, OBDII
Supported System:

ABS, DPF, EPB, SAS, SRS, Engine, Transmission
Supported System 1:

Oil Reset,BMS, Seats, Injector, Suspension, Throttle,For BENZ/BMW ECU Programming
Support Languages:

English
Warranty:

1 / 2 Years