Autel
Autel Maxisys MS919 Intelligent Diagnostic Scanner with Topology Module Mapping and 5-in-1 VCMI, Same as MS Ultra (Upgraded of MS909/ Elite II)
stars, based on
0
reviews
$4290.00now$3800.00 piece
Contact Us
AutelCartool
Autel Maxisys MS919 Intelligent Diagnostic Scanner with Topology Module Mapping and 5-in-1 VCMI


The MaxiSys MS919 features a 9.7-inch touchscreen tablet with Android 7.0 OS powered by an Octa-core processor (2.3GHz Quad + 1.7GHz Quad), substantial 128GB built-in memory to provide diagnostic guidance and test components to confirm repairs. The new MaxiFlash VCMI, functions as a 4-channel oscilloscope, waveform generator, multimeter, and CAN BUS tester. MS919 software provides a large library of preset guided tests and extensive waveform library, to ensure techs get the best use of Oscilloscope. The MS919 software outperforms competitors by offering DTC and sensor specific test options to help test more accurately, as well as providing probe and component location diagrams so technicians test while connected correctly. Top hardware configuration with smartest diagnostics features on the market, it is your best choice for winning more business and improving business competence on vehicle after-market!
Autel Maxisys MS919 Features:
OE Technical service bulletin (TSB): Official statement to eliminate unnecessary inspection process
Repair Assist: Prioritize DTCs, and step-by-step guide to fix fault
DTC Analysis: Define DTC, causes and inspection methods and DTCs Rank by Priority
Repair Guidance: Repair process in videos and photos for most intuitive instruction
Component Measurement: In-depth inspection of component with oscilloscope and other measurement tools.
NOTE: Intelligent Diagnostics supported makes: BMW, GM, JLR, Ford, Chrysler, FAC, Porsche, VW, Audi etc. Please be noted that Intelligent Diagnostics is not universal to all the above vehicle brand models, please send your VIN to us before your purchase.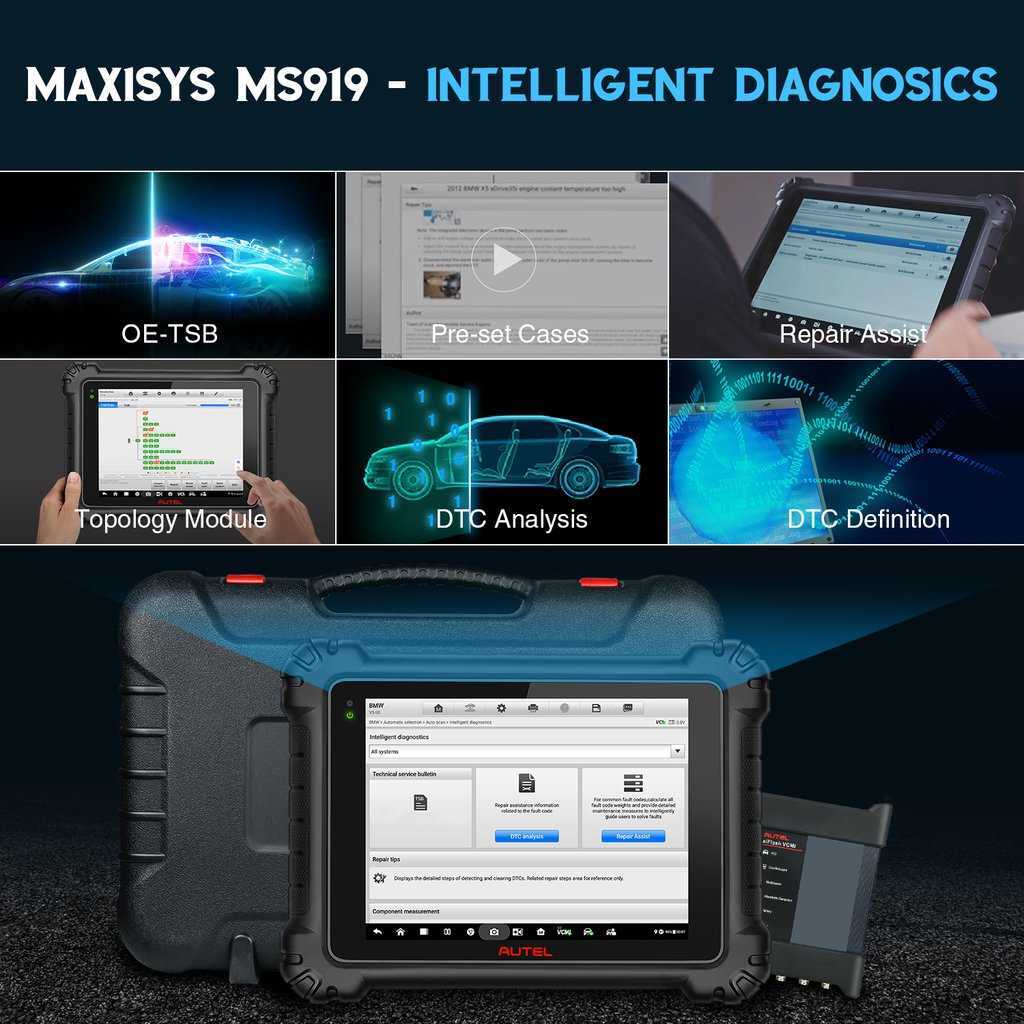 Autel MS919 Diagnostic Tablet as the most advanced scanner of Autel, it can perform OE level all systems diagnostics on 95% of post 2000 vehicles, and 85% of post 2019 vehicles to read and clear codes, perform 30+ service functions, view live data, perform active tests and retrieve ECU information.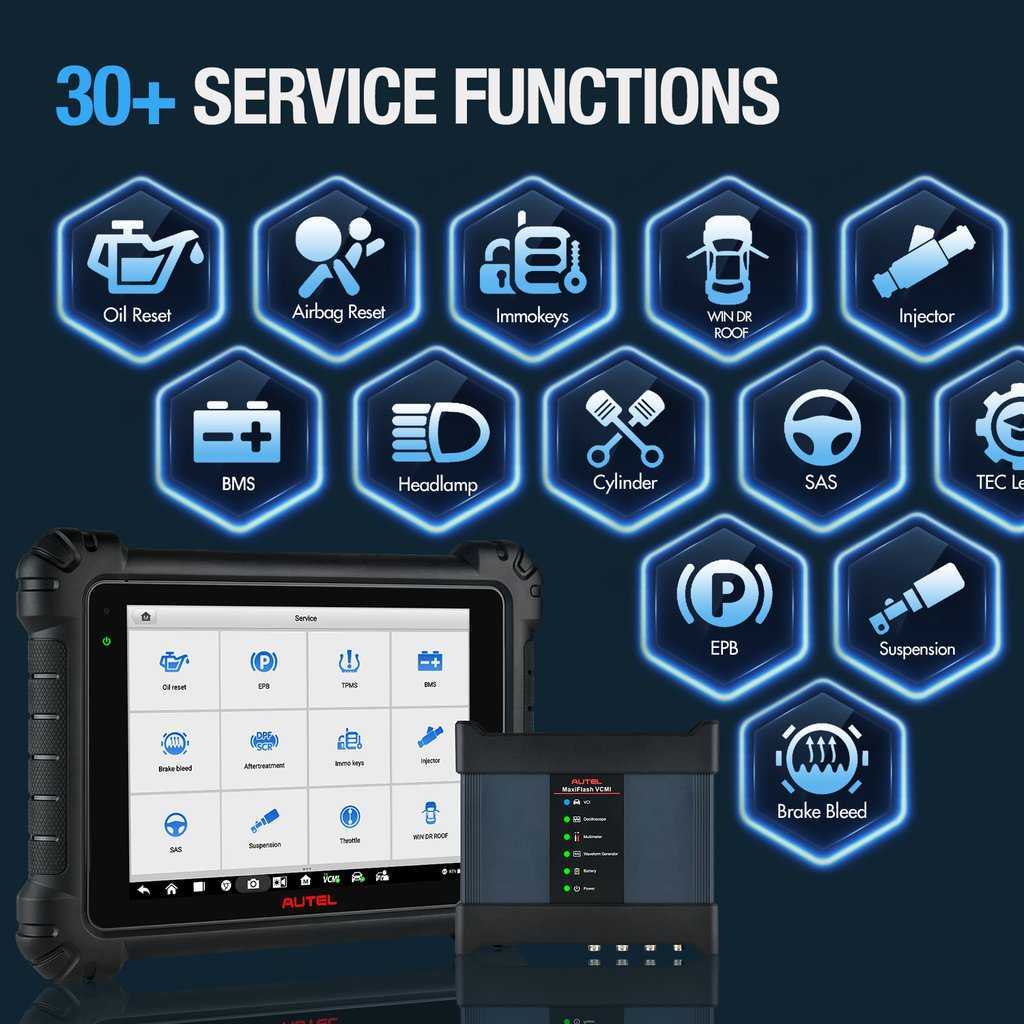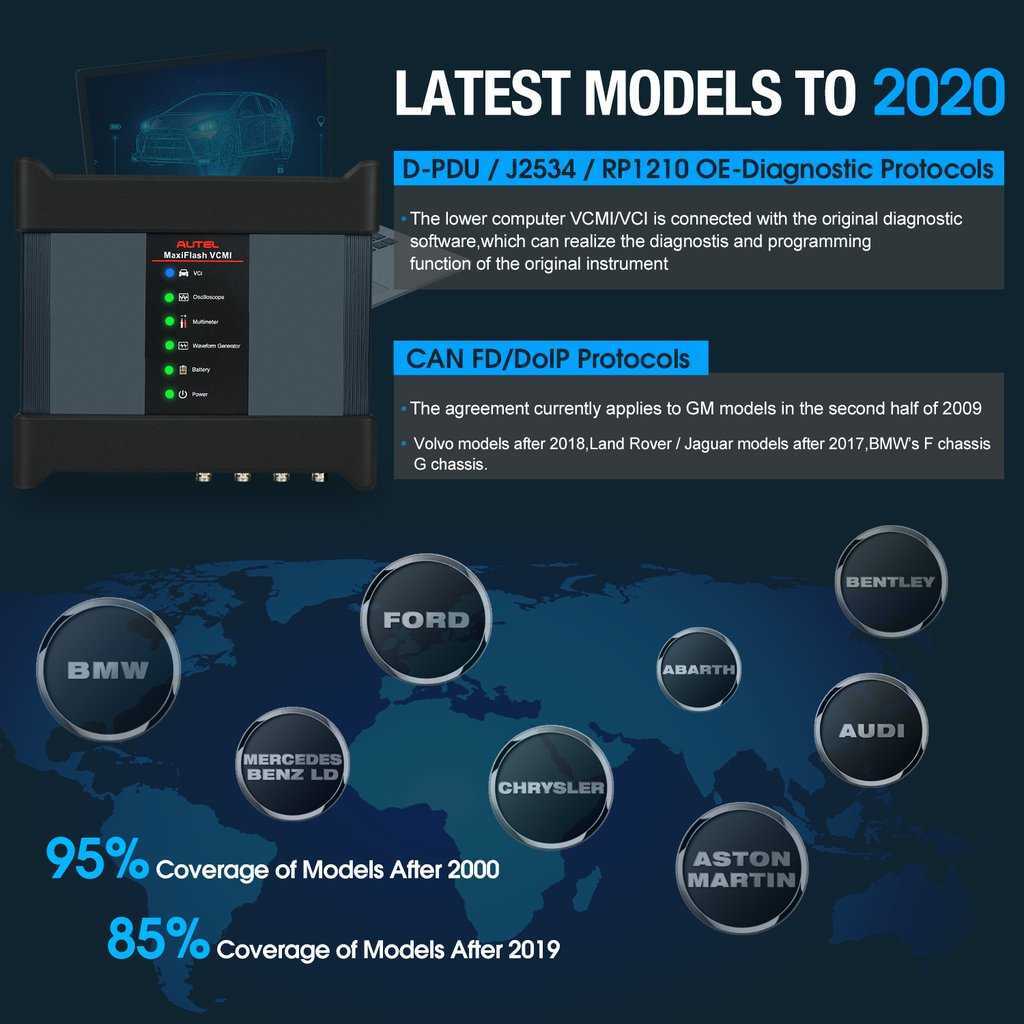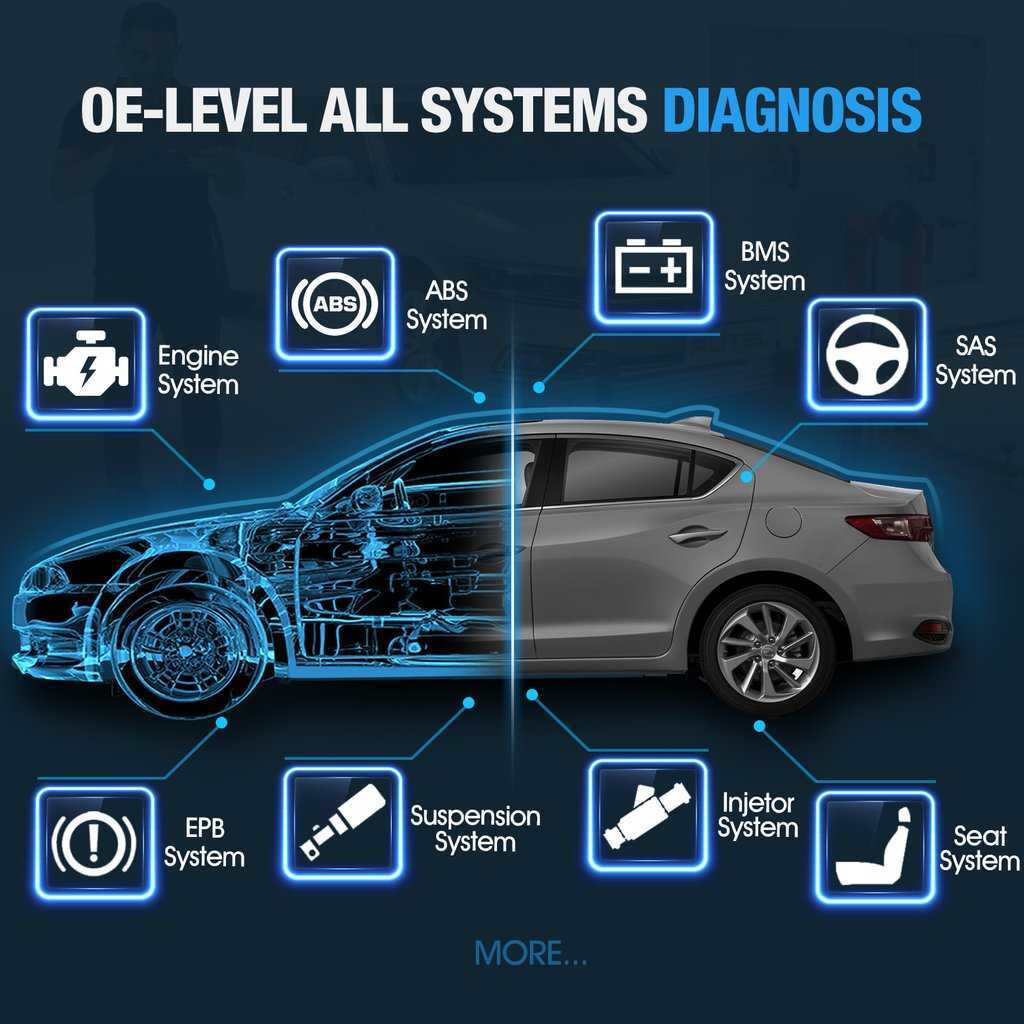 Autel MS919 VCMI has incorporated J2534 Programmer which allows you program the new replacement ECU module to the existing software firmware and for BMW Benz vehicles to fix software-controlled drivability issues and emission issues.
NOTE: Please send us VIN number of your BMW, Benz to check compatibility before purchase. Currently, Autel scan tools can only program ECUs for specific BMW and BENZ, NONE of the scanner can do ECU programming on other brand vehicles.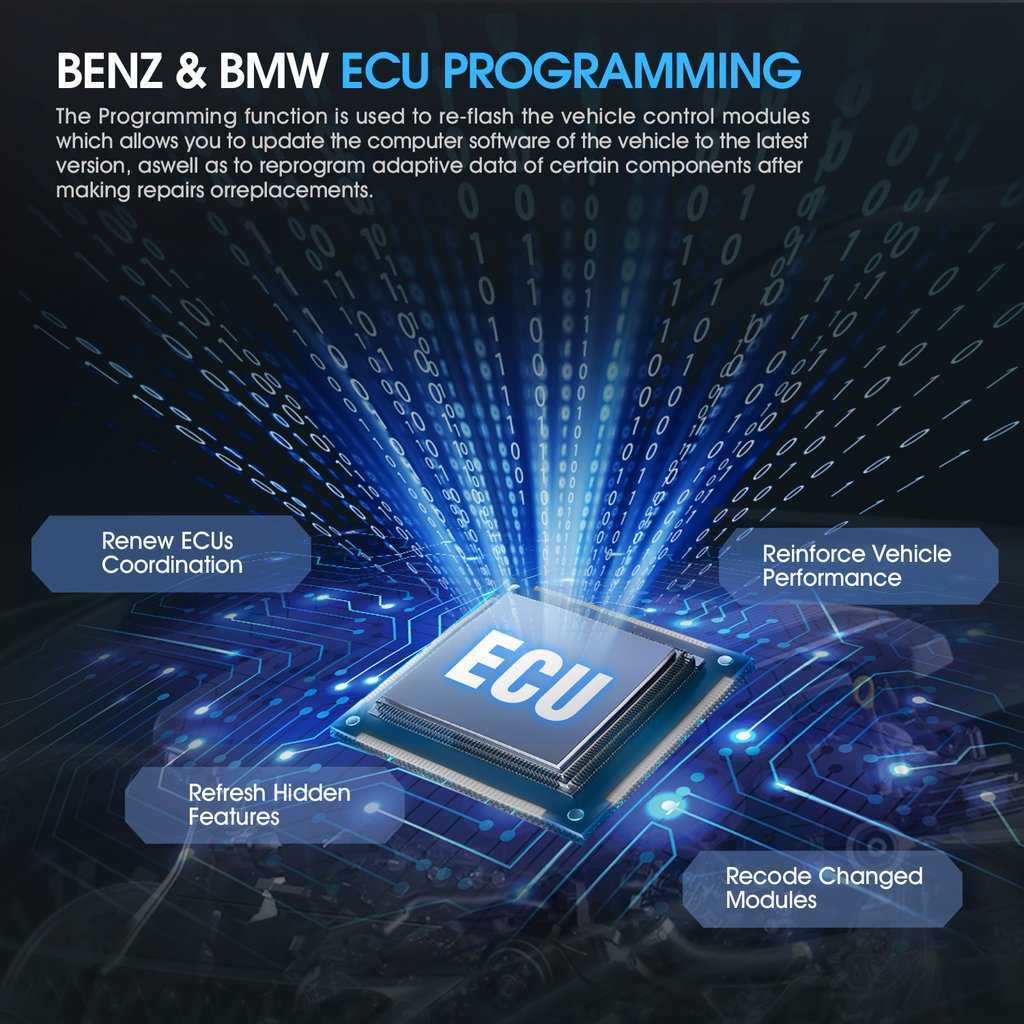 Autel MS919 intelligent diagnostic tablet comes with bi-directional control capability, you can test various systems or parts by reading the engine ECU data, or by sending commands to actuators, such as solenoid tests, pump motor tests, relay, or switch to check the functionality. Note: Active Tests are NOT universally compatible. Please send us VIN to check compatibility first.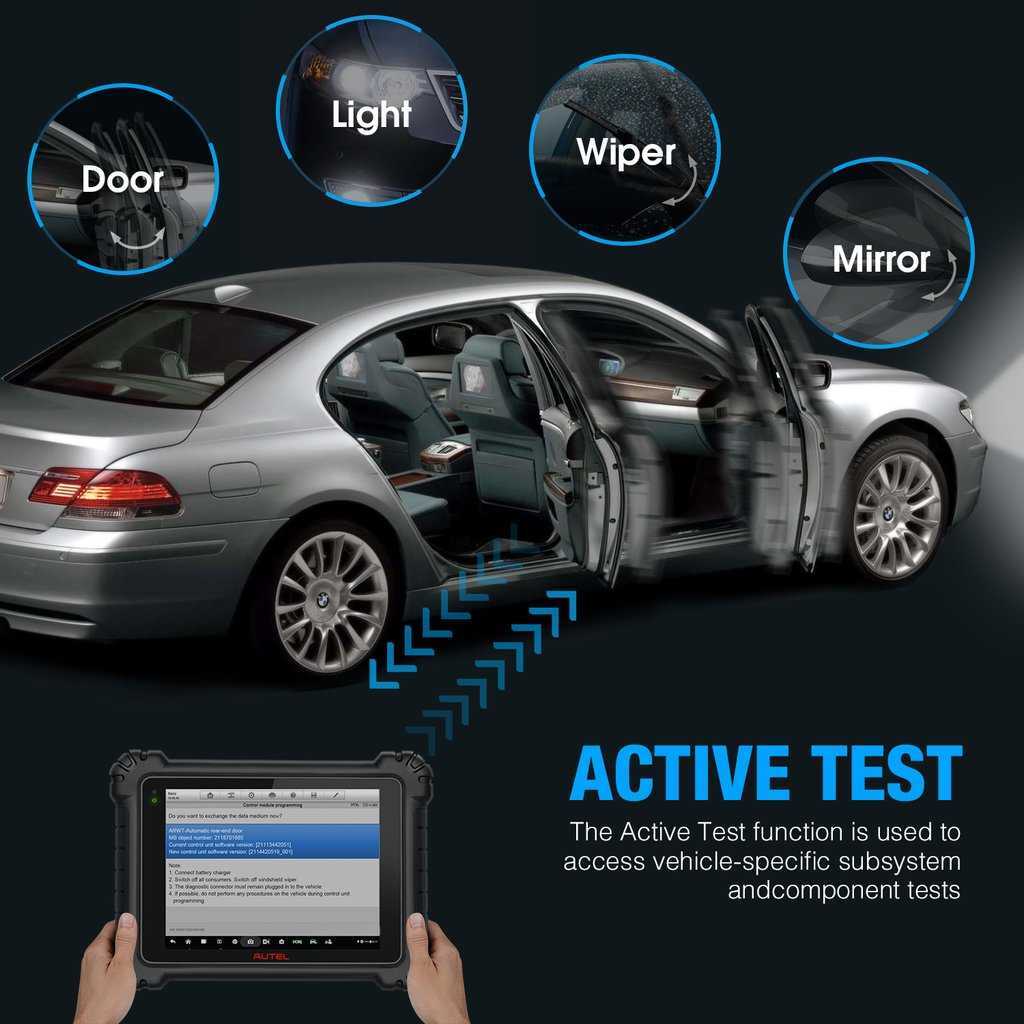 System Topology Mapping of CAN BUS tree with color coded module can present full system diagnostic results. The module status and ECU connection is showed in tree clear and cut. Topology is not universal, it currently supports: BMW, Volkswagen, Audi, GM, Ford, Chrysler, Nissan, Honda/Acura, Toyota/Lexus, Jaguar/Land Rover, BENZ, Hyundai, Kia, Volvo, PSA. Send VIN for us to check before your purchase!
Autel Maxisys MS919 Specifications:
Operating System: Android 7.0
Processor: Samsung Exynos8895V octa-core Processor (2.3GHz Quad-core Mongoose + 1.7GHz Quad-core A53)
Memory: 4GB RAM & 128GB On-board Memory
Display: 9.7 inch TFT-LCD with 1536 x 2048 resolution & capacitive touchscreen
Connectivity: Wi-Fix2 (802.11 a/b/g/n/ac 2x2 MIMO); BT v.2.1 + EDR; GPS; USB 2.0 (TWO USB HOST Type A, ONE USB mini device); HDMI 2.0; SD Card (Support up to 256GB)
Camera (rear): Rear: 16 Megapixel, Autofocus with Flashlight; Front: 5.0 Megapixel
Sensors: Gravity Accelerometer, Ambient Light Sensor (ALS)
Audio Input/Output: Microphone; Dual Speakers; 3-Band 3.5 mm stereo/standard headset jack
Power and Battery: 15000mAh 3.8V lithium-polymer battery; Charging via 12V AC/DC power supply with the temperature between 0°C and 45°C
Input Voltage: 12V/3A Adapter
Operating Temperature: 0 to 50°C (32 to 122°F)
Storage Temperature: -20 to 60°C (-4 to 140°F)
Dimensions: (WxHxD) 304.4 mm (11.98") x 227.8 mm (8.97") x 42.5 mm (1.67")
Protocols: DoIP, PLC J2497, ISO-15765, SAE-J1939, ISO-14229 UDS, SAE-J2411 Single Wire Can(GMLAN), ISO-11897-2, ISO-11897-3, SAE-J2819 (TP20), TP16, ISO-9141, ISO-14230, SAE-J2610 (Chysler SCI), UART Echo Byte, SAE-J2809 (Honda Diag-H), SAE-J2740 (GM ALDL), SAE-J1567 (CCD BUS), Ford UBP, Nissan DDL UART with Clock, BMW DS2, BMW DS1, SAE J2819 (VAG KW81), KW82, SAE J1708, SAE-J1850 PWM (Ford SCP), SAE-J1850 VPW (GM Class2)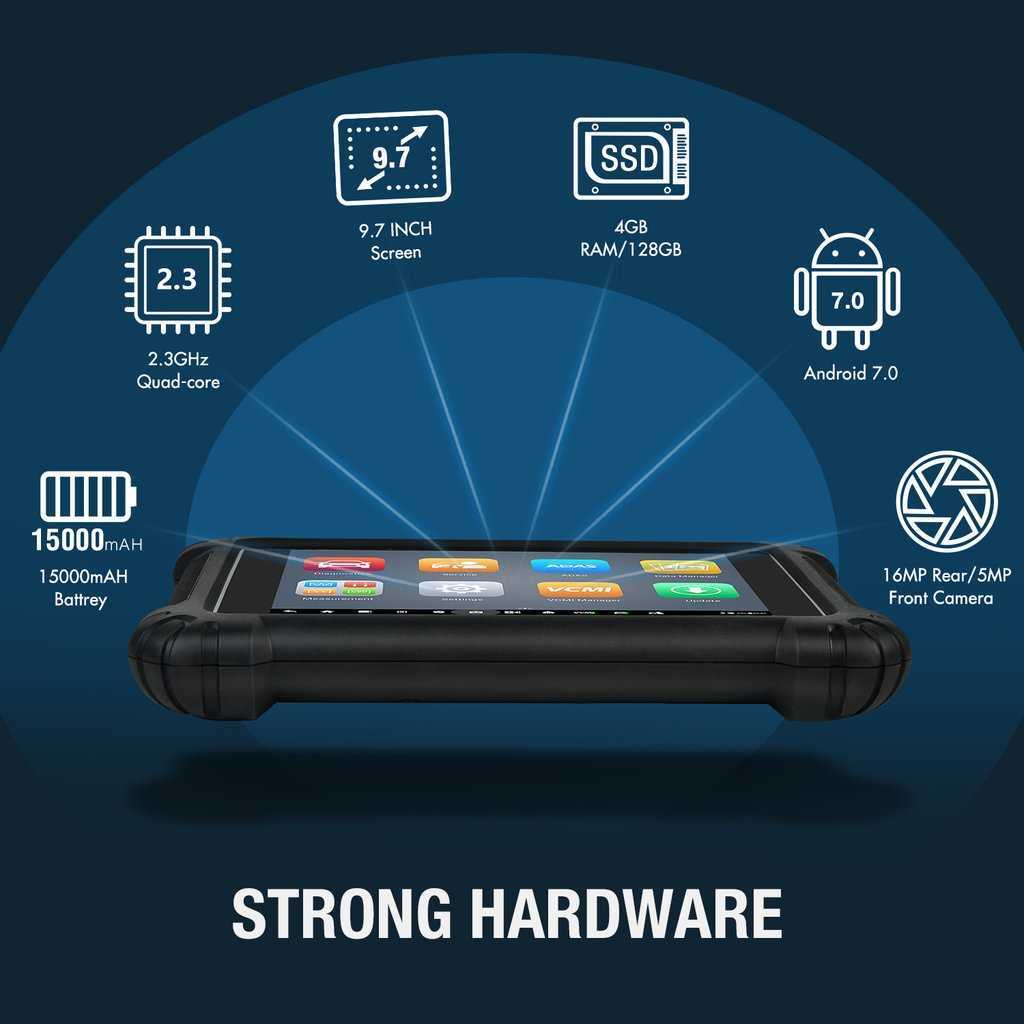 MS919 MaxiFlash VCMI is more powerful than ever with 5 instruments (Oscilloscope, Waveform Generator, Multimeter, Can BUS tester and VCI) integrated! It can provide simultaneous and in-depth analysis on test components.
Oscilloscope: 20MHz bandwidth, up to 80MS/s sampling rate, Easier operation with built-in preset guided test
OBD2 CAN BUS check: Easy and fast Muti-function detection
VCI: Fastest and stable wireless data communication up to 164 feet/50m, diagnostic speed increases by 30%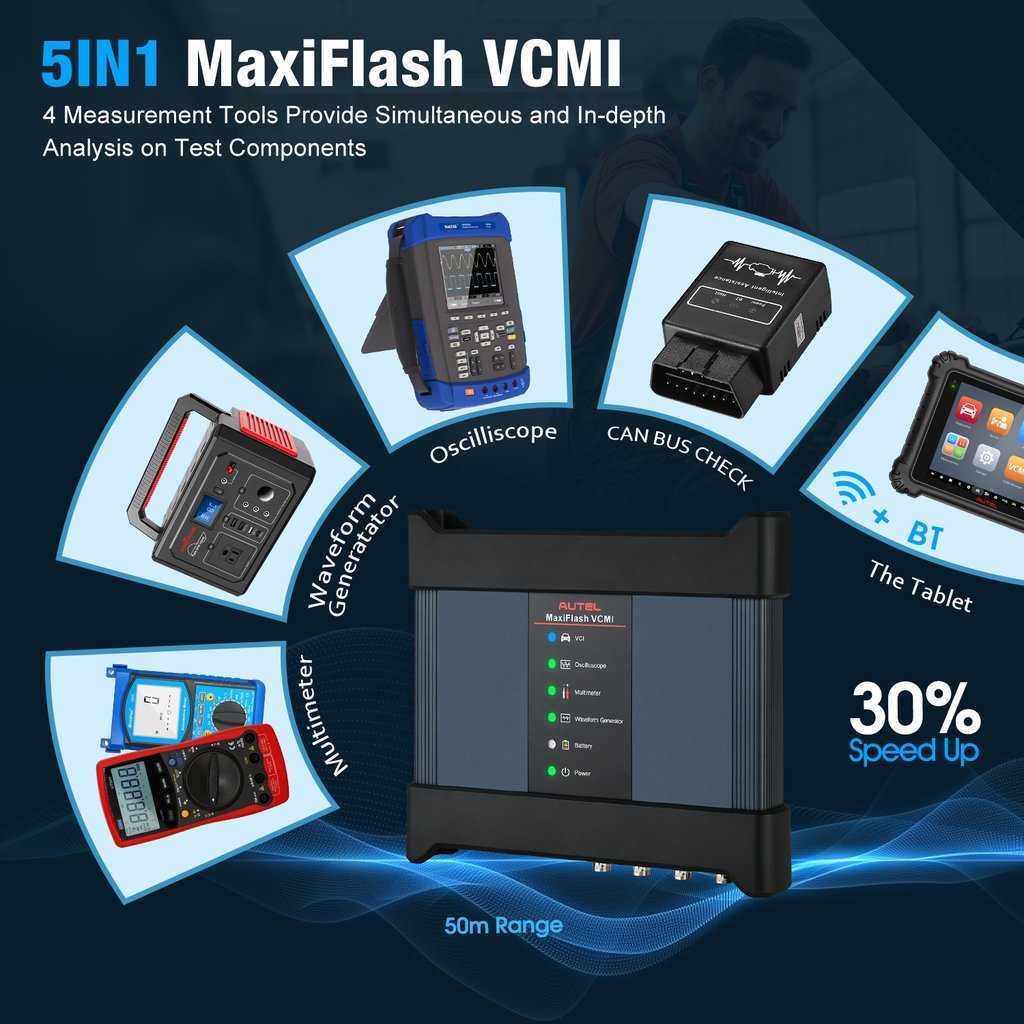 Comparison Among MS909, MS919, Ultra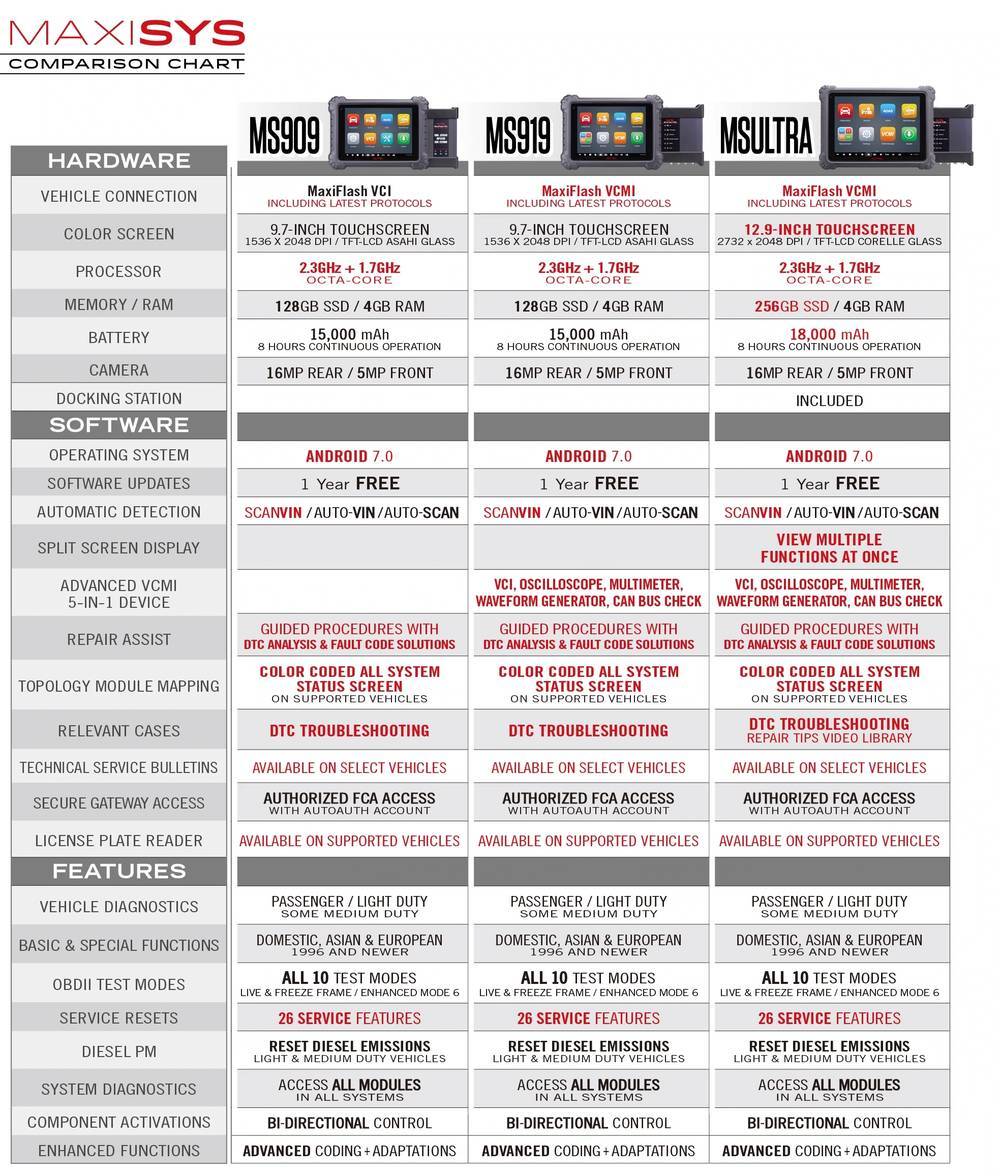 Autel Maxisys MS919 Includes: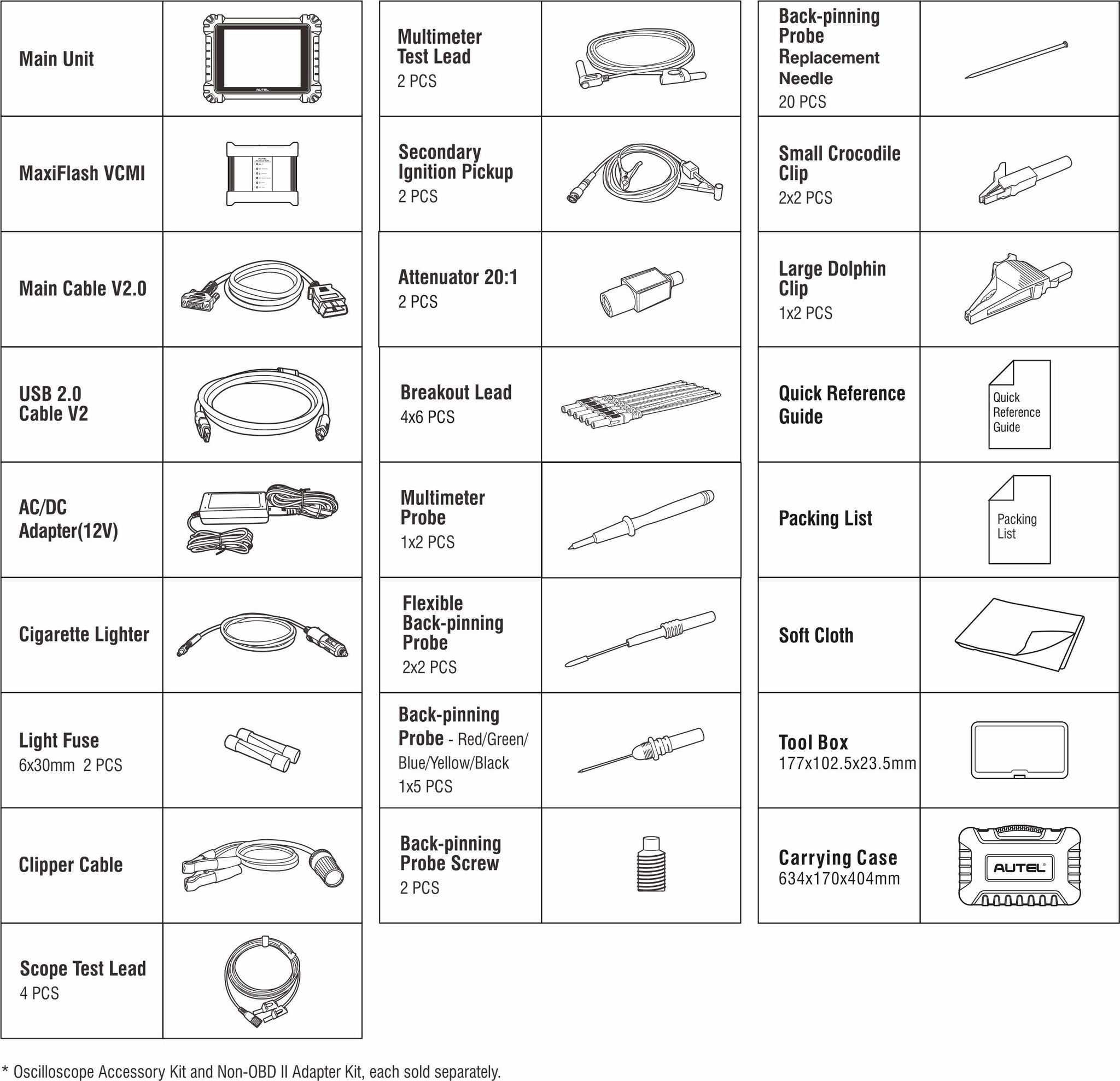 Buy from Autelcartool

Contact US:
Email: sales@autelcartool.com
Whatsapp: +86 13728848116
Brand Name:

Autel
Operating System:

Android 7.0
Processor:

Samsung Exynos8895V octa-core Processor (2.3GHz Quad-core Mongoose + 1.7GHz Quad-core A53)
Memory:

4GB RAM & 128GB On-board Memory
Display:

9.7 inch TFT-LCD with 1536 x 2048 resolution & capacitive touchscreen
Connectivity:

Wi-Fix2 (802.11 a/b/g/n/ac 2x2 MIMO); BT v.2.1 + EDR; GPS; USB 2.0 (TWO USB HOST Type A, ONE USB mini device); HDMI 2.0; SD Card (Support up to 256GB)
Camera:

Rear: 16 Megapixel, Autofocus with Flashlight, Front: 5.0 Megapixel
Sensors:

Gravity Accelerometer, Ambient Light Sensor (ALS)
Audio Input/Output:

Microphone • Dual Speakers • 3-Band 3.5 mm stereo/standard headset jack
Power and Battery:

15000mAh 3.8V lithium-polymer battery Charging via 12V AC/DC power supply with the temperature between 0°C and 45°C
Input Voltage:

12V/3A Adapter
Protocols:

DoIP, PLC J2497, ISO-15765, SAE-J1939, ISO-14229 UDS, SAE-J2411 Single Wire Can(GMLAN), ISO-11897-2, ISO-11897-3, SAE-J2819 (TP20), TP16, ISO-9141, ISO-14230, SAE-J2610 (Chysler SCI), UART Echo Byte, SAE-J2809 (Honda Diag-H), SAE-J2740 (GM ALDL), SAE-J1567 (CCD BUS), Ford UBP, Nissan DDL UART with Clock, BMW DS2, BMW DS1, SAE J2819 (VAG KW81), KW82, SAE J1708, SAE-J1850 PWM (Ford SCP), SAE-J1850 VPW (GM Class2)