Autel
AutelCartool
Autel MaxiTPMS TS508K
Autel TS508K TPMS Tool with 8PCS MX-Sensors (4PCS 315MHz Metal Stem Sensors + 4PCS 433MHz Rubber Stem Sensors) is a new generation TPMS diagnostic & service tool specially designed to activate all known TPMS sensors, read TPMS sensor status, check TPMS system health condition, program MX-sensors and conduct TPMS relearn.
With Quick Mode and Advanced Mode options, you can save time and energy by choosing the most suitable way to complete TPMS work. TS508K, the starting TPMS kit with one tool and 8 sensors, can be your right choice to experience AUTEL TPMS lines.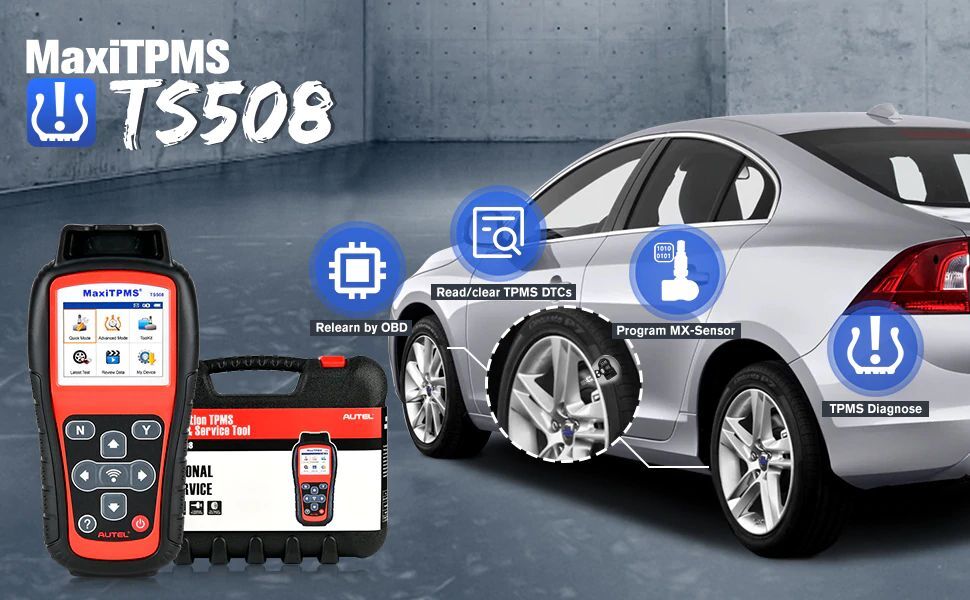 Why Choose Autel MaxiTPMS TS508K?
Easy TPMS Relearn& Resetting -Provides users with reading/writing sensor IDs on vehicle ECU and reading/ clearing codes of TPMS system, and to save data for later reviews and printing.
Fast TPMS Sensor Activate -With Autel TS508, you can wirelessly activate all OEM/Universal TPMS sensors on the market, helping you easily get sensor data like sensor ID, tire pressure, tire temperature, sensor battery, sensor position, frequency, etc.
Cost-Effective - TS508 Kit(TS508+4PCS 433MHz Sensors + 4pcs 315MHz Sensors ) Comes with 4pcs 315MHz TPMS sensors and 4pcs 433MHz TPMS sensors, Which Values $240.00
As the Upgrade Version of TS408/TS501 - TS508 TPMS Tool can diagnose newest models up to 2020 And it packed ALL TPMS service
Supports Multi-language -English, Spanish, French, Dutch, German, Swedish, Polish, Korean, Japanese, Italian
Lifetime Warranty - Software Lifetime Free Update Warranty/It has already saved you hundreds in trips to the mechanic for diagnostics and resets
Autel MaxiTPMS TS508K Features:
Compatible with domestic, Asian, and European TPMS-enable vehicles
Offer Quick mode/ Advanced mode options for faster & smarter TPMS repairs
Activate/ Read All TPMS Sensor
Displays Vehicle-specific Relearn Procedures
TPMS Diagnose, one step for complete TPMS health check
Read/clear TPMS DTCs and reset Malfunction Indicator Light; on-screen DTC description
Tire Type/Pressure selection
Program NEW MX-Sensors to replace 98% OE-sensors on the road
Relearn by OBD function; Relearn procedure guide on the tool
Batch Programming - Program multiple sensors with one touch (up to 16 sensors at a time)
Checks Remote Keyless Entry (Key FOB) Signal
Activate 98% TPMS Sensors & Read sensor data
Autel TS508 TPMS relearn tool can activate/ read 98% known OE/Universal TPMS sensors to display sensor ID, battery condition, tire pressure, temperature and etc to help DIYers or mechanics fast find TPMS problems, like the low tire pressure, a weak battery, or a broken TPMS sensor.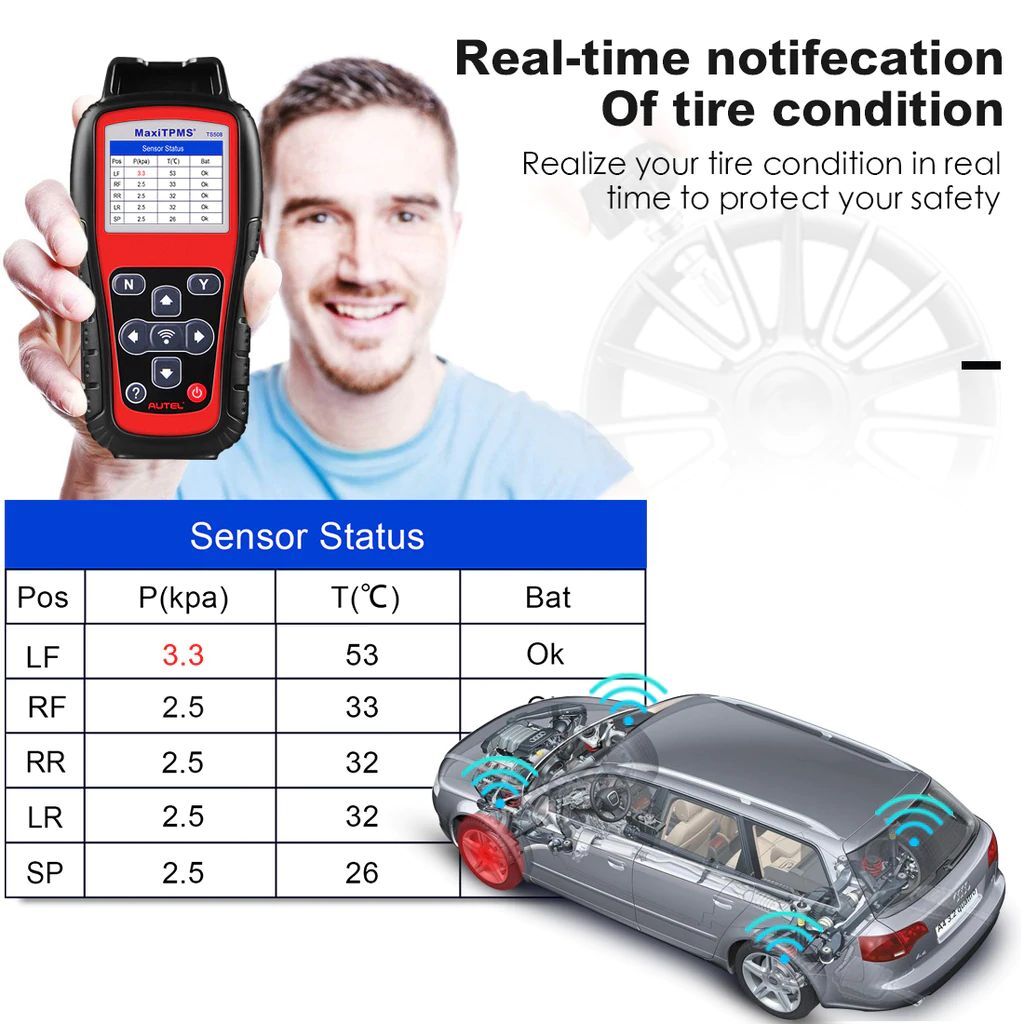 TWO TPMS Service Modes
Autel TS508 complete TPMS tool that offers quick mode / advanced mode for faster and smarter TPMS repairs.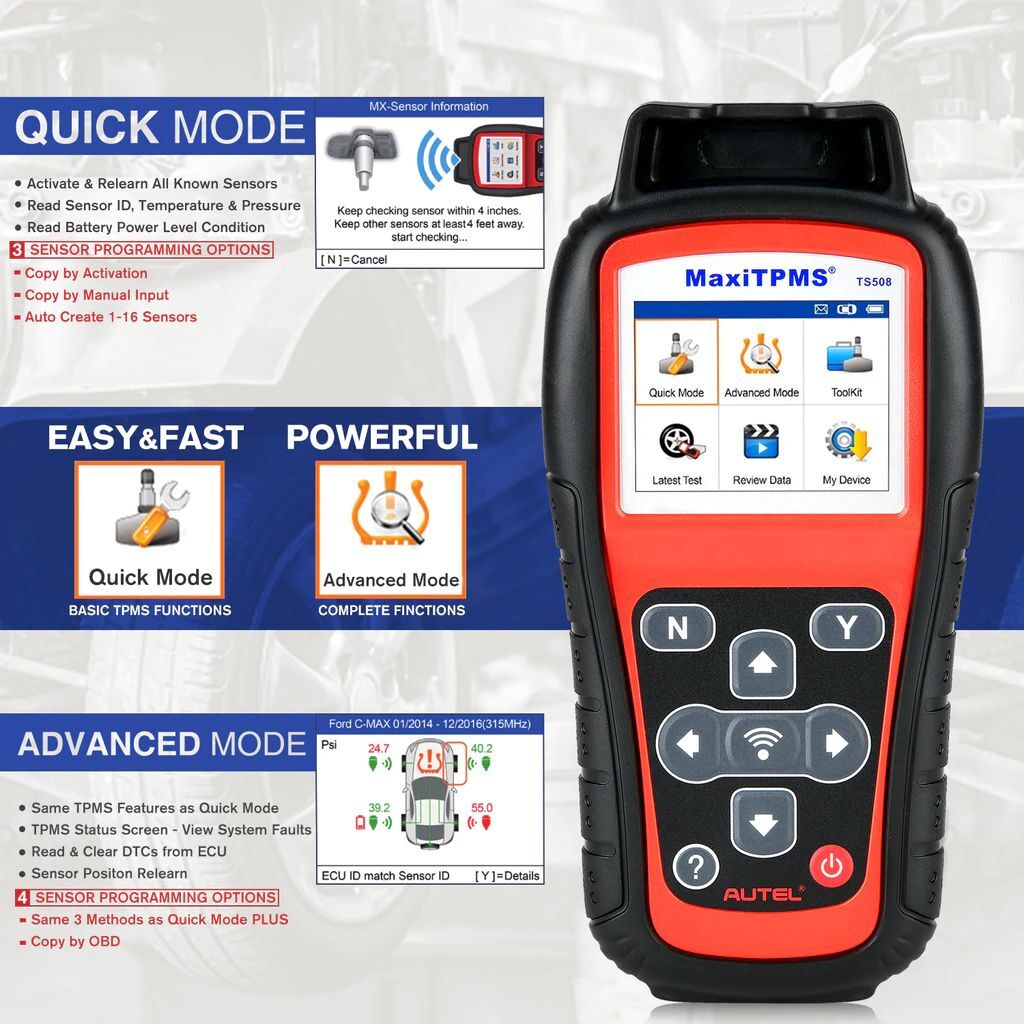 Autel TS508 provides FOUR easy methods of programming MX-Sensors
1.Copy By OBD;The quickest way to program the MX-Sensors: just connect the TS508 TPMS scanner to your vehicle with OBD2 cable, TS508 will automatically read sensor ID from the ECU and display ID on screen. Place the MX-Sensor on the top of the TS508 and select the sensor you want to program, then the ECU Sensor ID is copied to your MX-sensor.
2.Copy By Activation; Activate or trigger the original sensor and retrieve the ID of the sensor, and then write the original sensor ID into the new MX-Sensor.
3.Copy By Manual Input; Input the original sensor ID and program it to new MX-Sensor manually.
4.Auto Create 1-16; Auto create new unique ID(s) into 1-16 MX-Sensor(s).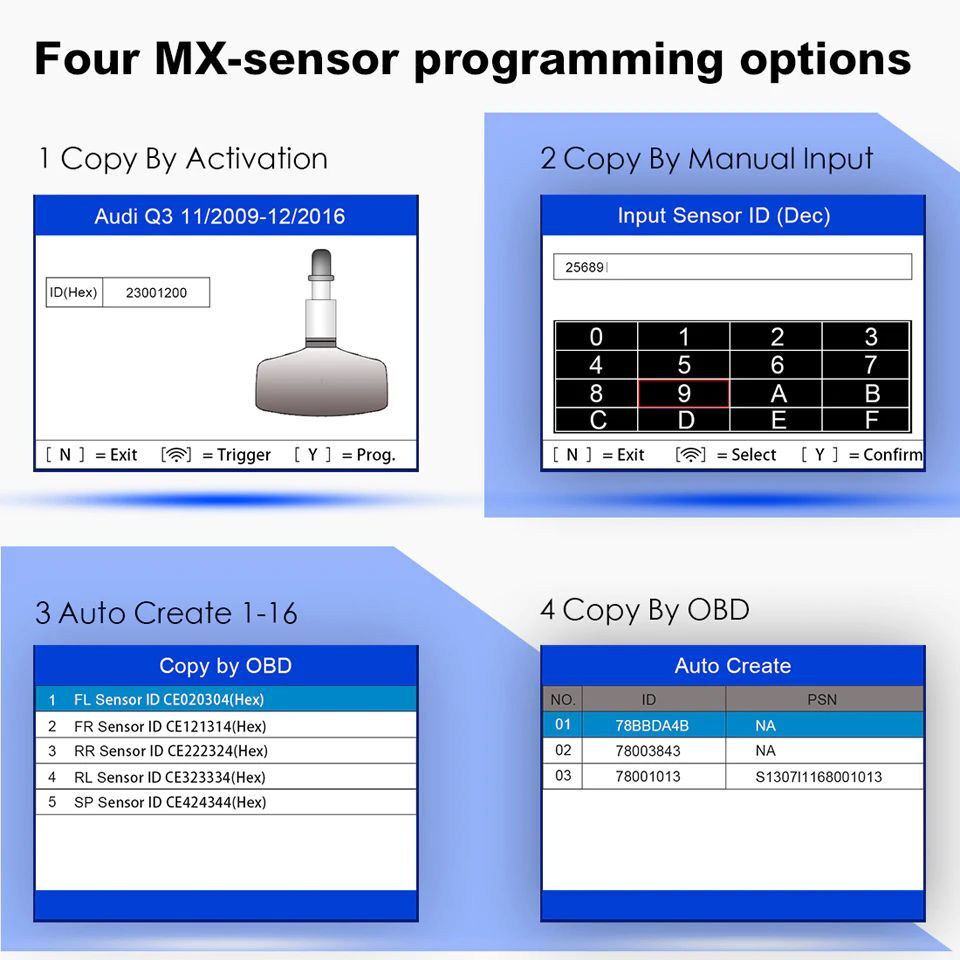 Autel TS508 offers 3 ways of TPMS sensors relearning
OBD Relearn: Autel TS508 TPMS tool with the access to write the TPMS sensor IDs to the TPMS module directly and to conduct relearn, activate sensors on FL, FR, RR and RL wheels.
Stationary Relearn: It requires the vehicle be placed in the "Learn Mode" then it can activate all the sensors mounted on the vehicle.
Automatic Relearn: For some vehicles which support Automatic relearn, relearning can be completed by driving.
Autel TS508 With 4 PCS 315MHz & 4PCS 433MHz Sensor Kit
Autel TS508K TPMS tool comes with 8pcs Autel MX-sensors (4 PCS 315MHz & 4PCS 433MHz) for 98% vehicle coverage.
Facing the growing OE sensor SKU numbers, AUTEL help to greatly reduce tire dealers and mechanic shop's inventory to only 2 SKU types, 315 MHz sensor and 433 MHz sensor, to replace 98% of OE sensors in the market. Autel MX-Sensors are built to perform like O.E sensor, in terms of signal interval, durability & functionality.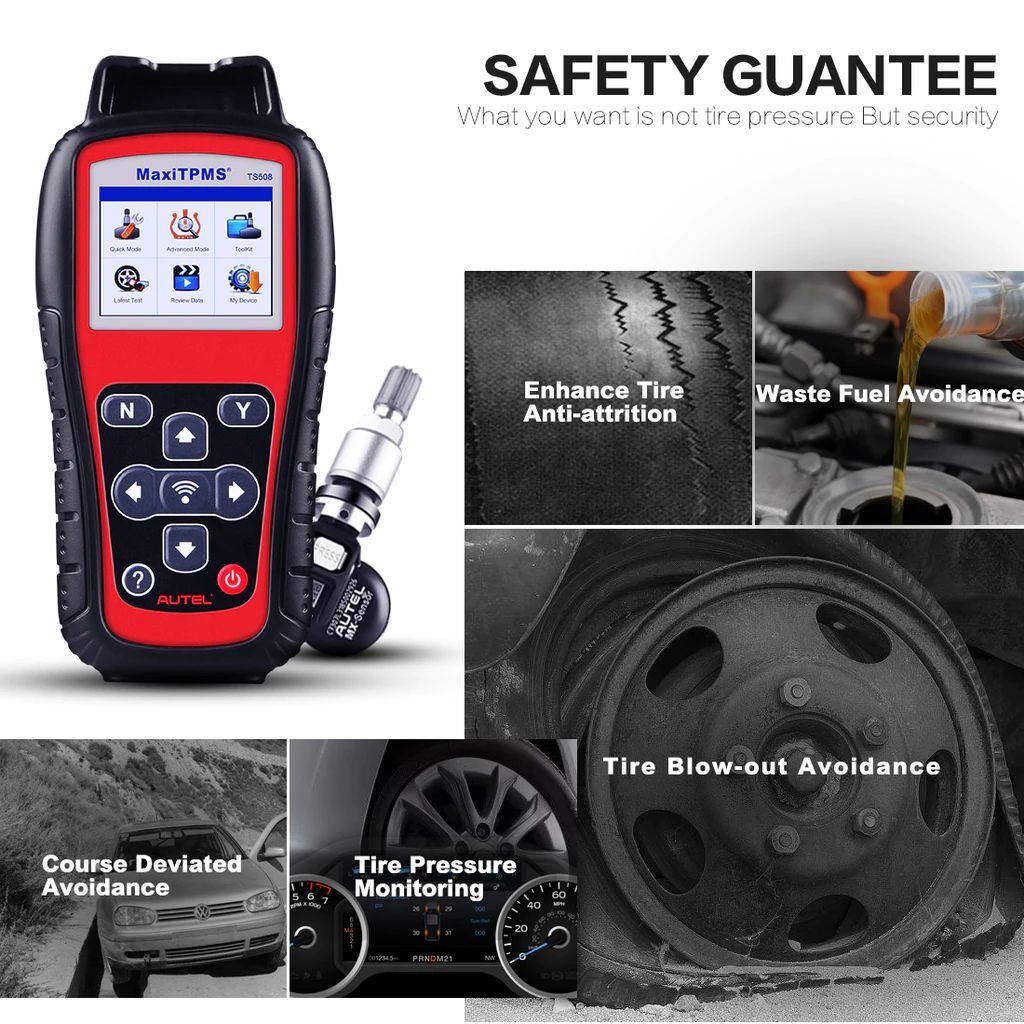 How does TS508K Work?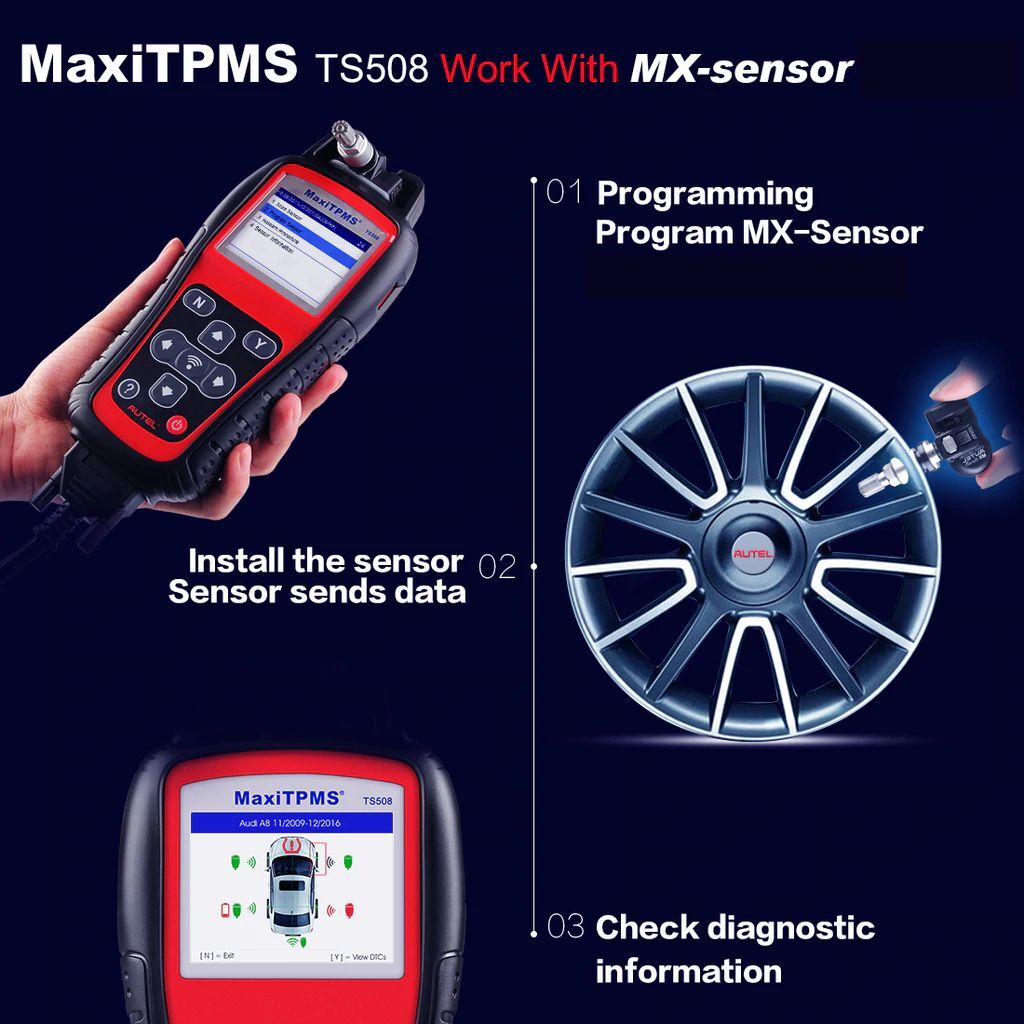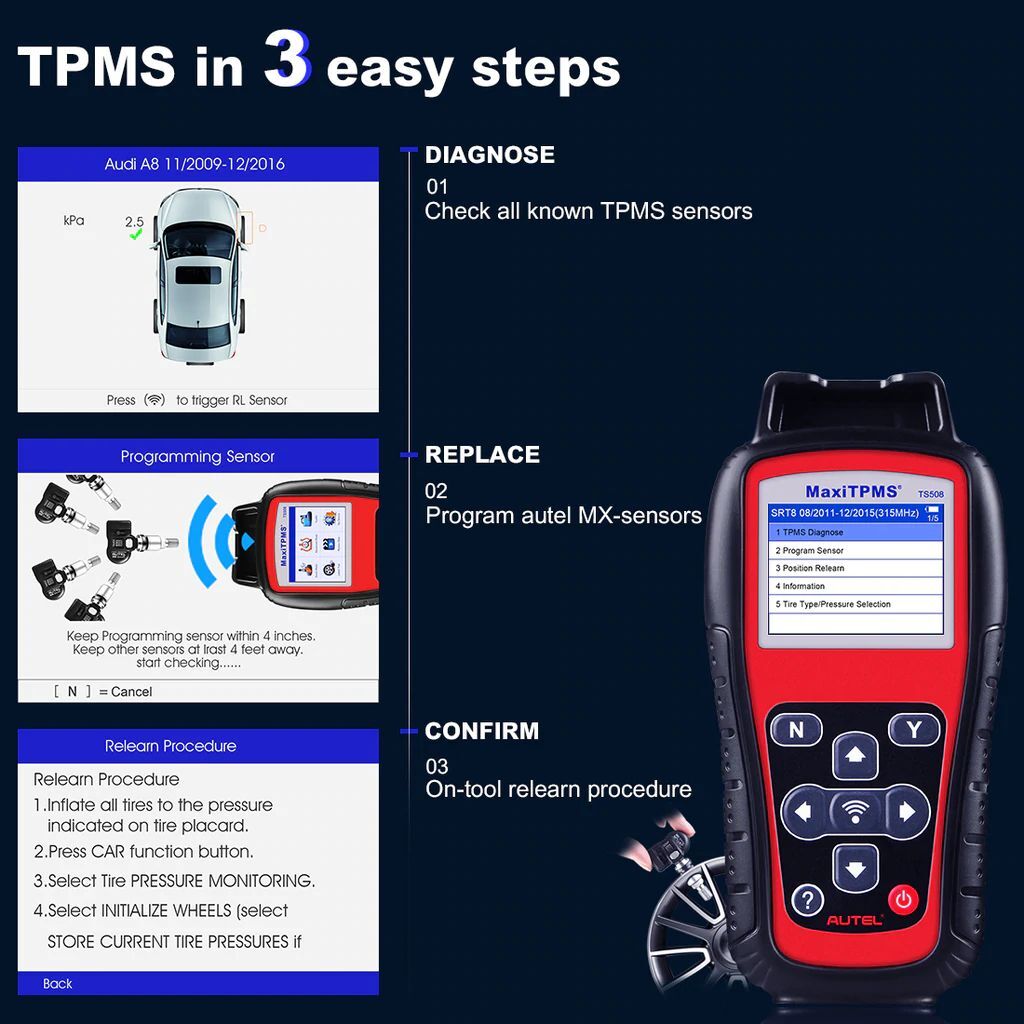 Autel MaxiTPMS TS508K Package List:
1x MaxiTPMS TS508 TPMS Tool
4x 315MHz MX-Sensors (Metal stem)
4x 433MHz MX-Sensors (Rubber stem)

Contact Us:
E-mail:

sales@autelcartool.com
WhatsApp:

+86 13728848116
Brand:

Autel
Language:

English/Spanish/French/Dutch/German/Swedish/Polish/Korean/Japanese/Italian
Power:

3.7 V Li-polymer battery; 3200 mAh
Connectivity:

Mini USB 2.0 x 1
Weight:

0.39 kg (0.86 lb.)
Warranty:

1 year
Software Update:

Free