Autel
Autel MaxiTPMS TS501 TPMS Relearn Tool with TPMS Diagnostics, Sensor Activate and Sensor Programming, Upgraded Version of TS401/TS408
AutelCartool
Autel MaxiTPMS TS501 TPMS Relearn Tool with TPMS Diagnostics, Sensor Activate and Sensor Programming

The Autel MaxiTPMS TS501 is a new generation wireless TPMS diagnostic reset tool specially designed to diagnose TPMS problems as well as activate any known OEM / Universal TPMS sensors, ID clone, or reprogram sensors to the vehicle's ECU, and turn off warning lights.
Top 5 Reasons To Choose Autel TS501
1.TPMS Diagnostic & Reset, Sensor activation, programming and relearn all in one
2.Lifetime free software update & 1-year free warranty
3.Multilingual support: English, French, and Spanish, etc.
4.Easy-to-use with intuitive navigation and step-by-step procedure
5.Ergonomic design features strong housing and protective rubber boot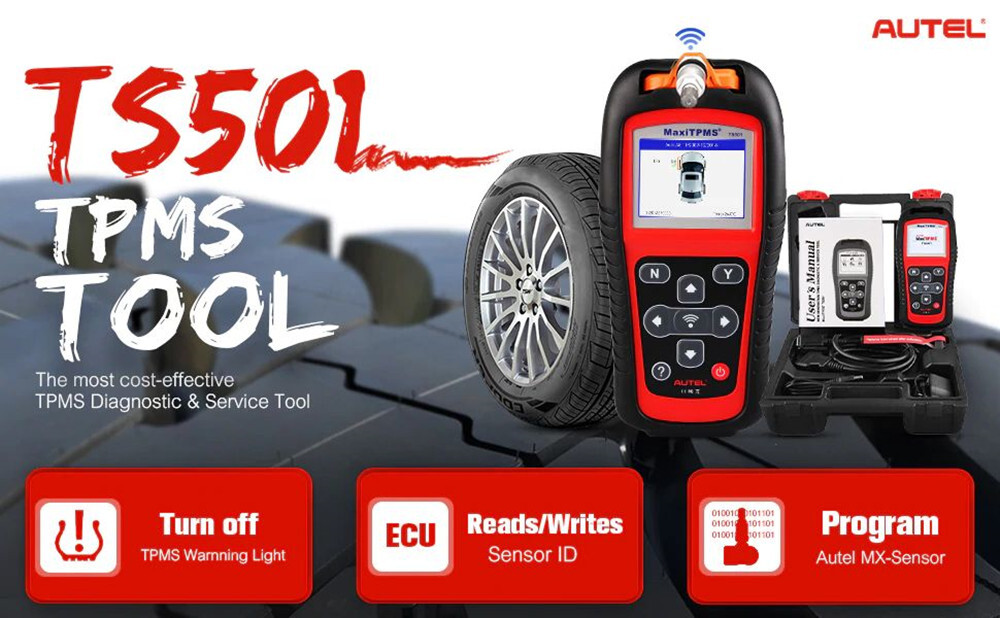 Autel MaxiTPMS TS501 Features:
1.Diagnosing TPMS Problems
2.Receives 315 MHz, 433 MHz, and 309MHz signals
3.Displays Sensor ID, Battery Level, Tire Pressure, Temperature, and OE part no.
4.Reads/clears codes of TPMS system and resets malfunction indicator light
5.Activate TPMS sensors on Domestic, Asian and European vehicles
6.Programs vehicle ECU to learn sensor IDs and positions
7.Programs/ Clones Autel MX-Sensors to replace OEM sensors
8.Activates magnetic, frequency and tire deflation triggered sensors using 125khz continuous or modulated wave signals
9.Decodes sensor data and provides visual and audible responses to confirm sensors are working properly
10.Simplifies the diagnostic process including four and five wheel vehicles by showing vehicle graphs
11.Pre-selection process offers faster activation and diagnostics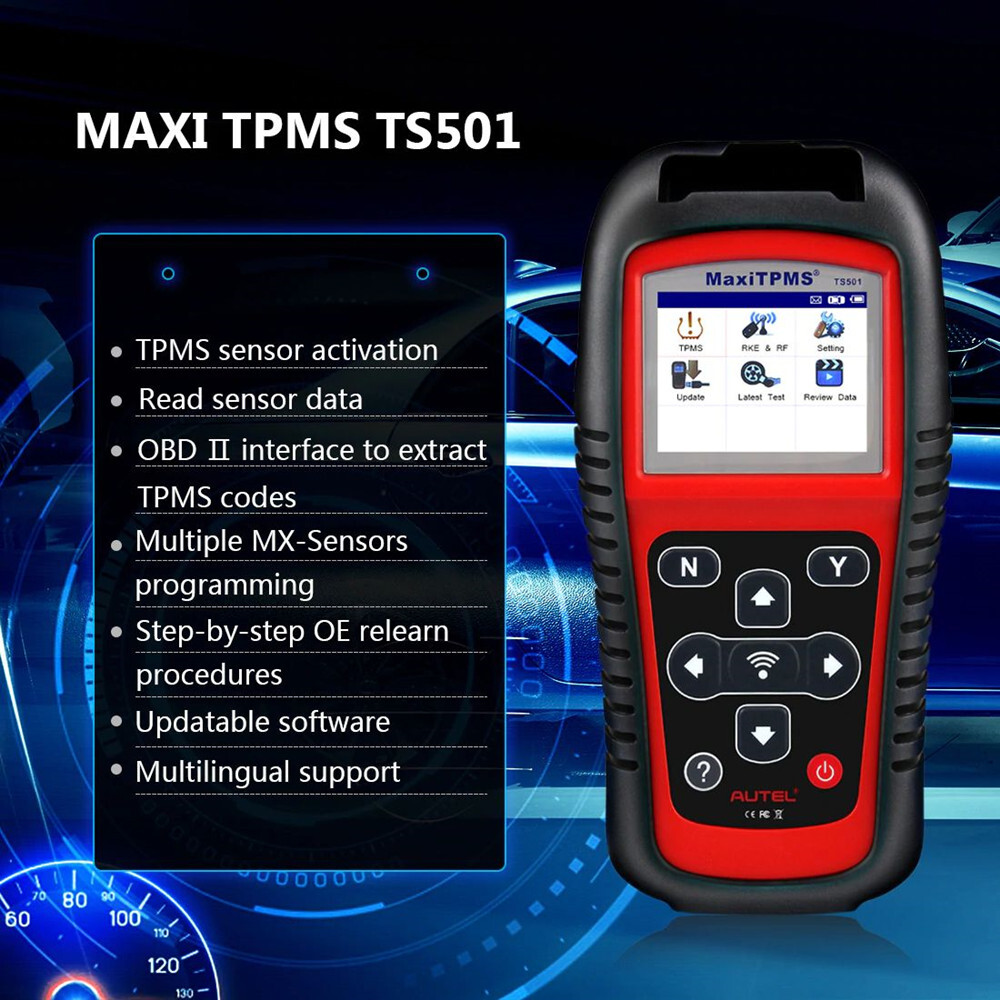 Autel TS501 Top 4 Powerful Functions:
1.OE-Level TPMS Activation Tool
Autel TS501 TPMS tool is the upgraded version of TS401/TS408, enabling to activate any known OEM / Universal TPMS sensors and reading sensor data like sensor ID, tire pressure and temperature, sensor battery level, position, and frequency, etc.
2.TPMS Relearn Tool for All Sensors
Autel TS501 TPMS relearn tool provides 3 ways of on-tool relearn procedures: Stationary Relearn, Automatic Relearn & the unique OBD Relearn. The OBD relearn is the new feature that allows direct sensor IDs input to the ECU via OBD, which does not contain in Autel TS401 and TS408
3.Excellent TPMS Sensor Programming Tool
Autel TS501 TPMS Programming tool enables all car enthusiasts to program a new sensor easily to replace the OE-Level sensor, which is cost-saving and time-saving compared to paying a visit to a dealership. Autel TS501 offers 4 programming methods: Copy By Activation, Copy By Manual Input, Auto Create and Copy by OBD. Note: Program Autel MX Sensors ONLY
4.Convenient TPMS Diagnostic Tool
TS501 TPMS diagnostic reset tool access to TPMS system via OBDII connection to read/clear codes, helping technicians to quickly find out faulty TPMS and turn off MILs. The data recorded can be reviewed or printed out as a diagnostic report for further analysis and accurate repairs.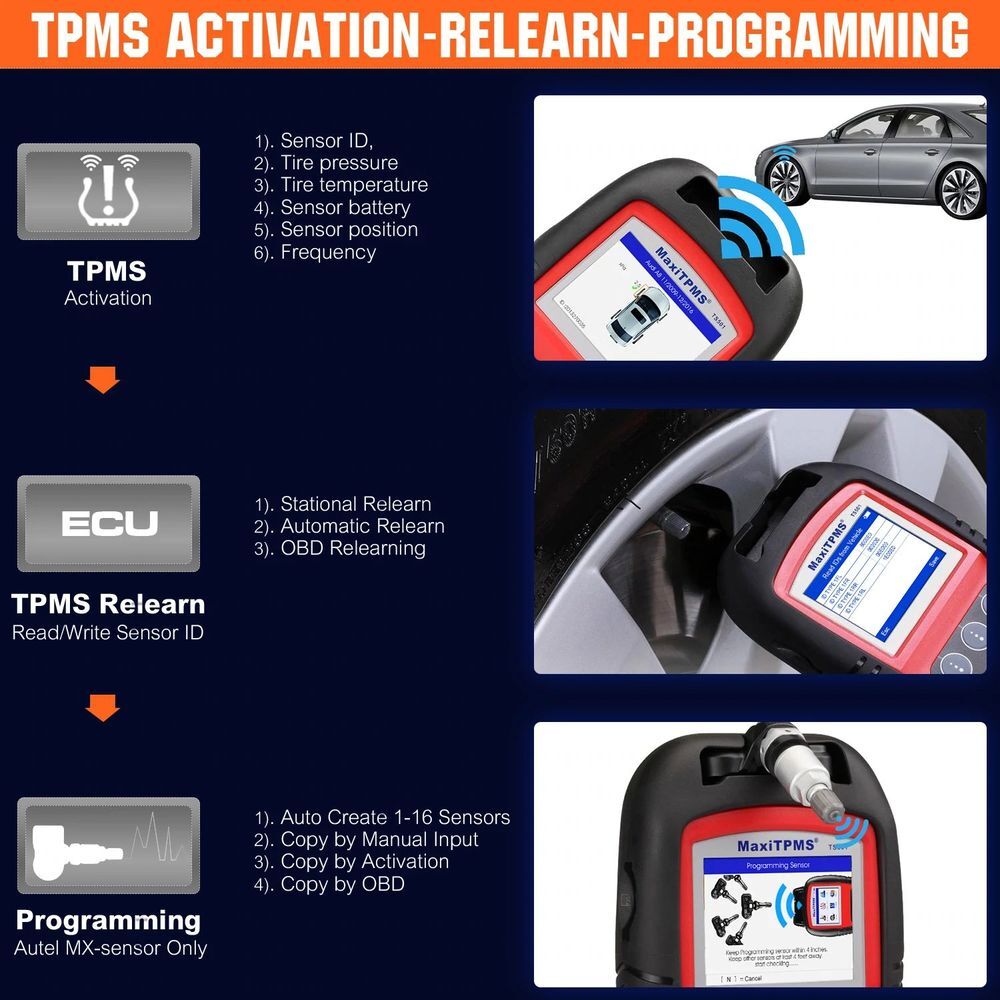 1. TS501 At-A-Glance TPMS Status Screen
The single-screen organization allows you to easily read direct feedback from all 4 sensors, clearly understand the status of all TPMS features, compare sensor and ECU data, then instantly pinpoint system faults to identify the fix. This At-A-Glance view of all sensor information easily shows the location of which sensor battery is low and needs to be replaced soon.
2. OBDII Connected TPMS Diagnostics
The TS501 can provide relearn procedures for specific sensors and connect with the OBDII cord to the vehicle's ECU to offer multiple programming options including clone sensor IDs, or auto-create ID, or manual write sensor IDs with no sensor re-learn required for sensor positioning.
3. TS501 Easy To Use Software Operation
Performing a basic sensor activation or complex diagnostic tool functions, is easy as following the program options and on-screen display instructions. The TS501 provides code definitions and visual / audio responses to make the operations much easier and more convenient to complete.
Download FREE software updates for enhanced diagnostic functions and extended vehicle coverage. Now even your old TPMS tool can perform like new!

Autel TS501 Instruction:
1.Prints TPMS sensor data via PC
2.Automatic power-off to preserve battery life
3.Proper LF signal to prevent being fooled by other RF signals
4.Saves up to 16 TPMS records
5.If a failed sensor is detected, the tool displays the replacement part number
Autel TS501 4 Ways Sensor Programming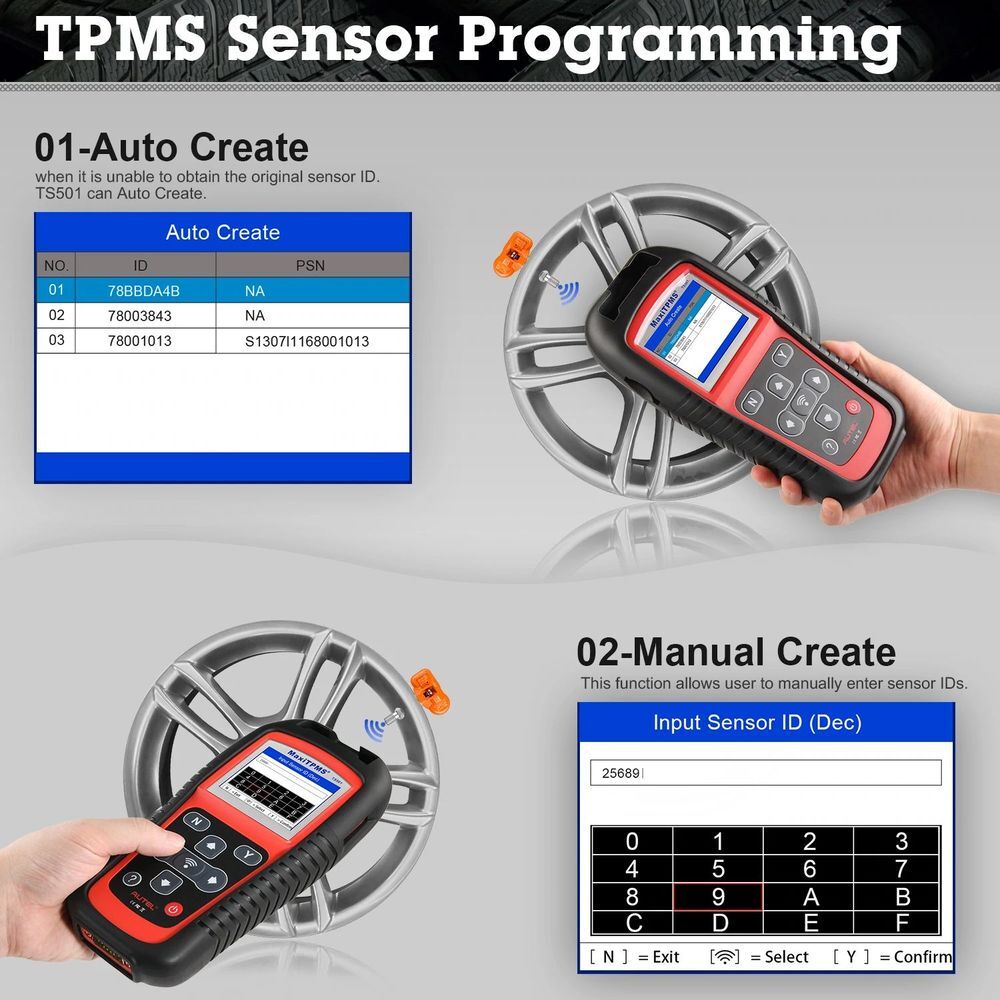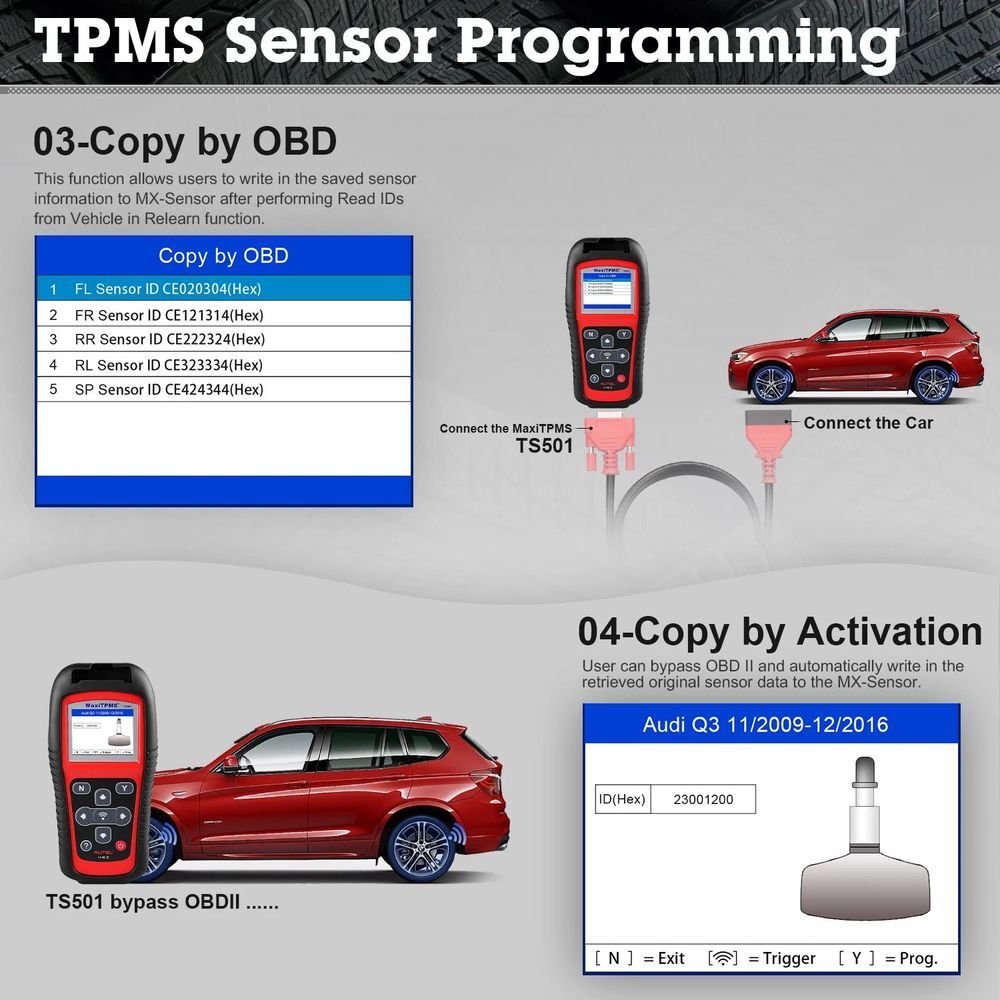 Autel TPMS Tool TS401 VS TS501 VS TS601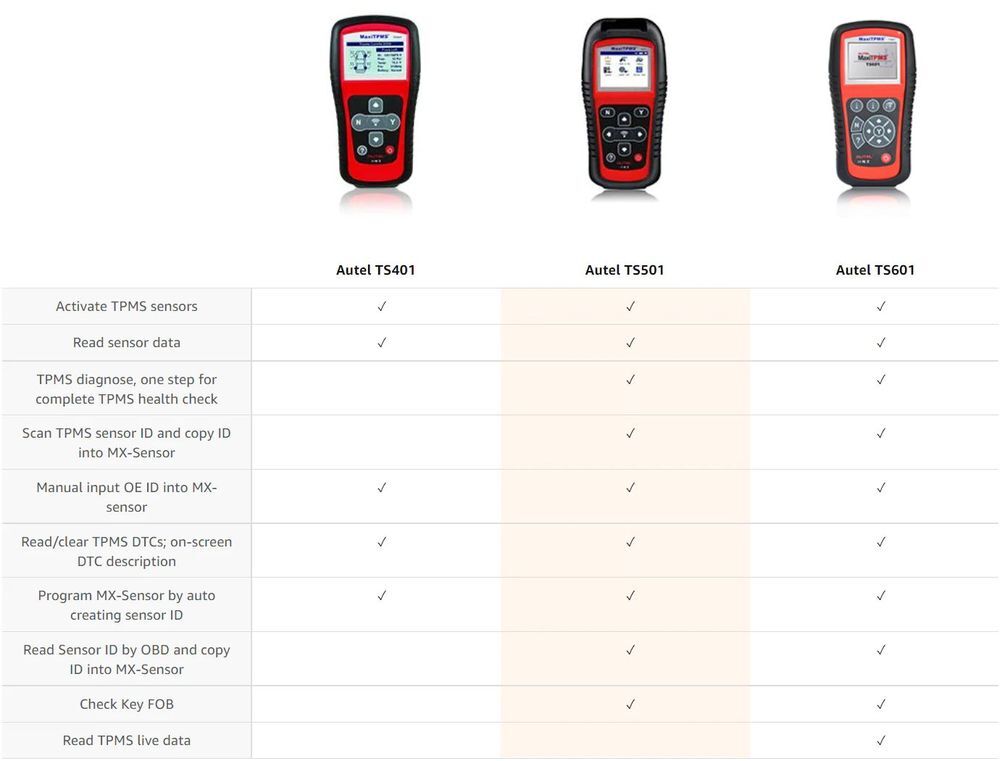 Autel MaxiTPMS TS501 Package:
1 x Magnet (For early model TPM sensors)

Contact Us:
E-mail:
sales@autelcartool.com
WhatsApp:
+86 13728848116
Brand Name:

Autel
Display:

TFT color display (320 x 240 dpi)
Power:

3.7 V Li-polymer battery; 2400mAh
Operating Temp:

0 to 50°C (32 to 122°F)
Storage Temp:

-20°C to 70°C (-4°F to 158°F)
Connectivity:

Mini USB 2.0
Software Update:

Lifetime Free