Autel
Autel XP400 Pro Programmer IMKPA Kit Expanded Key Programming Accessories Work with Autel IM608 / IM608 Pro / IM508
AutelCartool
Autel XP400 Pro Programmer IMKPA Kit Expanded Key Programming Accessories Work with Autel IM608 / IM608 Pro / IM508
The MaxiProgrammer XP400 Pro has been specially designed to work with Autel's IM tablets like IM608, IM608 Pro to aid automotive technicians to program vehicle keys. With the newly upgraded key programmer XP400 Pro, the MaxiIM IM608 Pro is the most advanced key Programming tool that combines the powerful IMMO and programming functions with OE-level diagnostics and advanced service functions in one Android based 10.1-inch touchscreen tablet.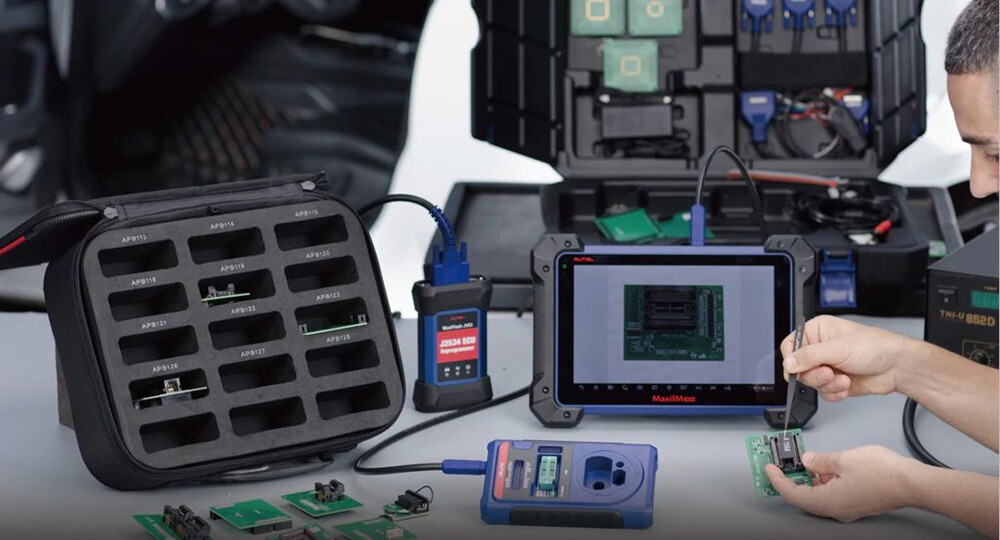 Autel XP400 Pro Functions:
(1) Read transponder data (including Mercedes Benz infrared smart
key), and generate exclusive keys.
(2) Read/write on-board EEPROM chip data, and read/write
(3) Read/write remote control transponder data and detect key
(4) Compatible with the key programming diagnostic tablet or a computer with installed key programming software, the XP400 Pro can read/write transponder data quickly and accurately.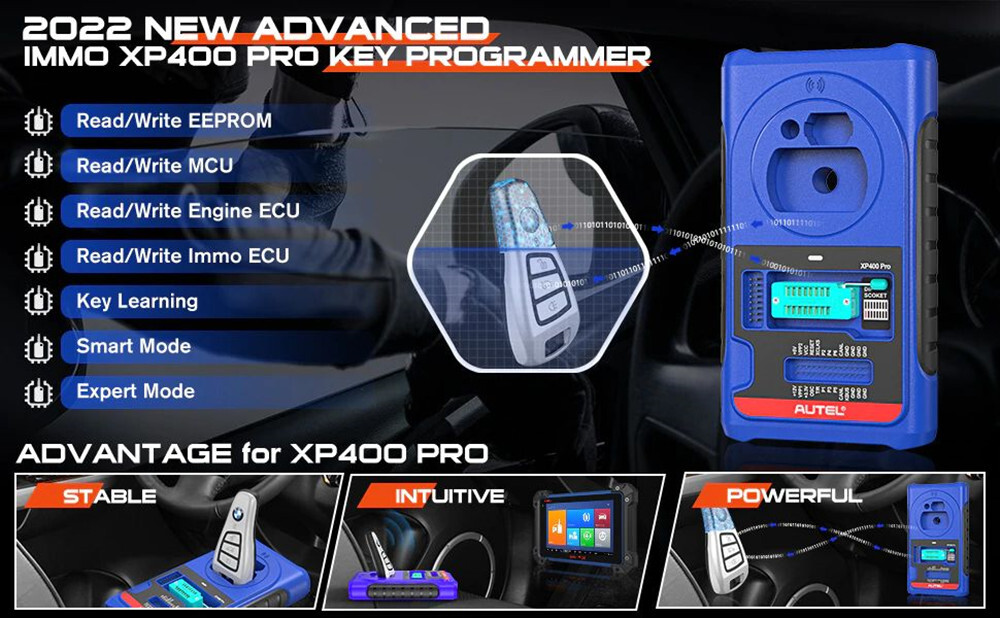 XP400 Pro Programmer Features:
1.Advanced all-in-one Key Programmer;
2.Expanded EEPROM functions for more component access;
3.170+ Types Odometer component reading functions;
4.180+ Immobilizer ECU component types;
5.40+ Engine ECU component types;
6.2000+ MCU component types;
7.440+ EEPROM component types;
8.Compatible with IM508 and IM608;
9.Includes 1-Year Warranty / Free Software Update for Life of Tool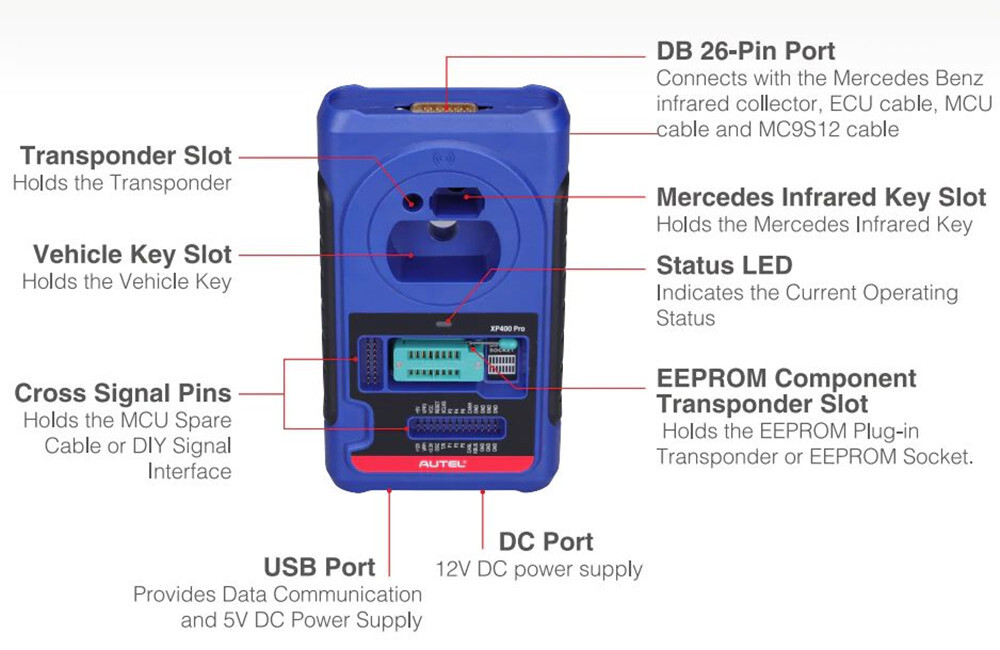 MaxiIM IMKPA
IMKPA is a Key Programming Adapter Kit, compatible with the XP400Pro Key & Chip Programmer. Includes 12 adapters for the XP400 Pro that enable to Read / Write / Erase for Mercedes Benz ESL_W209 / W906 Data, Mercedes Benz NEC Key Learning, BMW EWS3 Key Learning and Volkswagen / AUDI / BMW / Benz Key Unlock. Compatible with the IM608 and IM508 with XP400 Pro.
IMKPA Kit
Expanded Key Programming Accessories
Supports over 10 key unlock types
Benz ESL_W209 read/write/erase
Compatible with IM508 and IM608 (XP400 Pro required)
XP400 Pro Package List:
1 x APB129 – EEPROM Adapter
1 x APA002 – EEPROM Socket
1 x APB125 – Mercedes Infrared Collector
1 x APB103 – MCU_PLCC52 Adapter
1 x APB104 – MCU_FQFP64 Adapter
1 x APB105 – MCU_FQFP80 Adapter
1 x APB106 – MCU_FQFP112 Adapter
1 x APB107 – MCU_FQFP144 Adapter
1 x APB108 – MCU_FQFP176 Adapter
1 x APB109 – MCU_FQFP32 Adapter
1 x APB110 – MCU_FQFP48 Adapter
1 x APB111 – MCU_SO28 Adapter
1 x APA101 – Spare Signal Cable
1 x APC101 – USB Cable (Standard USB –Type B USB)
1 x APA103 – EEPROM Clamp
1 x APA109 – MC9S12 Cable
IMKPA Kit Package List:
Buy from Autelcartool

Contact US:
Email: sales@autelcartool.com
Whatsapp: +86 13728848116
Brand Name:

Autel
Model Name:

XP400 PRO
Item Size:

13inch*7inch*3inch
Special Features:

Bluetooth/Wifi
Item Weight:

0.46kg
Work With:

Autel MaxiIM IM608/IM508
Function 1:

Support PC,MCU / EEPROM Chips Read / Write,ECU Read / Write,MC9S12 Encryption Chip Read / Write,Key Read / Write,Mercedes Infrared Key Read / Write,Remote Frequency Detect,IC Card Read/Write,key programmer